Guess What – October 2014
Contemporary — guaranteed to confuse!
by Bob Cahn – "The Primitive Man"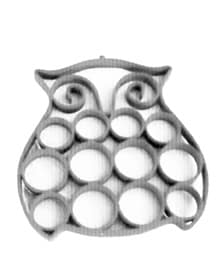 Early, ancient or antique doesn't necessarily have to qualify for the monthly GUESS WHAT spotlight — and this is one of those instances.
As long as the eye creates the confusion, we have a probable contestant: a series of circular mid-air pockets floating in a semi-rigid frame, offering a visual as well as a structural challenge.
It measures 10″ x 11″ with the pockets checking in at 21D4″ diameter.
It's your turn at quandry solving:
Is it:
1.) Casual multiple lemonade guest serving tray
2.) Closet rod scarf holder
3.) Pool table billiard ball rack
4.) Popcorn ball store display sales stand
5.) Hummingbird mid-air flight training structure
6.) (Beer pong) "drinking game" cup holders
7.) Weird lemon fruit storage bin
8.) Caterer's take-out oriental dipping sauce serving tote carrier
9.) Cafe clean shot glass drying rack
10.) Clay target practice aiming circles 11) Refrigerator egg organizer 12) Quilting bee colored yarn ball holder 13) Tennis ball practice serving supplier 14) Owl egg nesting and hatching frame.
Scratching the head time is up. Answer next month. 'Til then!