Guess What? January 2013
By Bob Cahn – "The Primitive Man"
A tricky trick to start off the New Year!
In years past (and those to come), we at Guess What have played fast and loose at times with our presentation — twitting and teasing — but always in the spirit of good fun.
Well, we're at it again, starting off the New Year. What if we were to show you a box and ask you to guess what's in it? … a pretty close parallel to this month's mystery challenge; pure guesswork.
An actual fountain pen casing — pocket portable — but with a surprising function. What are its contents?
It's strictly a guessing game, with numerous possibilities — but well worth the wait for next month's answer; trust us.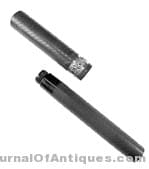 Is it:
1.) Traveling toothbrush
2.) Vest pocket safety razor
3.) Portable Chinese small meal chopsticks case
4.) Aristocrat's sterling silver toothpick holder
5.) Pocket-size breath spray
6.) Gourmet's grated parmesan sprinkler
7.) Food allergy tester kit
8.) Letter carrier (Gov't issue) dog protection spray
9.) On-the-road germaphobe's fast food cutlery sanitizer
10.) Country doctor's thermometer case
11.) Police trap intoxication breath neutralizer
12.) Diabetes insulin needle protector
13.) World War II espionage cyanide suicide capsule container
14.) Fountain pen mace spray.
Some are obvious, some are trickier; answer next month.
'Till then!*
*Much thanx to Brenda, of George's Antiques, Fullerton, Ca. for her scrutinizing eye and high curiosity I.Q., exhibiting at Mike Grimes January Del Mar Fairgrounds Antique Fair.
Answer to December's Guess What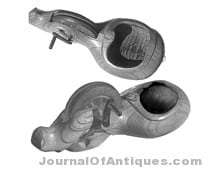 Mea Culpa! We admit to purposely not disclosing a pertinent identifiable clue which could have made it a slam-dunk to guess the answer: to wit, nylon string, wrapped around the grooved crank-handled wheel.
This obvious piece of evidence enabled the user to pass the string through the charcoal powdered dust-filled bowl and snap the "plumb" line, leaving an imprint for masonry or construction accuracy.
This apology won't be the last of our deceptions to keep the mystery and excitement on-going.