by Jessica Kosinski
Fall in New England is a beautiful time of year. It brings to mind images of crisp, cool air, hot apple cider, and leaves changing colors. Historically, it signaled the hard work of harvest time – when family members, friends, and neighbors gathered together to bring in the crops and celebrate their bounty.
Crops had to be processed and preserved to feed families until the next planting season. Long before refrigeration, canning was an essential part of that preservation process. Let's take a peek at how canning processes came to be, how they have changed over the years, and why they are still popular today.
The Origin of Canning
For centuries, people have been trying to find ways to preserve food. Some methods, such as smoking, salting, or storing raw meat wrapped in fat in the larder (a cool storage area), were used to get humans through harsh winters when foodstuffs were in short supply. But when countries were moving troops in times of battle, supplying food for those on the ground was difficult to create on short notice. Soldiers and sailors needed readily available food with nutritional value to keep up the fight.
In 1795, the French people were embroiled in various battles taking place from the Caribbean to the Netherlands. The French Society for the Encouragement of Industry offered a prize of 12,000 francs, provided by the French government, to anyone who could find a better method for preserving food sent to Napoleon's Army and Navy.
Driven to Win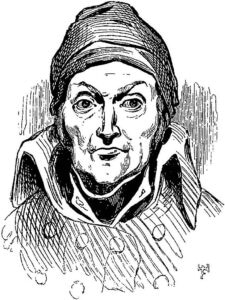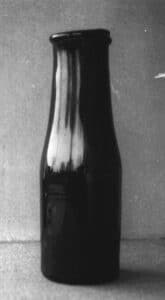 In 1802, a chef and brewer from Champagne, France named Nicholas Appert started experimenting with food preservation by sealing food within champagne bottles and using lime and cheese to keep it airtight. By 1803, he had made important adjustments, such as switching to wide-necked glass containers instead of fine-necked wine bottles to contain the food.
Appert started testing his methods by working with the French Navy when they were running training exercises. In 1804 he was placing food inside of metal containers made from iron and tin and then soldered them shut. Understanding the chemistry of mixing ingredients, he checked the tins for swelling over time. If they did not swell, they were good to ship out.
But it was in 1809 when Appert observed that food cooked inside a jar did not spoil unless the seals leaked. He developed a method of sealing food in glass jars by heating it within the jars before sealing them. Again, precautions were taken as the jars could explode. These improvements to sealing and preserving food were submitted to the Society and in 1810, Appert was awarded the 12 thousand francs. He used the winnings to invest further in his factory.
As to be expected, Appert's practices were copied and improved upon in multiple parts of Europe. Although he spent years working to innovate his method during the unstable post-Napoleonic era in France, his factories remained unprofitable. He died a poor man in 1841 and was buried in a common grave.
Taking up the Charge to the U.S.
In 1810, Peter Durand, a British merchant, received the first British patent for the idea of preserving food using tin cans to surround the glass containers. While he sold the patent to two other innovators in England, he later moved to the U.S. and obtained a U.S. patent for his canning method in 1818. After partnering with another English émigré, William Underwood, it is assumed they started preserving food in glass containers in Boston around 1820.
Yet despite Durand and Underwood's best efforts, Thomas Kensett and his father-in-law Ezra Daggert are generally attributed with bringing the tin can to the U.S. in a significant way. Together, they applied for and received a patent on January 19, 1825, for their method of "preserving animal substances in vessels of tin." The two gentlemen originally met when Kensett was working with Daggert's son, Alfred, as an engraver in Philadelphia. Kensett then married Alfred's sister. Kensett left his engraving company to experiment with product preservation and canning after being inspired while completing engraving work for some regional purveyors of packaged food.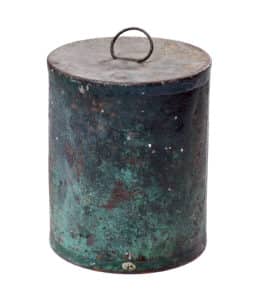 In a little plant on New York's waterfront, Kensett sterilized food in glass jars using an iron kettle. Because glass was expensive, easily broken, and difficult to pack, Kensett and the elder Daggett invented a process for preserving food in "canisters" of tin. Working as partners, the two set up a canning factory in Baltimore. Their cans, sold in New York, were filled with a variety of foods that included fruits, meats, vegetables, and oysters. Although the company grew, it was not known to be highly productive and profitable until 31 years later.
Canning in the U.S. for both domestic and military use didn't really explode as an industry until 1856 – the year that Borden's condensed milk was invented. Milk has a short shelf life and was difficult and expensive to obtain in some areas. Borden's solved the problem by removing most of the water from the milk and adding a bit of sweetener, which when canned, can last for years without refrigeration if it remains unopened. It was an instant hit.
Bacteria and Gas Expansion Impacted Canning
One of the biggest ongoing problems with canning, both in glass jars or bottles and in metal cans, was a lack of understanding about how the canned foods released
bacteria and gases over time. As a result, many early canned items in glass jars tended to explode. Meanwhile, items canned in metal cans, especially oysters, tended to release so many gases that the cans bulged and often smelled horrible when opened.
Here is a description of the process from an article written by Stella Burke May in the November 12, 1939, issue of the Washington, D.C. Evening Star on Thomas Kensett,
"The tin or tin-plated sheet iron imported from England was cut by hand with tinners' scissors and bent around

cylindrical molds by tinsmiths. It was a slow and painful process. So was the cutting of bottoms; a circle was drawn on a piece of tin and cut around with hand scissors. The tops were harder though because a hole had to be cut in the top for the insertion of food. The three pieces—body, bottom, and top—were then soldered together; at least twenty-five pounds of

solder was used for a thousand canisters. A good tinsmith could turn out sixty canisters a day.

"The filling was just as laborious. Oysters, meats, fruits, and vegetables were inserted through the holes in the top of the containers. After the canisters were filled and properly heated to expel the air the cap hole was closed with more solder and the cooking of the food completed."
A competitor of Kensett's entered the canning field up in Boston. William Underwood was sterilizing fruits and berries in glass containers. According to Burke, "Business must have been good because Underwood's bookkeeper shortened the word 'canister' to 'can.' While glass containers remained in use for another fifteen years, the English language had acquired a new word."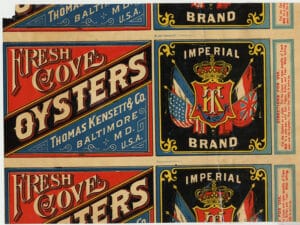 The financial panic of 1837 meant heavy cost-cutting efforts were being made by Kensett and Underwood, and by 1839 Kensett and Underwood were using the less expensive, more durable tin containers. Oddly enough, this cost-cutting development brought about another level of tin-making that continued to be used as the economy came back.
A bit later in 1862, a huge change came when Louis Pasteur's famous pasteurization procedure was successfully tested. Mr. Pasteur was the first person who realized that wine and other substances were spoiled by bacteria. He also realized that pasteurization, a process of using heat to treat products, could curb the development of such bacteria. Thanks to this discovery, the tin can became a staple in every kitchen for just about every type of food.
Home Canning Jars and Lids in the United States
Home canning in glass jars also benefited from Pasteur's discovery, although those exact canning methods used then were still not as effective as they are today. The jars used fitted glass covers that could seal the contents, but not completely, and they were tough to handle when hot.
John Landis Mason, an American tinsmith, made one of the biggest innovations in home canning when he patented the Mason jar in 1858. One of the most important features of the Mason jar was the sealing process that created a hermetic seal, keeping bacteria out thanks to the system of putting a round lid on the top of the jar and locking it into place by a metal "canning band" (ring) that screwed down on top of it.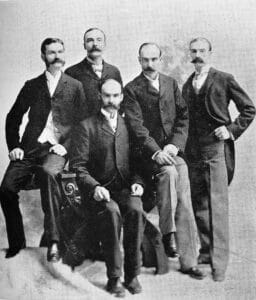 Five brothers named Ball changed the home canning industry again in the 1880s after two of the brothers borrowed $200 from their uncle to buy the Wooden Jacket Can Company. They were based in Buffalo, New York, where they started producing tin cans with wood "jackets" used to store materials ranging from kerosene and paint to lard. While first utilizing supplied glass jars, the brother began producing stand-alone glass jars for fruit canning. In 1886 there was a fire at their factory, but that didn't stop them. They were given incentives to rebuild their factory near a newly discovered natural gas pocket in Muncie, Indiana. Soon, they began purchasing other canning companies, eventually becoming the leader in glass canning jar production in the country.
In the late 19th century, the company continued to grow and prosper, but not without experiencing some challenges. Fires at its Muncie factories and warehouses in 1891 and 1898 damaged its facilities, but they were rebuilt. Despite the economic panic of 1893, the company was able to produce 22 million fruit jars for the year beginning in September 1894 and jumped to 37 million jars by 1897.
In 1903, the Hermetic Fruit Jar Company was founded by Alexander H. Kerr in Portland, Oregon. His jars were among the first to have wide mouths making home canning easier because jars could be filled faster and with less mess.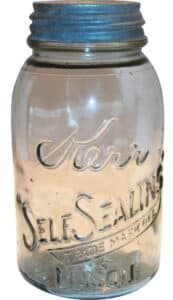 In 1915, Mr. Kerr also invented a new type of disk and gasket lid that was a simple one-piece solution that was held in place during the processing of the food by having a screw-on ring band instead. These "self-sealing" lids made it easier to seal the jar because they did not have to be put in place after the heating process. This new lid type was attachable to previously used jars. That meant those interested in doing a lot of canning each season could reuse jars from the previous seasons. It was a real-time and money saver.
U.S. Home Canning During the World Wars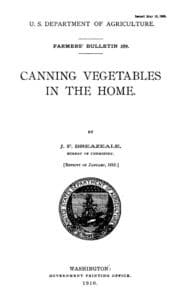 World War I and World War II had tremendous impacts on home canning in the U.S. Home canning using glass jars had just started to gain popularity thanks to the release of the pamphlet "Canning Vegetables in the Home" included in the USDA Farmer's Bulletin #359 released in 1909 by the Bureau of Chemistry. Subsequent issues covered using pressure cookers and other innovations.
When World War I struck just four years later in 1914 it caused a huge spike in canning. Commercial canning companies mostly canned items in metal cans for use by soldiers, while home canning in glass jars took off as people had concerns about food and other resources during wartime. With the help of the Ball brothers, among other makers, many communal canning centers were started to help those on the home front, as well as soldiers overseas.
A combination of things caused a real spike in home canning practices during World War II. One was the invention of stovetop pressure canners. Another was the stress of food rationing, as well as incentives that came along with that rationing. Namely, extra sugar was given to homes where canning was practiced. As World War II ended and goods were readily available again, canning decreased in popularity.
Who Cans Today?
The short answer to who cans today is everyone. Large companies still produce a wide variety of goods in metal cans, such as fruits, vegetables, and tuna fish. The use of glass jars to can at home is also still common, and not just in the United States. Canning practices of various types are used all over the world to preserve foods in multiple ways. Thanks to modern innovations and conveniences, it's easier than ever to can. It also makes a lot of sense because it can save you money and help you reduce food waste.
If you are going to "put up" preserves or other goods in glass canning jars at home, or even purchase items in metal cans from manufacturers, you need to know approximately how long they last. The problem is that, both in the early days of canning and today, shelf lives are unpredictable. Early canning successes did lead to the ability to store some foods for months, or even a year or more. There were also a lot of failures, both before and after the discovery of pasteurization.
In general, a good goal to shoot for today is preserving goods for up to about a year from the date canned (or jarred, as the case may be). However, jams, jellies, and pickled products can all last longer than a year, under the right circumstances. Ultimately, your best option is to use your senses. Look for decolorization, mold growth, unpleasant odor, and for goods in metal cans, dents, rust, or bulging. If none of those issues are present, the goods you have preserved are probably still fine to eat. There is a saying to live by in canning – when in doubt, throw it out.