A Visit to the Passau Glass Museum
By Chad Smith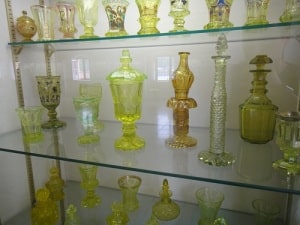 The Passau Glass Museum in Germany may not be listed in many travel brochures. In fact, Passau, a small university city near the Austrian border, is not even mentioned in many travel books.
But for anyone who is interested in art glass or marvels at intricate craftsmanship or cares about the preservation of fine historical objects, the utterance of the museum's name should inspire as much reverence as the "Smithsonian" or "Louvre."
That's because the Passau Glass Museum, which is privately owned, is home to the world's largest collection of European art glass. In fact, about 30,000 pieces, spanning 300 years, from 1650 to 1950, and nearly ten different epochs in art glass, are on display.
In addition, the museum also houses the world's largest collection of Bohemian glass and has the largest concentration of glass made by the Bohemian glassmaker Johann Loetz, whose highly iridescent, eye-catching work rivaled Louis Comfort Tiffany's.
All of which is to say that the Passau Glass Museum, though a bit of a distance from the U.S. yet easily reachable by river cruises some American tour groups give, is an absolute must-see.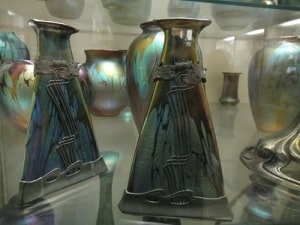 "This museum is important to Europe but over the years I've come to believe that it's important for the world, too," said Georg Hoeltl, 87, a tour company owner and hotelier who owns and founded the museum.
The first thing that jumps out to visitors of the Passau Glass Museum is surely the sheer size and scope of the collection. The museum is five floors in total and is spread out over four, old-world buildings, which were joined together. The first exhibition hall, which is on the top floor, where the collection begins, is about the size of a soccer field and the entire perimeter of the room is ringed by display cases, all filled with decorative vases, bowls, goblets, platers and beakers.
Hoeltl, who owns Rotel Tours as well as two hotels in Passau, including the Wilder Mann, a historic hotel that the museum is actually attached to, has more or less been single handedly procuring pieces for the museum since it opened in 1985. He first became interested in collecting art glass, though, in 1959, after he purchased his first major piece, a bowl made of iridescent Roman glass, from a Bedouin in Jerusalem.
"And it just took off from there," he said.
Indeed it did.


Visitors to the museum will find display cases filled with tankards, which were forged in the Bavarian Forest in the late 1600s — Hoeltl chose 1650 as the start date for the museum's collection because that's when glass making as an art form really began in earnest in Europe — colorful bowls produced in Venice in the 1700s and vases made in northern France in the late 1800s.
But even though the museum boasts the world's largest collection of European glass, and glass from all over the continent can certainly be found, keener visitors to the museum will soon notice, as they pass the display cases embedded in the walls of the museum's narrow stone passageways or stop to look in the countless vitrines in the museum's dozens of different rooms, that there is a specific type of European glass that dominates the collection.
And that's Bohemian glass.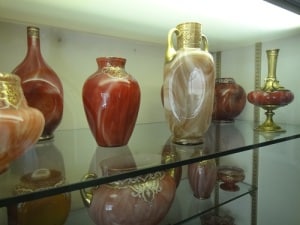 Bohemian glass, which comes in a range of different styles and is most often characterized by intricate crystal engraving, sumptuous hand enameling, and, later in its history, highly iridescent sheens, was created in two places. One place was Bohemia, a historical country that nowadays falls within the borders of the Czech Republic, and the other place was Silesia, a region just northeast of Bohemia, now part of modern day Poland.
About 10 years after Hoeltl began his glass collection, he came to learn about Bohemian glass and how many experts believe that some of the most, or perhaps the most, vibrant and defining years in European glass making occurred in Bohemia and Silesia in the 19th century. Hoeltl found it remarkable that some of the world's most important glass had been created in his own backyard, which prompted him to collect it in abundance.
Stroll around the Passau Glass Museum and you will see many pieces that are wildly diverse and span the many epochs in art glass but still have one common denominator: they are all Bohemian.
There are massive decorative urns with oriental-patterned enamel work that were made during the Historicism period (1850-1895) in Silesia; goblets, beakers, vases and ornate candlestick holders made of green and canary yellow uranium glass, all accented with gold enameling, that were made during the Biedermeier period (mid-1800s) in the mountainous region in northern Bohemia; bowls made of "silver glass," a type of glass that has a high, silvery luster and was produced and pioneered in the Bohemian Forest.
There's even an entire room dedicated to displaying Bohemian crystal from the Baroque era (1590-1750). In the room, the overhead lights have been turned down and all the crystal goblets, wine cups, flutes, plates and bowls in the showcases are set against a background of black felt. The only light shining on the objects comes from the small showcase lamps, which makes all the pieces twinkle like brilliant stars in the night sky.
Many of the glass objects in the Passau Glass Museum were made just to be displayed at World Exhibitions such as those that took place in London, Paris and Vienna in the mid-to-late 1800s and early 1900s. After the exhibitions, the pieces were often bought by kings and queens.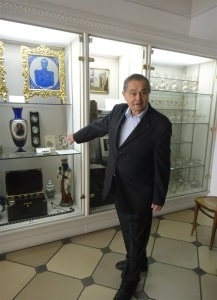 "It's just astounding, all this Bohemian glass," said Tieme Eefting, of the Netherlands, who was visiting the museum and gazing into a display case.
One of the reasons why the art glass industry became so successful in Bohemia and Silesia was because the ground in both places was rich in silica, limestone and other natural resources that are needed to make high quality glass. In addition, glass workers in the Bohemia-Silesia region discovered early on that potash, an alkaline potassium compound, combined with chalk creates a clear, colorless glass more stable than Venetian glass. (The discovery helped dethrone Venetian glass, which at one point had been the world's most famed.) Also: new tools created in Bohemia like the copper wheel engraver allowed craftsmen to engrave crystal in a grander and more marvelous way than had ever before been seen.
Though glass making had in fact been a tradition in Bohemia and Silesia since the 13th century, by the mid-19th century, the industry, driven in part by the aforementioned factors, was reaching its peak. Thousands of pieces of glass from Bohemia and Silesia were being exported all over the world and scores of "glass huts," or independent glass workshops known for their unique innovations and distinct brands of glass, dotted the region.
And on the final floors of the Passau Glass Museum, one finally arrives at the rooms that hold the pieces from arguably the most famous glass workshop in Bohemia, a workshop that helped popularize Bohemian glass or at least gave it an American audience, the workshop of Loetz.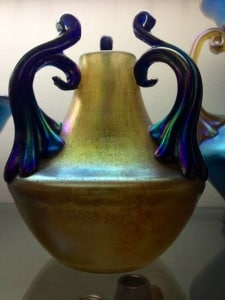 One really need not have much knowledge about Bohemian glass or art glass in general to be astounded by what can be seen in the Loetz rooms. Walking into the rooms, one is immediately struck by an explosion of color, dancing, undulating color — almost like some psychedelic visual feast. Bulbous and flowing shapes, some with highly saturated color, some bearing sheens that run the full color spectrum, are at every turn.
Loetz's workshop (1880-1940), which was run at various times by Loetz himself, then his widow and then other family members, created many innovative techniques in art glass and is specifically known for having changed the look of Bohemian glass. Before Loetz, Bohemian glass was known for its engravings and transparency and the forms that were used were of a classic nature: a wine glass or a candlestick holder. But Loetz created pieces that were translucent and opaque, and his workshop made bold use of color. Many Loetz pieces, in fact, have swirling color and eye-catching, iridescent sheens that glimmer like jellyfish with the sunlight coming through. In addition, Loetz's designers were inspired by nature and his workshop thrived during Art Nouveau, which drew heavily on natural forms. Thus, the shapes of and forms in many Loetz pieces resemble flowers, bulbs, flower buds, stalks, leaves, octopus tentacles and other natural objects.
All the new techniques that the Loetz workshop created and the features that make Loetz glass special are probably best represented in several special series of glass the Loetz workshop produced. And the pieces from these series are of course on copious display at the museum.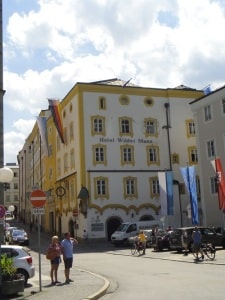 In one of the Loetz rooms, in one display case out of many along a sidewall, there are decorative, triangular shaped vases that have a rich, green and blue luster and highly iridized oil spots — that's Loetz's "Medici Glass"; opposite the Medici Glass, in another display case, there are thick, iridized vases pockmarked with crater-like indentations — that's "Neptune Glass"; in another room, there are amorphous, iridized vases with wavy, metallic ribbons — "Phenomenon Glass"; and across from the Phenomenon Glass, there are several display cases filled with perfume bottles, pitchers and other objects that have basic colors and neat black trimming — that's "Tango Glass," which was popular during World War I, when there was much less of a taste for opulence.
The museum also has a collection of glass made by Moser & Sons and several other of Loetz's workshop's contemporaries, but the Loetz collection dwarfs them in size.
"If you want to know about Loetz glass," said Eddy Scheepers, a Loetz collector who runs the website Loetz.com, "[there's nothing like the Passau Glass Museum]."
Indeed, there isn't. But even though the museum contains so many Loetz pieces as well as vessels from other famous glassmakers, more glass keeps getting added.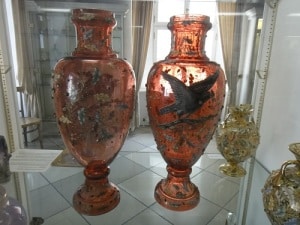 Hoeltl, who has an office in the museum — an office that looks more like a workshop, equipped with measuring tape, a camera, a magnifying glass and various other items on a central wooden table — continues to bid at auctions. In fact, on a recent day, he was personally adding new pieces and their placards to one of the museum's display cases. (He gets most of the Bohemian glass from England, which historically had been a major buyer of it.)
"It's still my passion and I want to keep doing it as long as I can," Hoeltl said.
Even so, the museum's future seems secure. Hoeltl's son Peter, 56, will inherit the entire collection as well as the museum and will steward both. In addition, tourists to Passau continue to show interest in the museum and the number of tourists who visit the city each year isn't expected to dwindle anytime soon: Passau sits at the confluence of three rivers, most notably the Danube, which makes the city a popular stop for river cruises (including river cruises offered by the American companies Viking Cruises and Avalon Waterways among others).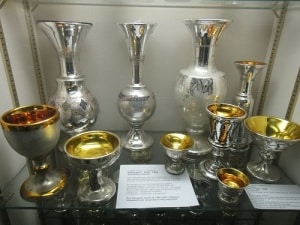 And if another reason to believe that the museum's future will be bright is needed, just walk into the Hotel Wilder Mann's lobby and look to the left. There you will find a wall filled with framed photographs of all the prominent people who have visited the museum. Mikhail Gorbachev, Henry Kissinger, kings and queens from different European countries. All have at some point walked the vitrine-filled rooms, and the fact that they have visited the museum really gives one a sense of the museum's importance and a feeling that it has earned a fixed spot among Europe's major cultural institutions.
Oh, and about all those prominent visitors, Hoeltl had this to say: "My wife says that I like to collect prominent people, too!"
And one of the most prominent people to have ever visited the museum was Neil Armstrong. In fact, the first man to walk on the moon opened the Passau Glass Museum. Hoeltl, through his associates, was able to contact Armstrong, and on March 15, 1985, Armstrong stood outside the Passau Glass Museum in a light rain wearing a khaki trench coat and, with a crowd gathered round, cut a ribbon stretched in front the museum, officially opening it.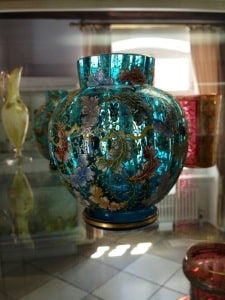 The celebratory day is not only memorialized in pictures on the wall in the hotel lobby, but also in many other pictures located in various spots around the hotel and museum.
Now, of course, getting Neil Armstrong to open your museum is a huge honor, but it must be said that the more one sees these photos — they're in the hotel's breakfast room, in the elevator — the more one begins to wonder, or has a harder time suppressing the question, Why Armstrong? Where's the correlation? The moon…and glass?
Hoeltl has an explanation. He could, he said, have gotten a president to open the museum. But there have been other presidents. He maybe could have even gotten a king or a queen. But, again, there have been other kings and queens. Armstrong, however, is singular in that he was the first man to walk on the moon — no one else has that designation.
And after touring the singular achievement that is the Passau Glass Museum, one can really begin to understand why Hoeltl felt a kinship with someone who had done something that had never been done before.