Guess What? November 2012
by Bob Cahn – "The Primitive Man"
Size Does Matter!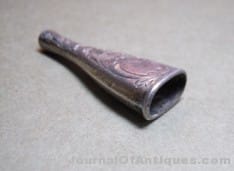 Rarely do we give credit before presenting our monthly Guess What, but one of our favorite contributors/scouts/sources… is George's Antiques of Fullerton, CA.
His top honcho and demon researcher, Brenda Wieser, came up with this rare and pristine Victorian mini kit. We suggest you take careful note of the dimensions as referenced by the "penny" comparison in the photo.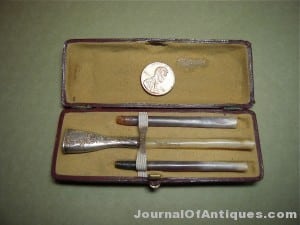 It comprises a Liliputian-sized embossed sterling silver funnel and two clear quills. No further description is needed, except to note that slightly different coloration appeared on the quills when in actual use. The diminutive size of the funnel is 11D 2″ long and 1D 2″ wide and 1D 4″ thick.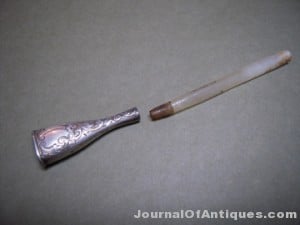 Go figure & is it:

1) Early pediatrician's baby ear canal wax removal drainage kit
2) Victorian handbag perfume atomizer filler
3) Miniature cupcake gravity feed icing decorator
4) One fish-at-a-time direct aquarium feeding tube
5) Picnic single person salt packet filler
6) Lavish up-scale doll house lavabo (bowl missing)
7) Early red and black inkwell replenisher
8) Small Victorian herb garden seed sower
9) Navel lint moisturizer
10) Fancy small dose antipasto oil and vinegar spritzer
11) Thimble size sommelier (wine steward) sampler/blender funnel
12) Cockroach water-board torture device.
That's the gammut, run with it! Astounding answer next month, unless you're way ahead in the guessing game. 'Till next time!*
*As seen in George's Antiques booth (Fullerton, CA) exhibiting at
Mike Grimes Del Mar Antique Fair.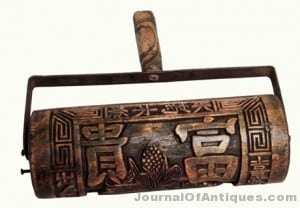 Answer to October's Guess What
Last month's Guess What featured an integral part of an early Chinese burial ritual — where a counterfeit money printer is used to roll out — by inking the roller, spurious paper money.
It was either buried or set on fire at the gravesite. The belief was that the money smoke wafted aloft, accompanying souls on their heavenly journey. This enabled them to acquire after-worldly goods and comforts for their eternal existence.*
*Available for acquisition.