Comic Character Collectibles
by J.C. Vaughn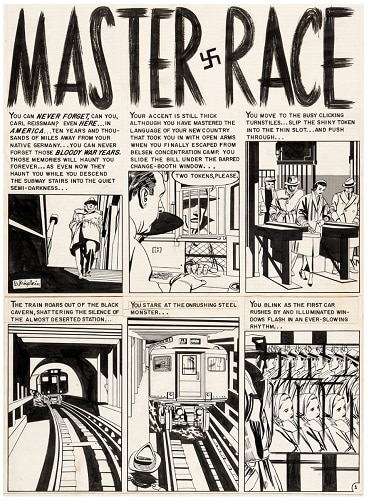 Heritage Auctions' November 15-17, 2018 Comics & Comic Art Auction made headlines when it closed at $10,776,936 in total sales and the company reported a 99.36% sell-through rate.
The Belgium-based Boon Foundation for Narrative Graphic Arts garnered the biggest headlines of the event with their $600,000 bid for Bernie Krigstein's original art for "Master Race" from EC's Impact #1. The eight-page story was plotted by EC publisher Bill Gaines and editor Al Feldstein, and written by Feldstein, but it is frequently it is Krigstein's innovative art that is most frequently cited for why the landmark story stands out beyond its historical precedent.
"These eight pages date from 1955 and were the first major representation of the Holocaust in the history of graphic narrative," said Daniel Spindler, a representative of the Boon Foundation. "Master Race" is one of the world masterworks of graphic narrative."
Created in Belgium in June 2018 by Philippe Boon, the Boon Foundation for Narrative Graphic Arts houses several thousand works, in particular strip comics and graphic novels.
"Master Race" is a powerful look at the effects of Nazi concentration camp atrocities upon those who survived them, while retaining EC Comics' signature twist ending style. The story was the cover feature for Impact #1, one of EC's "New Direction" wave of comic books, which was released in 1955. The cover was by Jack Davis.
In addition to the "Master Race" sale, there were a number of other noteworthy highlights from the auction in terms of both original comic art and comic books.
Among the original comic art, Steve Ditko's original art for Amazing Spider-Man #18 page 22, depicting a striking image of Spider-Man, closed at $288,000, while his successor, John Romita, Sr., saw his original cover for Amazing Spider-Man #60 featuring Kingpin nearly tripled the preauction estimate before realizing $288,000. Jack Kirby and Syd Shores Captain America #109 original cover art sold for $264,000.
Heritage reported that more than two dozen collectors competed for a CGC-certified 9.2 copy of The Incredible Hulk #1, which eventually landed at $336,000. Featuring the origin and first appearance of the Hulk, this copy far exceeded Heritage's previous sales record of $264,000.
Additional comic book highlights included Detective Comics #27 CGC 9.2 for $180,000, Action Comics #13 CGC 9.0 for $156,000, Amazing Fantasy #15 CGC 7.5 for $144,000 and CGC 7.0 for $114,000, and Superman #1 CGC 1.8 for $132,000.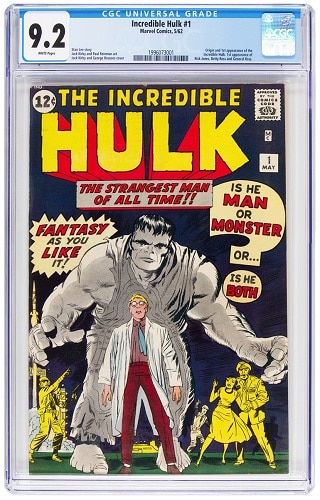 Remembering Stan Lee
As you read this, it's been almost two months since former Marvel Comics impresario Stan Lee passed away at the age of 95, but it's appropriate to take a moment to acknowledge his profound impact on the fields we cover.
Terms like "iconic" and "legendary" are thrown around with reckless abandon in our modern world of over-hyping, desensitizing the terms for those to whom they actually apply. But when it comes to the comic book industry, Stan Lee is among the top tier of individuals deserving of that epitaph.
Lee was the highest profile comic character creator, having co-created a slate of popular characters for Marvel. Working with other industry greats, he co-created Spider-Man, Iron Man, the Fantastic Four, Black Panther, the Incredible Hulk, Doctor Strange, Daredevil, the X-Men, Ant-Man, and Thor.
He was known for his clever writing, instilling a strong sense of humanity in his characters as they battled supervillains, and real world issues like drug use and bigotry. He was a showman, outgoing and funny, who developed comics slogans, including his catchphrase, "Excelsior!"
"While it's both easy and appropriate to cite the critical, creative contributions of talents such as Jack Kirby, Steve Ditko, and others, no one has ever promoted comics the way Stan Lee did. Across eight decades as writer, editor, and ambassador-at-large, he sang the virtues of the medium to anyone who would listen," said Steve Geppi, President and Chief Executive Officer of Diamond Comic Distributors said.
"That he lived to become an iconic spokesman for the art form through his appearances in Marvel's movies and TV shows is amazing and should be celebrated, but it should not overshadow the achievements of his comic book work itself. The humanity he injected into traditional superhero tales has had a lasting, defining impact. By adding everyday
concerns to his characters and making them more relatable than cookie cutter archetypes, he and his contemporaries blazed a trail that is often followed and rarely broken from successfully," he said.
Personally, I had a few chances to meet Stan with The Overstreet Comic Book Price Guide's Bob and Carol Overstreet and subsequently with former Marvel Comics Editor-in-Chief Jim Shooter, and the experience never disappointed. I also was honored to have Stan guest star in Antiques: The Comic Strip, which I created with artists Brendon and Brian Fraim. Stan was very complimentary of their work and didn't change the dialogue I wrote for him, something I'll always carry as a mark of pride.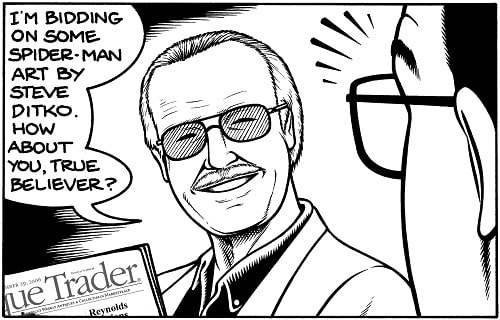 J.C. Vaughn is the Vice-President of Publishing for Gemstone Publishing. Gemstone's Amanda Sheriff and Braelynn Bowersox contributed to this column.
Krigstein's "Master Race" Original Art Leads at Heritage, and Remembering Stan Lee