Comic Character Collectibles
By J.C.Vaughn
Selections from The Stephen A. Geppi Collection of Comics and Graphic Arts went on display in the Great Hall of the Thomas Jefferson Building at the Library of Congress on Tuesday, November 6, 2018, just five months after his gift to the nation's library was revealed.
The previous Tuesday, October 30, the Library hosted a press event for Geppi, the President and CEO of Diamond Comic Distributors, to meet with the media to discuss the opening of this display of items from his collection.
Such pieces as Ub Iwerks' original storyboards for Walt Disney's Mickey Mouse in Plane Crazy, Joe Simon's original concept drawing of Captain America, Don Levine's hand-sculpted G.I. Joe prototype, a copy of Rodolphe Töpffer's pioneering The Veritable History of Mr. Bachelor Butterfly, the 1933 Big Little Book Mickey Mouse, the Mail Pilot, and examples of the Popeye Daily Dime Bank (1956), the Superman Krypto-Raygun (1940), and the Captain Marvel Club welcome letter and envelope written in code accompanied by the code key are scheduled to be on view for the public through February 11, 2019.
Geppi's multi-million-dollar donation of more than 3,000 items from his personal comic book and pop culture collection to The Library of Congress was announced by Dr. Carla Hayden, the Librarian of Congress, on Wednesday, May 30. It encompassed comic books, photos, posters, original comic book and comic strip art, newspapers, pinback buttons, and other rare, vintage pop culture artifacts.
For 23 years, first at Diamond International Galleries, and from September 2006 until June 3 at Geppi's Entertainment Museum, Baltimore had something of an exclusive on these treasures, but Geppi said he always wanted them to be seen by a larger audience.
"Now, with the Library of Congress's 1.8 million visitors a year, we not only have the opportunity to have them seen by a greater potential number of people, but I believe we have a chance to help them grow that number even bigger," Geppi said.
He said he got the first taste of putting comics before the mainstream public when he opened his Geppi's Comic World store in Baltimore's Harborplace development in the early 1980s. The reactions confirmed and honed his instincts, but in truth it wasn't the first time he tried to share his passion with "civilians."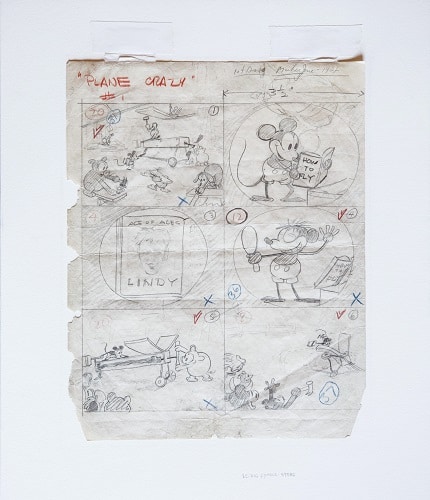 "As my family and friends could tell you, I was truly trying to share my excitement well before that. It actually started when I first discovered comics. When I picked up my first issue of Batman at age 5, I couldn't help but share my excitement, first with my brother, then the rest of my family, and then my friends. I remember thinking 'This stuff is great! I can't wait to share it with so-and-so.' Each step after that has really flowed from those first thoughts," he said.
Prior to the press event, he hadn't seen the items selected for this exhibit since they were picked up by the Library of Congress' team a few months ago. He said to see them again in such a distinguished setting, to see them treated with such respect, and to know what Carla Hayden and her team have in mind for them, was truly humbling.
The press event was held in the Library's historic Members' Room, an impressive setting of vaulted ceilings, wood panel walls, and gold leaf accents. Geppi was introduced by David Mandel, the Library's Director, Center for Exhibits and Interpretation. Librarian of Congress Hayden was in attendance as Geppi fielded questions from the press and talked about the remarkable feeling of seeing his collection in such an environment. Library curators from the Prints and Photographs Division, the Serial and Government Publication Division and the Rare Book and Special Collections Division were also present with the U.S. Capitol just a glance out the window.
The Library of Congress staff impressed Geppi with their selection of items.
"When we had the collection on display at Geppi's Entertainment Museum, you might well have a $100,000 item right next to a $10 item because it was never about the dollar value. You can trust that I loved being the custodian of the Plane Crazy storyboards or the Captain America concept drawing, but I was just as happy to see other items such as Marvel Comics' G.I. Joe #1 from 1982 among these selections. Why? Because that's an important memory for someone!" he said.
"Whether we're talking about Big Little Books, comic books, pulps, movie posters, action figures or any of the other items, the displays are conversation starters. The familiar refrain of 'I had that!' can bridge a lot of gaps between people, and I'd love to think that my collection can play a role in getting people talking. Wouldn't that be great?" he said.
Overstreet's New Price Guide
Amanda Sheriff, who regularly contributes to this column, has teamed up with Robert M. Overstreet, the dean of American price guide authors, for The Overstreet Price Guide to Star Wars Collectibles, which has just been released by Gemstone Publishing.
The book is anchored by extensive pricing on toys (action figures, playsets, and vehicles), comic books (Marvel and Dark Horse main titles and callouts on other series), and movie posters (U.S. releases from heralds to 24-sheets). Additional topics include novels, pop-up books, video games, trading cards, Halloween costumes, soundtracks, screen-used material, original art, and more. Beyond the pricing and hundreds of images, the book features background information on a variety of subjects.
The 416-page, full-color book carries a cover price of $30. It is available from online booksellers, traditional bookstores, comic book shops, and directly from Gemstone Publishing.
J.C. Vaughn is the Vice-President of Publishing for Gemstone Publishing.
Library of Congress Launches First Exhibit of Geppi Collection