Mid-Century Design
The San Francisco Airport Museum – San Francisco, CA
The San Francisco Airport Museum, located in the International Terminal of the San Francisco Airport, is showcasing a diverse and comprehensive collection of mid-century studio art, graphic design, and manufactured goods with the ongoing exhibit "A Modern Approach: Mid-Century Design."
Running through April 9, 2017, the exhibit features objects from the top names in design and manufacturing from the 1930s to the 1960s, including Charles and Ray Eames, Raymond Loewy, and the Bauhaus school.
This exhibition takes viewers on a journey from craftsmanship to mass-produced design, looking at the intersection of art and commerce, domestic and public, and organic and industrial. The show features everyday objects of "good design" like the Chemex coffee pot alongside the highly surrealist candelabra by Adaline Kent, and emphasizes the inclusion of groundbreaking technology like the Special Model K portable electric phonograph by John Vassos.
These objects, created to facilitate modern living, represent the aspiration and innovations of this unique period of American design. The artists and designers promoted a mastery of mechanization and the latest materials to carry modern design to the masses. "A Modern Approach: Mid-Century Design" will end April 2017, and can be viewed now at the San Francisco International Airport on Level 3 of Departures.
Minds of Modernism
Michigan History Museum – Lansing, MI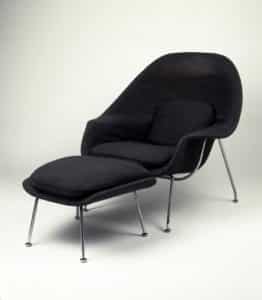 "Minds of Modernism," at the Michigan History Museum, celebrates the Michigan architects and designers who led the mid-20th-century modern design movement. Architectural models, plans, images and furniture are among the things that bring the modern quest for open design, an informal lifestyle and organic materials to life.
Modern architect William Kessler's model for the Michigan Library and Historical Center greets visitors, along with his sometimes whimsical artwork.
Guest curator Susan J. Bandes, director of Museum Studies at Michigan State University, takes visitors on a tour of mid-Michigan houses designed by such well-known designers as Frank Lloyd Wright and Alden B. Dow, as well as regional architects. Using archival research and oral histories, she includes unbuilt structures and the "messages owners sought to project in their buildings."
Guest curators Amy Arnold and Brian Conway, of Michigan's State Historic Preservation Office, focus on Michigan's impact on, in Conway's words, "everyday life from designing the cars that became part of the American Dream, to furnishing homes and offices, to influencing the path of American architecture."
Discover the national impact of Michigan designers and architects like Minoru Yamasaki and Eero Saarinen as they adopted and spread mid 20th-century modern concepts that came to be found in anything from dishes to chairs to home design. "Minds of Modernism" draws from two recently published books – "Mid-Michigan Modern: From Frank Lloyd Wright to Googie" by Susan J. Bandes and "Michigan Modern: Design that Shaped America" by Amy Arnold and Brian Conway. This special exhibit also takes a little extra pride in highlighting the modern design contributions of William Kessler, architect of our very own home, the Michigan Library and Historical Center.
"Minds of Modernism" runs now through April 9, 2017, at the Michigan History Museum, located in downtown Lansing.
Museum Highlights: November 2016