Known as the "Buckeye State," Ohio holds a rich place in our nation's history, especially when it comes to glassmaking.
Glassmaking shifted to Ohio in the late 1800s where fuel, railroads, and waterways made manufacturing and shipping more affordable. The industry boomed, spawning dozens of small-town glass companies and earning Toledo (birthplace of the automated bottle maker) the nickname "Glass City." Ohio's history and appreciation for antiques is evidenced in the many shows, auctions, and flea markets that take place throughout the state all year long, and the number of antique shops and malls that populate small towns and big cities, alike.
UPCOMING ANTIQUES & COLLECTIBLES SHOWS
Olde Stark Antique Faire
April 9-10. Sat. 9am-4pm, Sun. 10am-4pm
330-794-9100 – https://www.facebook.com/Olde-Stark-Antique-Faire-738513172845867/
Stark County Fairgrounds, Exhibition Bldg.
305 Wertz Ave., Canton, OH
A large indoor antiques and collectibles show featuring 200 dealers and collectors. Nostalgic collectibles of every description from fine heirlooms to folk art await your perusal. Appraisals, cash buyers, new 'reference books, chair caning, jewelry repair, and cleaning.
Ohio Country Antique Show
Saturday, April 16. 9am-3pm
513-738-7256 – www.queencityshows.com
Roberts Centre, U.S. 68 at I-71, Exit 50, Wilmington, OH
Authentic antique furnishings and decorative accessories, historic Americana, fine art, primitives, rustic, folk art, general store, quilts & other textiles, garden & architectural artifacts – 18th thru early 20th centuries.
Springfield Antique Show and Flea Market
April 16-17
www.springfieldantiqueshow.com
Clark County Fairgrounds,
4401 South Charleston Pike. Springfield, OH
Three times a year, in May, July and September, the Springfield Antique Show and Flea Market holds its famous Extravaganza. The extravaganzas are some of the largest markets held anywhere in the country and draw dealers and customers from around the world.
Burlington Antique Show
April 17, May 15, June 19, July 17, August 21, September 18, October 16
www.burlingtonantiqueshow.com
Boone County Fairgrounds, 5819 Idlewild Rd. Burlington, Kentucky
Ten minutes south of Cincinnati, Ohio, the Burlington Antique Show is the Midwest's premier antiques and vintage collectibles only show.  A true pickers' paradise, Burlington Antique Show attracts more than 250 antiques dealers. Held on the third Sunday of each month from April through October.
Earlier Times Antiques & Folk Art Show
April 22 & 23. Fri. 4pm-8pm, Sat. 9am-1pm
618-932-6633 – https://www.facebook.com/Earlier-Times-Antiques-FOLK-ART-Show-803213729785653/
Moose Lodge, 1201 Sugar Grove Road. Lancaster, OH
Show features antiques and folk art.
Curry's Antiques Spring Gathering
April 22-23, 10am-3pm
740-654-1333 – www.currysantiques.com
1333 Rock Mill Road NW. Lancaster, OH
Eight rooms full of antiques, New England and 18th century with early paint, including Drysionks, set back cupboards and flat wall cupboards, settles, chimney cupboards, bible boxes, tavern tables and so much more! Artisans on-site making wonderful things, including linens, candles, furniture and so much more. Perennials, herbs, working Blacksmith.
Miller House Antiques
April 22-24
614-325-8873, www.picturetrail.com/millerhouseantiques
8739 Slough Road. Carroll, OH
Fine quality 18th & 19th century country antiques & accessories and more.
Simple Goods Show
April 23, 9am-3pm
Christina: 570-651-5681, Kris: 508-341-6870 – www.picturetrail.com/simplegoods
R & L Banquet Center. 781 Fifth Avenue, Mansfield, OH
Over 50 outstanding early antique dealers & primitive artists from all over the country.
Scott Antique Extravaganza
Apr 29-May 1. Friday: 9 am – 6 pm, Saturday: 9am – 6pm, Sunday: 10am – 4pm
www.scottantiquemarket.com
Scott Antique Markets. 2016 Washington Court House.
Fayette County Fairgrounds, 213 Fairview Avenue. Washington Court House, OH
"America's Favorite Treasure Hunt." You'll find anything you can imagine – from paintings, silver and maps to furniture, rugs, instruments and much, much more!
ANTIQUING AROUND TOWN
AAA I-76 Antique Mall
330-325-9776 – www.i76antiquemall.com
4284 Lynn Road, Ravenna, OH
I76 Antique Mall is a wonderful showplace to buy and sell affordable, high-quality collector and decor oriented antiques and vintage items. 50,000 square feet of antiques and collectibles from over 400 vendors. Open 362 days a year, 10am-6pm.
Buggy Seat Antiques
614-920-1834 – https://www.facebook.com/Buggy-Seat-Antiques-1014315261921470/
4650 Waterloo Road, Canal Winchester, OH
We do country here at Buggy Seat Antiques. And we do it well. You'll find primitives, painted, and fine country furniture and accessories. Because our antiques from the 1700's and 1800's are authentic, original and unique, you'll enjoy owning one of our unequaled pieces. Open Wednesday through Saturday, 10am to 5pm, or call for an appointment. Spring Open House April 22-24.
Cowan's Auctions
www.cowanauctions.com
26801 Miles Road #105, Cleveland, OH
A Premier Art Auction House selling Fine Art, Decorative Art, American Indian Art, Antique Firearms, and Historical Americana. Check Cowanís web site for upcoming auction dates.
Curry's Antiques
740-654-1333 – www.currysantiques.com
By Appointment Only.
1333 Rock Mill Road NW, Lancaster, OH
Specializing in 18th and 19th Century American Country furnishings in early paint and primitive crafts & linens. We carry huge a selection of cupboards, pantry boxes, dough bowls, treen, chests, shelves and so much more.  Spring Show April 22-23, 10am-3pm.
Judy Robinson's Country Textiles
740-746-9602 – www.judyrobinsonscountrytextiles.com
3350 Chickencoop Hill Road, Lancaster, OH
Handwoven rugs, mats, table runners, handwoven pincushions, and antiques. Juried ìone of the best craftsmanî in the United States by Early American Life Magazine for over 12 years. Check website for open house dates and upcoming shows. Shop hours by appointment or chance. See us at Earlier Times Antiques & Folk Art Show.
Miller House Antiques
614-325-8873, www.facebook.com/Millerhouseantiquesonslough – www.picturetrail.com/millerhouseantiques
Open by Chance or Appointment
8739 Slough Road, Carroll, OH
Fine quality 18th-19th century American and country antiques and accessories, garden & yard including tobacco stakes, concrete sheep, plants. Spring Open House April 22-24.
Springfield Ohio
www.springfieldohioantiques.com
Springfield, Ohio is becoming the Antiquing Capital of the Midwest with 15 antique shops – and more shops in the nearby communities of Urbana, Mechanicsburg and Clifton. Springfield is also the home to the two largest antique malls in the midwest. And the Springfield Antique Show and Flea Market draws visitors from all over North America.
Stone Village Antiques
614-325-8873 – 614-834-1030 – https://www.go-ohio.com/Stone-Village-Antiques/#
Open Wed-Sat 11am-4pm, or by appointment
70 East Columbus Street, Lithopolis, OH
Located in the Brenan House, Stone Village Antiques specializes in 18th, 19th, and early 20th century art, advertising, bronze, country primitive furniture and accessories, workbenches, tools, fine glass & china, textiles, oil paintings, and so much more.
Waynesville, Ohio
www.ohioslargestplayground.com
Founded before Ohio even became a state, a trip to Waynesville is like stepping back in time. Waynesville has earned an unsurpassed reputation for its variety of antique shops and unique treasures. Waynesville's shops are a premier destination for beginning and discriminating collectors alike. Find re-finished and original-condition pieces, the finest Shaker-inspired Windsor Chairs, or seemingly endless yards of fabric at Waynesville's unique shops.
Wooden Nickel Antiques
513-241-2985 – www.woodennickelantiques.net
1400-1414 Central Parkway, Cincinnati, OH
We specialize in vintage antique furniture from the 19th and early 20th century, architectural salvage, vintage bars, unique lighting, stained glass, garden treasures, restored mantels, decorative arts, and more.
OLDE STARK SPRING ANTIQUE FAIRE OFFERS FREE APPRAISALS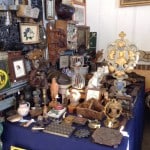 The Olde Stark Antique Faire will be held Saturday and Sunday, April 9 & 10 at the Stark County Fairgrounds, Exhibition Hall, 305 Wertz Avenue in Canton, Ohio, 9am-4pm on Saturday and 10am-4pm on Sunday.
Large indoor show featuring over 100 dealers and collectors with nostalgic collectibles of every description from fine heirlooms to folk art await rediscovery. Included are antique furniture, pottery, porcelain, crystal, clocks, quilts, linens, lamps, postcards, old toys and dolls, rustic primitives, period and Victorian, Art Deco, militaria, sports memorabilia, and so much more!
Now in its 28th year, this show is a great way to meet the dealers, gain insight, befriend other collectors, find bargains, and have a great day. Auctioneer/Appraiser Dave Morris will be conducting free appraisals at his booth and Jean Piero will demonstrate the art of chair caning.
SIMPLE GOODS SHOW BRINGS EARLY COUNTRY ANTIQUES & PRIMITIVES TO MANSFIELD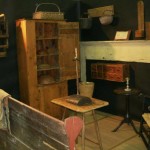 Mansfield, OH – The spring Simple Goods Early Country Antiques & Primitive Goods Show will be held on Saturday, April 23, 2016 at the R & L Banquet Center, 781 Fifth Avenue, Mansfield, OH from 9 a.m. to 3 p.m.
Simple Goods is a blend of the best in early country antiques and quality handmades.  Now in its 10th year, Simple Goods's success of blending antiques with related goods has opened the doors to many more shows of its kind to follow around the country.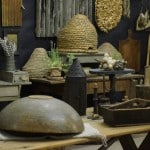 Hundreds of customers eagerly wait in line for the doors to open at each show, anxiously awaiting the wonderful offerings inside.  The spring show features 47 reputable dealers who travel from New England, the Midwest, Mid-Atlantic and Southern states, including Jill Peterson (author, photographer, editor) with A Simple Life magazine.  Customers and dealers alike enjoy the displays of fabulous 18th and 19th century antiques coming together for a celebration of the past!
Simple Goods was established in 2006 in Mount Vernon, Ohio before moving to its current location in Mansfield in 2012.  The November 5, 2016 show will be its 10th Anniversary Celebration with many one-of-a-kind special happenings.
Admission is $5 and includes free parking.  For more information or directions call 570-651-5681.  Be sure to visit www.picturetrail.com/simplegoods where you will find discounts at various hotels in the Mansfield area available to our customers.  Follow Simple Goods on Facebook for dealer photos, floor plan, special give-aways and news about the show.
BURLINGTON ANTIQUE SHOW RETURNS FOR THE NEW SEASON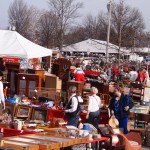 Ten minutes south of Cincinnati, Ohio, the Burlington Antique Show is the Midwest's premier antiques and vintage collectibles only show.  A true pickers' paradise, Burlington Antique Show attracts more than 250 antiques dealers.  Scope out all kinds of goodies, including architectural salvage, furnishings from Art Deco to Mission to primitive, antique tools, toys, art, glassware—the gamut! Held on third Sunday of each month from April through October: April 17, May 15, June 19, July 17, August 21, September 18, October 16. For more information visit www.burlingtonantiqueshow.com
EARLIER TIMES ANTIQUES & FOLK ART SHOW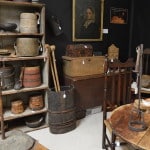 Lancaster, Ohio – Renowned Folk Artist, Show Promoter & Owners of Arnett's Country Store, Stacee Droit and her husband Bruce bring their talents to Lancaster, Ohio promoting the brand new Spring Earlier Times Antiques & Folk Art Show at the Moose Lodge, April 22nd, & April 23rd 2016. Adding to the Lancaster, Ohio area of long standing Country Antique Shops: Miller House Antiques 8739 Slough Rd, Carroll, OH, Curry's Antiques, 133 Rockmill Rd, Lancaster, OH & Buggy Seat Antiques 4650 Waterloo Rd Canal Winchester, OH. The show will feature over 30 hand selected Country Antiques and Folk Art dealers from across the country.
A handpicked select group of country dealers chosen for their quality and uniqueness drew a huge crowd at the Premier show held in November, 2016, with an overwhelming positive reception. Customers remarked how spirited and wholehearted the dealers and atmosphere was, making this show a huge success. The dealers attribute the success to all the hard work of Stacee and her husband Bruce, as well as the collaboration of the Country Antique shop owners in the Lancaster, Ohio area with their help in promoting the show. A huge thank you from all the dealers to the wonderful customers who came out to support the show, we look forward to bringing you the best Antiques and Folk Art.
Join us Friday April 22, 2016 from 4PM- 8PM & Saturday April 23, 2016 from 9AM-1PM at The Moose Lodge 1201 Sugar Grove Road Lancaster Ohio! The Earlier Times Antiques & Folk Art Spring Show along with the open houses and home tours of Millers Antiques, Curry's Antiques and Buggy Seat Antiques will make Spring in Lancaster, Ohio an Antiques Lover's Dream!
For more info, contact Stacee Droit: 618-932-6633 or www.picturetrail.com/earliertimes or Doreen Piechota – Ye Country Mercantile – Sturbridge, MA
DATES ANNOUNCED FOR 2016 OHIO COUNTRY ANTIQUE SHOWS
Wilmington, Ohio: Queen City Shows Manager Bruce Metzger has announced the 2016 dates for his Ohio Country Antique Shows at the Roberts Centre in Wilmington, Ohio. Now in its 12th year of bi-annual engagements, the shows are scheduled for Saturday, April 16 and Saturday, October 15.
Ohio Country is widely recognized as an excellent regional source for authentic American antiques in the various "country" styles. Featuring a wide selection of formal and primitive furniture, the show appeals both to those who decorate with colonial era finery and those who live in rustic simplicity. Decorative accessories include fine ceramics and salt glazed stoneware; hand woven textiles, quilts, and coverlets; naïve and fine paintings; early lithographs; folk art; lighting and other metal wares; early advertising and ephemera; toys and children's items; and, garden and architectural artifacts. Historic Americana including documents, portraiture, and early firearms complete the mix. All merchandise is guaranteed as represented.
Although the show intends a narrow focus, Metzger likes to point out that "country is a mighty big tent." The show's fifty dealers represent several states and backgrounds. While a few show only at this event, others are on an annual circuit that stretches from Atlanta to New England. This knowledgeable group is always ready to share their love of early antiques.
Ohio Country Antique Shows open to the public at 9 A.M. Saturday. There is no preview or early buying period beforehand. Adult admission is $6.00 and parking is free. Show activities end at 3 P.M. The Roberts Centre is located north of Wilmington at the intersection of U.S. 68 and Interstate 71 (exit #50). The facility is less than an hour's drive from either Cincinnati or Columbus, and about 45 minutes from Dayton. The complex includes multiple exhibition halls, a Holiday Inn and contemporary bistro restaurant.
SCOTT ANTIQUE MARKETS ADD SUMMER ANTIQUE EXTRAVAGANZAS IN OHIO
The Scott Antique Market management is adding summer Extravaganzas to their schedule of shows in Ohio. They have leased the Fayette County Fairgrounds in Washington Court House, Ohio. The four show dates are the fifth weekend of April, the fourth weekends of June and August plus the first weekend in October. Show promoter Don Scott terms it as an "Antique Extravaganza at the Awesome Fayette County Fairgrounds."
At least four Washington Court House summer antique extravaganzas are planned into perpetuity with more dates being added with demand. The show's location is in a small county town in the rolling foothills of Southwestern Ohio. It is encircled with a massive population base such as found on the west and east coast, including historical Cincinnati, Dayton, Springfield, Columbus, Lancaster, Xenia and many more. For more information visit www.scottantiquemarket.com.
UNIQUE, ONE-OF-A-KIND TEXTILES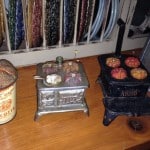 Judy Robinson's Country Textiles at Chickencoop Hill Farm in Lancaster, Ohio is the place to go for handwoven textiles made on antique floor looms by Judy Robinson.
"I have been creating handwoven pieces for over 35 years," says Judy. "Through the years my works have been displayed in The White House, I've won awards for Best of Show in many competitions, and have displayed my weavings at juried shows and museums throughout the U.S. I also reproduce antique rugs and was honored when one of my reproductions was chosen to be used in Early American Life Magazine's side-by-side display."
Judy's one-of-a-kind items are made from her Herd of Jacob and Cotswald rare breed wool sheep on the farm and include handwoven table runners, placemats, min-mats, floor runners, throw rugs, area rugs, and pin cushions.
To visit the shop call 740-746-9602 for an appointment. You can also view and order items online on her web site, www.judyrobinsonscountrytextiles.com
ANTIQUING RESOURCES
SundayDriver.com
Print map directories and an online resource to antique shops in Northern Ohio and Central/Southern Ohio
Experience-ohio-amish-country.com
Antique shops, Amish Country and the Amish way of life go hand in hand. Ohio Amish Country antique malls and shops just seem to bring old-fashioned things back to life. This web site provides a list of antique shops and malls throughout Ohio Amish Country.
On the Road to… Ohio