CINCINNATI, Ohio – Drawing strength and diversity from several significant collections, Cowan's Auctions will offer an exceptional mix of material during the company's live salesroom auction of American Indian and Western Art on April 8, 2016. Highlighted in the auction will be the exceptional collection of Jim Ritchie (1938-2015) of Toledo, Ohio.
A common bond runs throughout the auction, what Danica Farnand, Cowan's director of American Indian Art, summarizes as "great collections and fresh material."
The Collection of Jim Ritchie will lead the charge in the auction. The selection, as deep in quality as it is in variety, includes an Eastern Plains Figural Thee-Bladed War Club, which is estimated to bring between $150,000/250,000. A Great Lakes Wood Ball Club is expected to sell for $20,000/30,000, a Micmac Claystone Pipe bowl with Inlay is estimated at $8,000/10,000, and a Great Lakes Calumet pipe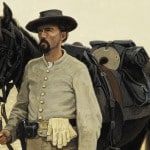 stem with a Catlinite Pipe Bowl is expected to fetch $8,000/10,000.
Textiles and clothing play a noteworthy role in the auction. A Plateau Pony Beaded Hide Dress is estimated at $15,000/25,000, a Navajo Teec Nos Pos Weaving is expected to bring anywhere between $8,000/10,000, and a Northern Plains Dentalium Shell Wool Dress is estimated at $4,000/6,000.
Important examples of Western art and photography will be included in the sale. An Orotone by Edward Curtis, titled "The Vanishing Race," is estimated at $4,000/6,000, an Oil on Canvas by Steven Lang, titled "High Country Crossing" is estimated at $4,000/6,000, and an Oil on Board titled "Stand to the Horse" by David Wright is estimated to bring $2,000/4,000.
The market for American Indian and Western art remains highly competitive at the upper levels, while buyers looking for mid-range material continue to find good values. The Sept. 25 sale offers enticing examples of Indian art at varied price points. "It's a nice, well-rounded auction for all bidding levels," said Farnand.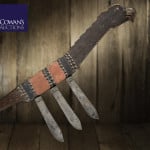 Auction previews are scheduled for noon to 5 p.m. Thursday, April 7th; and 8 to 10 a.m. Friday, April 8th, the day of the sale. Bidding is also available live through BidSquare.com.
For more information, phone Cowan's Auctions at (513) 871-1670 or visit Cowans.com.
Featuring the Collection of Jim Ritchie in Cowan's April 8 American Indian and Western Art Auction