Comic Character Collectibles
By J.C. Vaughn
Following up on last month's column, which saw Hake's Americana & Collectibles on track to set multiple records for the company with Auction #223, the results surpassed expectations. The auction, which closed from Tuesday – Thursday, March 13-15, 2018, totaled $2,357,183.
This marked the first auction to surpass $2 million for the firm, which celebrated its 50th anniversary last year. It topped their previous record, $1.75 million, set in November 2017. In addition to the new record auction total, they also set house records for most bidders, most bids placed, and overall sell-through rate for the more than 2,300 lots offered.
Comic books and action figures from the Star Wars Collection of Russell Branton led the way for the auction, with a CGC-certified 5.0 copy of Detective Comics #27, the first appearance of Batman, scoring the auction's top spot at $569,273.
Among the other notable comics, a CGC 4.0 copy of Action Comics #7, which features the second cover appearance of Superman, sold for $124,023, and a CGC 7.0 copy of Captain America Comics #3, which closed at $55,048 (the issue included Stan Lee's first published comic book work and features a classic Red Skull cover). All prices include the 18 percent buyer's premium.
This, of course, was their second consecutive auction to feature the Branton Star Wars collection. It always makes for intriguing auction watching when something lives up to the level of hype a collection of this magnitude received.
"Over the last few years, we have been privileged to receive consignments of great pedigree collections, both large and small. Russell Branton's Star Wars collection has been an outstanding addition to our recent track record, which includes Disneyana from Maurice Sendak, and Pat and Doug Wengel, sports ephemera from Richard Merkin, comic books and original comic art from price guide founder Robert M. Overstreet, concert posters from Mark Arminski, Supermancollectibles from Franco Toscanini, and a wide array of items from noted historian Tom Tumbush," said Alex Winter, President of Hake's Americana & Collectibles.

The biggest seller among Star Wars toys was the Boba Fett rocket-firing prototype which flew to $86,383. This L-slot action figure from the 1979 Kenner line was graded AFA 85 NM+. It actually topped the high end estimate ($50,000) by more than the low end estimate ($35,000).
The Darth Vader double-telescoping 12-back-A AFA 70 EX+ ended at $64,900, nearly doubling the low-end estimate of $35,000. This figure from the 1978 toy line is the rare double-telescoping lightsaber that extends farther than the regular version.
The series heroine led the charge for the Rebels with a Princess Leia 12-back-A hammering for $29,500. Graded AFA 95 Mint, this figure from the '78 toy line sold for almost $10,000 over the high-end estimate of $20,000.
One surprise in the sale was the Empire Strikes Back Darth Vader special offer bounty hunters case that reached $14,160. Graded AFA 75 EX+/NM, the 32-back figural action figure case from 1980, sold well over the $2,000 to $5,000 estimate.
A Power of the Force Admiral Ackbar 92-back proof card AFA 90 NM+/MT from 1984 hammered for $9,204, nearly doubling the high-end estimate of $5,000.
The three-pack sets were very successful, realizing prices well above their estimates. The Hero Set three-pack series 1 AFA 90 NM+/MT brought $14,684 over the estimate of $5,000 to $10,000. This set from the 1978 line includes Han Solo, Princess Leia, and Obi-Wan Kenobi. The Empire Strikes Back Imperial Set three-pack series 3 AFA 85 NM+ brought $9,086. From the 1982 line, it features figures of Zuckuss, AT-AT Driver,
and TIE Fighter pilot. It almost doubled the high-end estimate of $5,000.
The Droid Set three-pack series 2 AFA 80 NM ended at $6,490, more than tripling the low-end estimate of $2,000. This set from '79 contains figures of R5-D4, Death Star Droid, and Power Droid.
A Revenge of the Jedi Power Droid proof card AFA 90 NM+/MT realized $2,855, nearly tripling the high-end estimate of $1,000. The unpunched card was made in 1983 before the title was changed to Return of Jedi and depicts the "Free! Nien Nunb" action figure offer on the front. A Power of the Force Admiral Ackbar 92-back proof card AFA 90 NM+/MT from 1984 hammered for $9,204, almost double the high-end estimate of $5,000. Also from the Power of the Force line, a Prune Face 92-back proof card AFA 75 Ex+/NM from the '85 line sold for $3,345, over the estimate of $1,000 to $2,000.
Another significant surprise was the Star Wars: Droids ATL Interceptor Vehicle AFA 80 NM that smashed the $200 to $400 estimate by hammering for $3,894. The toy was made for the 1985 line based on the animated TV series, it includes the "Special Star Wars Planetary Map Inside."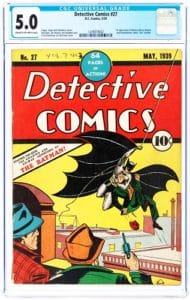 The Meccano Ben Kenobi 12-inch series AFA 75 Ex+/NM action figure from Meccano's French 1978 toy series more than quad-rupled the low-end estimate of $400, by closing at $1,815. A 1980 Empire Strikes Back Rebel Armored Snowspeeder diecast 11-back-B DCA 75 Y-EX+/NM cleared $649, well over the $100 to $200 estimate.
The Star Wars Micro Collection Hoth Ion Cannon action playset AFA 85 NM+ more than doubled the high-end estimate of $700, realizing $1,555. The set contains a movable cannon, ramps, opening doors, battle damage features, and two simulated computer units, plus eight figures.
Hake's, of course, made their reputation on political collectibles, and they seem not to have lost a step in that area either. The items in the Tuesday-closing portion of the event were led by several pieces of political memorabilia. The "Lincoln & Hamlin/Liberty & Union" unlisted horizontal format 1860 campaign banner brought $15,720. This is the only example known to have surfaced of the cotton linen banner, which measures 8″ x 36-3/4″ on early thin wooden frame.
A Roosevelt/Fairbanks "Souvenir of Pretzel Town Reading, PA" jugate button sold for $9,676. With Keystone Badge Co. back paper and horizontal bar pin, it ended at nearly double the high-end estimate of $5,000, and the "Hawthorne All Out for Eisenhower and Nixon" rare Ike button reached $5,062, far exceeding the estimate of $400 to $700.
J.C. Vaughn is Vice-President of Publishing for Gemstone Publishing. Amanda Sheriff-Bollinger contributed to this piece.
Star Wars, Comics Dominate in Hake's Auction