by Melody Amsel-Arieli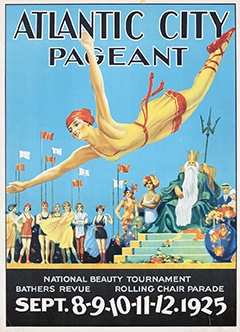 In 1921, Atlantic City, New Jersey offered East Coast vacationers far more than sun, sand, and sea. In addition to thrilling mechanical rides and pre-Broadway shows, it hosted the first "Inter-City Beauty Pageant," an exuberant extravaganza celebrating the fairer sex.
This seaside competition launched with the dramatic entry of King Neptune (its master of ceremonies) amidst a bevy of costumed bathing beauties. Contest results were composed of 50 percent audience applause and 50 percent official decisions based on general impressions of the contestants combined with their final, onstage appearances.
Sixteen-year-old Margaret Gorman, previously crowned "Miss District of Columbia," won not only a Golden Mermaid statue but also two prestigious titles – "Inter-City Beauty" and "The Most Beautiful Bathing Girl in America." Some say she resembled Mary Pickford, a popular silver screen star of the day. To others, she embodied the emerging 20th-century image of strong, responsible women destined to be homemakers and mothers.
The following year, more than fifty contestants competed. Since a new "Miss District of Columbia" had already been chosen by then, Gorman, who had returned to defend her title, was renamed "Miss America." An American icon was born.
A Work in Progress
In 1923, over seventy Miss America contestants competed, with an estimated three hundred thousand spectators in attendance. Because this exciting event attracted such a crowd, its results were later broadcast on radio. Two years later, the Pageant enjoyed live, national radio coverage.
Because contestants paraded publicly in bathing suits, however, religious and women's groups charged the Organization with fostering loose morals. In 1928, despite official claims that their contestants were actually wholesome, respectable young women, the Pageant was briefly discontinued.
During the Great Depression, it re-opened under new management. Ever since it has not only increased in respectability and popularity but became one of the most popular cultural events in the country. By 1950, the Pageant had become established, featuring talent, intellect and personality, bathing suit, and ball gown competitive categories. Four years later, it was nationally televised. Through the years, the Miss America Pageant, as it became known, has successfully weathered evolving cultural, social, and political challenges.
And All That Comes With It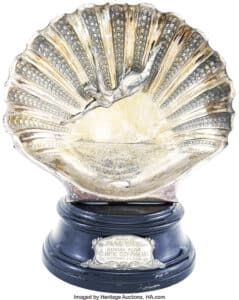 An abundance of Miss America memorabilia celebrates pageants past. Over the years, for example, organizers commissioned countless amounts of promotional material like press kits, posters, flyers, and brochures. In addition, lavishly designed Pageant program booklets, commemorative postcards, calendars, autographed images, and panoramic photographs, were acquired at the events themselves. Many of these, once taken home, were pressed in scrapbooks or tucked away safely in dresser drawers.
Year by year, the Miss America Organization presented unique, themed gifts and souvenirs to their judges, chaperones, and contestants. In the 1930s, for example, participants received shimmering pink, diamond-cut " Miss America" glassware, among them candy dishes, tumblers, goblets, cake plates, sugar bowls, creamers, and more. In 1985, Miss America Logo Awards Ball napkin rings were all the rage. In 1994, participants received "Miss America Pageant 50-Contestant Card Collections" and in 2014, lucrative Lenox seashell figurines with matching pins. They also distributed Lenox shoe figurines, tie tacks, and Golden Crown necklaces.  Some years, participants even received watches emblazoned with decorative crowns and logos of ABC, then their television broadcaster.
In addition, the Organization supplied contestants with an array of onstage accessories including satin ribbon sashes, scepters, jeweled crowns, and regal velvet capes. In time, small numbers have reached the market. Most, however, along with related films, slides, printed matter, and oil paintings of winners, currently fill five rooms, floor to ceiling, of the Miss America Archives, located in Sewell, New Jersey. Those seeking a peek can eventually view their digitized images at www.lib.rowan.edu and put Miss America into the search. The site is hosted by nearby Rowan University.
The Top Tier
Though all Pageant contestants bore similar onstage accessories, only Miss America winners (and her runners-up) were awarded glowing, imaginatively designed trophies. Because they bear personally engraved plaques, each is a very collectible, one-of-a-kind work of art.
The earliest trophies, like the stunning, silver-plated clamshell dedicated to "The Most Beautiful Professional Bathing Girl, Bathers Revue, Atlantic City Pageant, September 8-12, 1925," are especially desirable. So are those that reflect a social advancement or a particular era. For instance, in 1945, mere months after the end of the Holocaust, Bess Myerson became the first Jewish woman to become Miss America. Her trophy depicts an exquisite, 13" high golden figure of a woman poised triumphantly, with arms aloft.
Turning Miss America into a Souvenir Juggernaut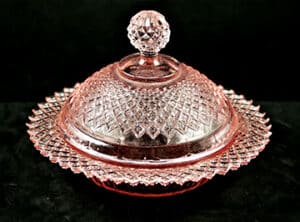 From the start, advertisers realized that any product associated with the Miss America Pageant put money in the bank. In the 1930s, for example, the Alvin Corporation produced opulent sets of "Miss America" sterling silver flatware, including demitasse spoons, jelly servers, oyster forks, iced teaspoons, and other implements reflecting that era.
Soon, her sultry silhouette graced everything from girly calendars, alarm clocks, Jergens Face Cream, Miss America Mother of Pearl Buttons, Lucky Strike Cigarettes, fine grind coffee, and Kellogg's Corn Flakes to larger items like Philco Transistors, Bally Pool Tables, Texaco Racing Boats, and Oldsmobiles.
Over time, manufacturers also pitched Miss America-themed products to young girls dazzled by her glimmer and glamour. The rare, Miss America Pageant Metal Lunchbox, produced by Aladdin Industries in 1972, for example, depicts the bathing suit, ball gown, and talent competitions, as well the new Miss America receiving her crown. Miss America paper dolls, with an extravagant 29-piece wardrobe featuring pre-cut clothes, were also a hit with the younger set. But the highly desirable Quick Curl Miss America Barbie Doll, introduced by Mattel, Inc. in 1972, was a dream come true. This perfectly proportioned beauty not only wore a flowing gown, gold lamé bodice, lettered satin ribbon sash, and a red fleece-like cape but bore a regal crown and carried a scepter.
When the Pageant became associated with the Atlantic City Convention Hall, a premier place of assembly, organizers of hosted conferences distributed souvenirs featuring images of crowned Miss America winners.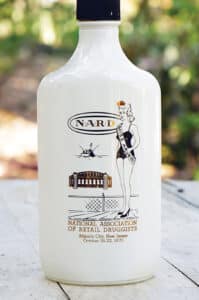 In 1970, for instance, the "National Association of Retail Druggists," distributed ones aptly resembling medicine bottles. Other organizations distributed Miss America-themed items like ashtrays, pennants, mugs, shot glasses, and cup and saucer sets.
Atlantic City businessmen and tourist bureaus also played up the Pageant for all its worth. In the 1950s, souvenir peel-and-stick travel decals and felt pennants often featured images of enticing, bathing suit-clad Miss Americas. Postcards often depicted elaborately clad contestants, like Miss New Mexico or Miss New Jersey, atop festive Miss America Parade floats.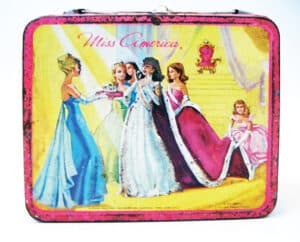 Many souvenir ceramic plates and bottles feature a Miss America image amid those of popular tourist sights like the Convention Hall, Million Dollar Pier, race track, Boardwalk, beach, and traditional Roller Chairs on Parade. Similarly, themed items depict local pleasures like fishing, boating, and swimming in vivid red, white, and blue graphics.
In addition, year after year, images of the most recent Miss America graced untold numbers of national magazines, newspapers, and TV Guide covers. Remarkably, when contestants representing Oklahoma, Kansas, Arkansas, and North Carolina, won the crown, their states issued triumphant "Home of Miss America" license plates.
Generally the pricing for Miss America remains low, but rare items prove to be somewhat hard to find in good condition and can bring coveted prices – depending upon which contestant won in any given year.
Many who seek Miss America memorabilia are fans of Atlantic City or have personally attended one of its Pageants. Others recall that magical television moment when Bert Parks, its longtime master of ceremonies, crooned its theme song, There She Is, Miss America!