by Judy Gonyeau, managing editor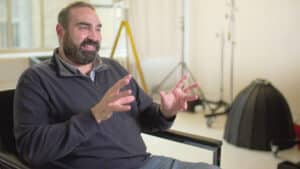 Simeon Lipman is a lifelong pop culture, film, music, art, history, and sports enthusiast, who has been appraising collections, curating auctions and exhibitions, and coordinating culturally relevant events for over 30 years.
His insatiable thirst for history and knowledge, coupled with the possible discovery of untapped treasures at flea markets and garage sales, sparked his interest in collectibles, in particular those dealing in sports and popular culture (autographs, entertainment, music, comic art, etc., etc.).
He has written extensively on collecting and collectibles and appears regularly on PBS's top-rated Antiques Roadshow. And while you may think of him as the "tall sports guy," his background allows him to pinch-hit on any number of categories. Plus, his passion for trading cards pulled him into the business by establishing G.A.S. Trading Cards with the mission to "create highly collectible physical cards to honor the most iconic names in music, culture, the arts, and entertainment." This business allows Simeon to flex his visionary muscles by putting out trading cards that honor not only individuals, but musicians, pop icons, artists, and more.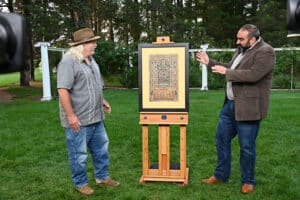 When it comes to curating auctions and events, one of his most notable events include the groundbreaking Punk Sale held at Christie's Auction House in New York City, in 2008. This event celebrated the Punk aesthetic and its cultural significance as both a historic music genre and a valid and extremely influential art movement with its distinct attitude, design, and ephemera.
I ran into Simeon by chance when he was in Sturbridge, Massachusetts filming an episode of Antiques Roadshow at Old Sturbridge Village. We followed that up with an interview over the phone where he shared his story, his thoughts on collecting, and what he is collecting now.
Here is what he shared with us.
Judy: What got you into collecting?
Simeon: I was born a collector. I grew up around antiques. My father collected scientific instruments and other things in that genre, and my mom is an art teacher so I grew up learning a lot about art and art history and science. They used to go to garage sales and flea markets, and that was my favorite thing to do – go with them and they would let me explore. That was in the 1970s and 80s – a different time. They would let me go for a few hours and then meet back up at a certain time and place.
That freedom that they gave me allowed a curious kid like me to really discover a lot of interesting stuff – and I was taking it all in, starting to acquire knowledge about the past and building context around each collectible. What year was it? What was going on in the sports world at that time? Who were the key players? What makes this card, bat, or picture worth having? What gives it value? My search for those types of details drives my love of the business.
What do you collect?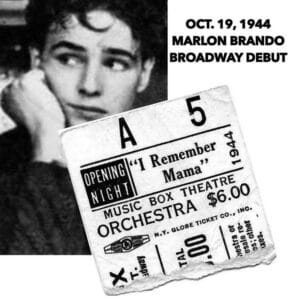 My favorite thing is to collect trading cards. It's what brought me into the business in the first place.
Today, I am building my collection of photography. I love photographs of famous people before they were famous – original photos I can hold in my hand and take time to really look at them. To me, that kind of stuff is fascinating, and it also kind of dovetails into what I'm currently kind of passionate about collecting, which are ticket stubs. Primarily, I love Broadway ticket stubs, featuring some of my favorite actors and actresses from over the years.
One of my favorite things in my collection is one from October 19th, 1944. A play opened on Broadway called I Remember Mama and it featured a 20-year-old actor from Omaha making his Broadway debut that evening … his name was Marlon "Bud" Brando. This is a ticket stub to that very night's performance! The professional Broadway debut of perhaps the greatest actor of all time! This was the very, very beginning of his career, you know, and here is the ticket stub that was there in the room with him that night, and that's the kind of thing that's always driven me – as a collector and as an appraiser. It's that direct connection with the past.
Any time I have seen you appraising an item(s), I always appreciate your enthusiasm and willingness to share all kinds of information and stories that make it more relatable. You have great respect for sports memorabilia, and the collectors seem to feed off of what you have to say.
Thank you. Researching a collection or even just a single item is the closest thing that I can think of to get to a place where you might never have been.
It is like collecting a ticket stub, whether it is to a Broadway play or the World Series. I wasn't born in the 1940s or earlier, and I couldn't have gone to this event, right? But, here is an artifact. A relic that was there and I can touch it. The whole basis of what I do is making that connection with the past or with the future, that's kind of where I'm at as a fan, a collector, and an appraiser. That's what's my whole thing.
Really, when it comes to collectibles, it's almost like you get to take a trip back in time. You buy the ticket and take the souvenir with you and you remember the experience. That's the fun of this whole thing.
While you tend to stick to physical objects to both collect and appraise, new trends are popping up, especially in the world of sports collectibles – NFT (non-fungible tokens) are a hot topic right now, along with buying a percentage of an item vs. purchasing a historic collectible outright. How do you feel about these trends?
Personally, I prefer to collect things that I can have in my home or with my collection. There is something about being able to hold it in your hand, right?
That being said, there are good things about these forms of collecting and it mainly has to do with involving younger collectors in this business. Digital collectibles may best suit their lifestyle today and it gets them involved in the stories that go with the image. When it comes to owning a percentage of an item, again, the younger collectors can grab onto the story that goes with it and hope their "asset" will gain in value over time.
Then there are those who invest and expect a return. This type of collecting is for people who are looking for an interesting way to invest, but it involves a more personal approach – different from those who collect because they are passionate about something.
When it comes to appraisals, collectibles that are graded have a large amount of value coming from that grade. Should collectors be spending the money to get their items graded?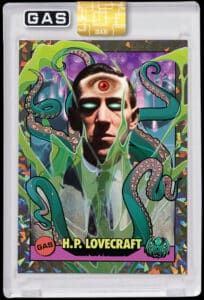 There are some grading companies that have worked hard to determine a rating system for items that include trading cards and comics, etc. We often say, "Condition is everything," and when that is backed up by an independent grading company it does weigh heavily when determining value.
Not everyone needs to get their cards and comics and uniforms, etc., graded. Often, if the owner thinks the item is of considerable value and they are looking to sell at auction, the auction house will pay to get the item graded. And, for the average collector, they may wish to get certain pieces graded depending upon perceived value for something such as a legal matter or a will or something like that. Otherwise, it is a good idea to learn how to preserve what you have, properly frame and display your collection, and see about getting certain pieces appraised by a professional such as PSA, CSG, or CGC (for comics).
Antiques Roadshow
What should sports collectors consider when deciding what to bring to an AR appraisal event?
Consider bringing something with some age. New collectibles generally do not have enough history to go along with assigning a value.
Another thing to consider bringing is a cross-collectible. A player's jersey that has been signed and was game-worn on a historic game can bring out more information for the collector and typically more value.
Every city we travel to is different, and we are always discovering new local treasures that we are happy to be given the chance to value.
How much prep work do you do before you conduct an appraisal on AR?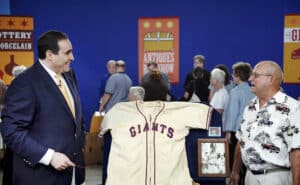 While every appraiser brings their own in-depth knowledge with them, we have staff that are hitting up information online, and we always confer with each other no matter what we are appraising.
Because I have a varied background in many collectible fields, I will confer with other departments and even conduct an on-camera appraisal if I have the knowledge. It can take a while—even a few hours— between selecting something that looks like it could be really interesting and then looking up and going on-camera to film the appraisal.
What is your typical day of appraising like?
We all interact with collectors within our department and others all day long as hundreds of items come to us from very long lines. It is a long day but it is an adventure.
A good day of appraising for me means I was able to show three items that are worthy of being presented on-camera. Then I know I did my job and I'll be seen on upcoming episodes.
---
Links to some of Simeon Lipman's great appraisals and auctions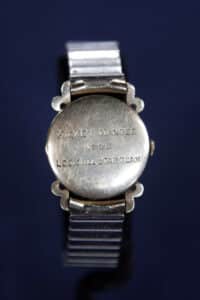 One of Simeon Lipman's favorite appraisals on Antiques Roadshow was the one he did for this special All Star watch owned by Mickey Mantle. "This was a really good story – something you could not find anywhere else except by working on Roadshow. And this was a great appraisal." See the story and learn the results of the appraisal online here: https://www.facebook.com/watch/?v=2196518047137515
Simeon Lipman curated a special auction for Christie's Auction house called The Secret History of Baseball that was held on October 19, 2016. "To experience a collection like this hands-on is very exciting," comments Baseball specialist Simeon Lipman while exploring highlights of Christie's 19 October sale, The Golden Age of Baseball: Selections from the National Pastimes Museum. The collection of rare memorabilia includes spine-tingling items dating as far back as 1860. Check out Simeon's video produced for this special auction here where he gives insight into the auction and how he approaches a collection: https://www.youtube.com/watch?v=jK-GY_6fzoY
When it came to reviewing the 2021 sports cards at auction, Simeon worked with Sports Collectors Digest on this special article called "State of the Hobby: Top Online Sales of 2021, and what 'crazy' market means for the future of sports cards." Check it out here:
https://sportscollectorsdigest.com/news/top-selling-sports-cards-of-2021-online-auctions-michael-jordan-lebron-james-kobe-bryant