The Beautiful Art of Advertising: Signs and Calendars
By Michael and Lori Eckles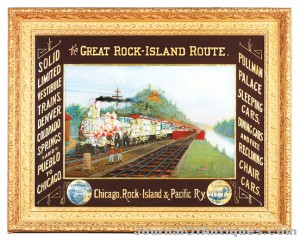 From 1880 to 1920 the best, and sometimes only, way to get your company or product name known was to print signs that were placed on the walls in country stores, saloons, cigar stores, hardware stores, etc. Because communication was so limited, word-of-mouth was slow and unreliable. To get their name into the homes of customers, companies would print colorful calendars that would include their logo, slogan and sometimes an address of the local agent.
While many different categories of product produced wonderful signs and calendars, there were five types of businesses who excelled in this venture. They were farm machinery, veterinary medicine, alcohol, tobacco and firearms. The companies selling these products were very successful and therefore could afford the best artists of the time as well as the best lithographers (printers). Many of the best examples of signs and calendars were advertising these products. Around 1898, Coca Cola joined this group by producing some beautiful signs and calendars of their own.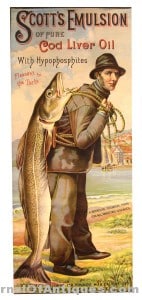 The subject matter used for these signs and calendars were, more often than not, pretty women, children and animals. Cowboys and indians were also used due to the fascination of the old west. On occasion, a company, usually distilleries, would venture out, for that period of time, and use a nude woman to attract even more attention. Obviously, these were usually hung in saloons.
The colors used in these early signs and calendars were bright and vibrant. The inks used had precious metal in them. For instance the blues were mixed with silver and the reds with gold. This process ended around 1910 due to the rising cost of silver and gold.
Lithographers were plentiful at this time and were located in the large cities including New York, Philadelphia and Chicago. For reasons unknown, two of the most successful and prominent lithographers were located in Coshocton, Ohio; The American Art Works Lithographer and H.D. Beach Company. Having two of the largest lithographers in one town caused a migration of experienced illustration artists to Coshocton. If you look closely at the bottom of many of the early signs you will see the name of the lithographer who produced it. Other lithographers who should not go unmentioned are Wells & Hope, Philadelphia, Pennsylvania, Charles Shonk Lithography Co., Chicago, Illinois and Calvert Litho Company, Detroit, Michigan. Calendars were almost always printed on paper capable of holding a pad of 12 months stapled to it. Signs, on the other hand, were printed on paper, hard board (similar to cardboard), tin, wood and some painted on the back side of glass commonly referred to as reverse glass. The type of material used to print a sign on does not usually play a part in its value. However, reverse glass signs usually go for the most money. As a side note, porcelain on steel signs were produced in the 1930s for outdoor use. This process brought on a whole new breed of sign makers and porcelain signs are highly collectible in today's market.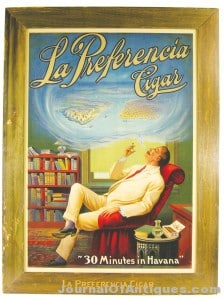 Many of the artists used to paint the original art work for signs and calendars were experienced in fine art. They resorted to painting illustrations to supply income for their families as their paintings were not selling for much at that time. Once they died, like most artists, their work became popular and started fetching unheard of prices. Some of the most noted artists were N.C. Wyeth, Phillip R. Goodwin, Frank Schoonover, W.R. Leigh and Hamilton King.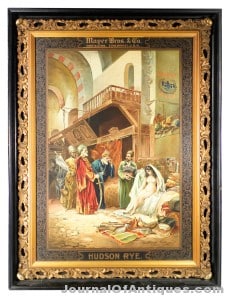 There are many kinds of collectors when it comes to signs and calendars. Some collect only signs and others collect only calendars. Some collect a certain subject matter such as children, old west, animals, pretty ladies, etc. Then there are those who collect specific products such as soda, firearms and gun powder, whiskey, beer, food, tobacco, etc. We even know a collector who collects only signs printed by one lithographer. We also know a collector who collects only signs printed on tin. One common interest for many collectors are signs and calendars of a local nature. For instance, if you live in Cincinnati, you would search for signs or calendars that advertised only products or businesses located in Cincinnati.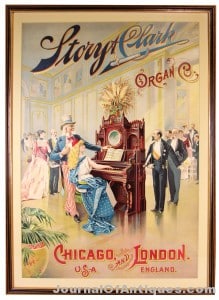 Values for signs and calendars are across the board. There has been a resurgence of interest in these wonderful pieces of art in the last eight years. We have seen signs sell for over $150,000. The good thing about collecting signs and calendars is that there are a lot of them out there and you can pick up some really nice looking ones for a couple hundred dollars. We think accumulating some is a great investment for the future. Keep in mind that the value of a sign is largely dependent on three things, condition, condition and condition. Advanced collectors are adamant about their signs and calendars being in excellent condition so when they hang them on their walls, they do not have to apologize for them. Rarity is still important but not nearly as important as it was 30 or 40 years ago. You can have a one-of-a-kind sign but if it is a 5 on a scale of 1 to 10, it probably isn't something you would want to hang in your home.
Condition of an item is always subjective, however, we have listed below somewhat of a general chart for grading signs and calendars.
10 Mint: No damage, flaws or restoration. Appearing as new!
9 Near Mint: Any flaws, such as scratches or blemishes are so insignificant that they are not immediately visible. No restoration.
8 Excellent: Any flaws, such as scratches, small dents, blemishes or rubs do not distract from the overall appearance of the piece. Excellent display quality with no rust or restoration. No apologizes necessary when showing it off to your fellow collectors or friends.
7 Good to Very Good: Some minor flaws such as small scratches that will appear if held in the light. Maybe some small dent(s) or rubs. Still strong color with no fading and no restoration or rust. Displays well on the top shelf.
5 or 6 Fair: Apparent paint loss, scratches, dents, blemishes, rubs, fading, rust or trimmed on the edges. An item that will have to be apologized for when showing it off.
1 through 4 Poor: Severe paint loss, scratches, dents, blemishes, rubs, fading, rust or trimmed on the edges. Probably not something you would be happy with unless it is the only one known or has sentimental value to you.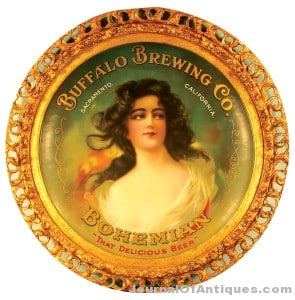 Calendars have additional condition issues. Many of the paper calendars came with a metal band across the top and bottom. It is very important that these original bands are intact. Also it helps the value of a calendar donning a full pad of monthly pages. If it is not a full pad, be sure that the pages left are original to the calendar.
Another consideration when collecting signs or calendars is size. A good average size is the size of a standard size newspaper. Signs the size of stationery, do not have a lot of value and will not appreciate over time. On the other side of that coin are signs so large that most people do not have space in their home to hang them may be hard to sell when the time comes. Having said that, some of the largest signs we have seen have sold for astonishing numbers. Our theory is that the people who have very large homes and lots of money are looking for signs that will cover a large area on a big wall.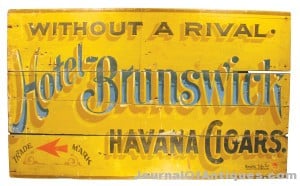 Last but not least, aesthetic appearance is something worth looking for. Color, vibrancy, graphics, action are very important to the value of a sign. If you are going to hang it in your home, you want it to attract attention when you have friends, family or fellow collectors visit.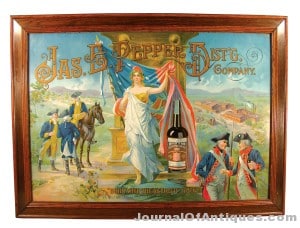 Hopefully reading this article will give you the bug to start looking for signs at flea markets, antique shows, swap meets, malls, etc. You never know what you might find. We had a customer consign a sign to us in 2007 that he paid $50 for. It sold for $29,000. Not a bad investment!
Mike and Lori Eckles founded Showtime Auction Services in 2004. It has quickly become recognized as one of the more prominent auction houses in the country. Setting record prices realized in many categories including country store, advertising, saloon, gambling, brothel, barbershop, soda fountain cigar store, express, farm and many, many more. Mike and Lori take pride in not only being the owners of the company but the ones you will be personally dealing with should you have something to consign for auction. They are truly hands-on owners. Showtime has two auctions a year in the spring and fall. You can contact Mike at mike@showtimeauctions.com or call 951-453-2415. Lori can be reached at lori@showtimeauctions.com or call 313-715-4486. Visit their website at www.showtimeauctions.com for more information about their company.
Photos courtesy of Showtime Auction Services
(Quoted auction prices include buyers premium)