Original Comic Art Commands Continued Attention
Original comic book and comic strip art continues to present a compelling story in the world of vintage, rare, pop culture collectibles, witnessed by the recent transactions at several auction houses.
By J.C. Vaughn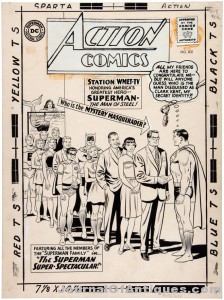 Heritage Auctions
Heritage has sold a string of record-setting pieces of original comic art over the past year. The most recent one, part of their August 1-3, 2013 auction, was Frank Miller's original cover art for Batman: The Dark Knight Returns #2, which sold for $478,000. The highly influential, four-issue mini-series was published by DC Comics in 1986. The auction house had previously set a record with an interior splash page from issue #3 of the same series in 2011 when it sold for $448,125.
All the excitement isn't reserved for original comic art, though. Vintage, rare, high grade comic books themselves continue to attract attention. A CGC-certified 9.2 copy of Batman #1, the highest graded copy ever documented by CGC, sold for $567,625. Prices include Heritage's buyer's premium.
ComicConnect
Some of the more recent highlights from ComicConnect.com have seen John Romita, Sr.'s original cover art for Amazing Spider-Man #106 (with inks by Frank Giacoia) sell for $38,500, John Buscema's original cover for Avengers #56 (again with inks by Giacoia) realize $53,000, Jack Kirby's page 1 splash page from Fantastic Four #11 (with inks by Dick Ayers) close at $23,500, Kirby's original art for the "Marvelmania" poster featuring The Silver Surfer and Galactus go for $75,000, and John Buscema's original page 1 splash page from Silver Surfer #15 (inked by Dan Adkins) tally $21,500.
Hake's Americana & Collectibles
In their July 23-25, 2013-closing Auction #209, Hake's Americana & Collectibles topped the $1 million mark with strong prices in across a wide variety of collecting niches. The company reported that it was the second best auction in their 47-year history.
Their continued growth in the original comic art field, though, is worth some extra consideration.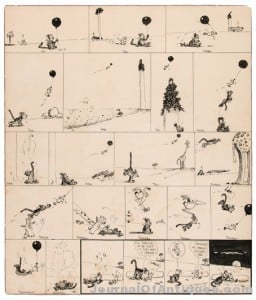 Spirited bidding saw original comic strip and comic book art occupy four of the top five spots (and five of the top 10) in the auction, including the originals for George Herriman's second Krazy Kat Sunday page ($26,565), George Pérez's Marvel Two-in-One #51 cover ($25,370.53), Charles Schulz's May 27, 1971 Peanuts daily strip featuring Snoopy as Joe Cool ($19,102.76), and Graham Ingels's six-page story "The Killer in The Coffin" from EC's Haunt of Fear #16 ($18,658.75), the last of which was from The Robert M. Overstreet Collection. All prices include a 15% buyer's premium.
The company has said they will continue to feature original comic art in upcoming auctions, including one that will serve as the de facto centerpiece of their Auction #210 in November 2013.
Curt Swan's original cover art for Action Comics #309 will go up for bid at Hake's just in time for the 50th anniversary of the iconic piece's original publication. In addition to Superman, the original cover art features Lois Lane, Perry White, Supergirl, Batman, Robin, Jimmy Olsen, Lana Lang, Saturn Girl, Element Lad, Chameleon Boy, Police Chief Parker, and Lori Lemaris.
More importantly, the piece also features Clark Kent seemingly standing right in front of Superman, the story's great mystery and the issue's compelling tie to one of the saddest moments in our nation's history.
Cover dated February 1964, the issue hit stands in November 1963 the week after the assassination of President John F. Kennedy. That sad event unintentionally tied into the more celebratory lead story in Action Comics #309 when Superman revealed his secret identity to President Kennedy in order for JFK to impersonate Clark Kent and help Superman maintain his façade. The issue was too far along in the distribution channel for DC Comics to recall following the President's death.
While he broke in working on other characters for DC Comics, Curt Swan's work defined Superman for many fans in the Silver Age. Beginning with Superman #51 (1948) and Superboy #5 (1949), his association with the character spanned decades, hundreds of covers, and thousands of story pages.
During his tenure, Swan's Superman became the company's definitive model of the character. His crisp, clean art was infused with a subtle yet distinctive sense of nobility that deliberately embodied the familiar phrase "truth, justice and the American way."
Overview
Despite the dazzling prices listed above any many others realized in formal auctions and on eBay, a huge number of pieces of original comic art are reasonably priced and remain accessible to new collectors. A trip to your local comic convention might offer you the chance to meet a creator first hand. From there, it's up to you!
J.C. Vaughn is Vice-President of Publishing for Gemstone Publishing, Inc.