Rare Superman Cover Art, High Grade Comics Sell Big
The comic character component of the pop culture marketplace documented by Geppi's Entertainment Museum continues to report record prices.
By J.C. Vaughn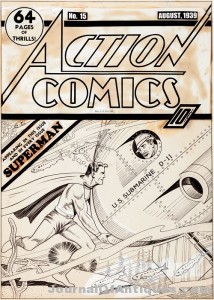 Earliest Known Superman Cover Art Sells
Artist Fred Guardineer's original cover for 1939's Action Comics #15 – the earliest Superman cover art known to exist – brought $286,800 at Heritage Auctions on February 22, 2014 in New York. Art from the comic book period known to collectors as the Golden Age is extremely rare as most was not even returned by publishers to the artist; it was typically destroyed by the companies after it was used.
Of course the comic art market as a whole has been hot for several years as comic book collectors began to appreciate the one-of-a-kind nature of the pieces, something that longtime comic art collectors had long recognized.
While there are some magnificent pieces known to still exist, pre-1960s original comic book art should considered as extremely rare, unlike original comic strip art from that same period. Comic strip artists were considered many rungs above their comic book compatriots in social standing, pay, and general treatment.
All of that makes the what the winning bidder received that much rarer. The purchaser was Bedrock City Comics owner and Overstreet Advisor Richard Evans, who plans to display the art in one of the stores of his Houston, Texas-based chain.
"I'm just a big fan," Evans said of his iconic acquisition.
"Guardineer's cover is the earliest Superman cover art in existence," said Ed Jaster, Senior Vice President at Heritage, "and an absolute treasure of comics history. A price like this shows just how much collectors covet a rarity like this."
In the same auction, selections from the Don and Maggie Thompson Collection brought a combined $314,128 ($262,869 hammer price plus a 19.5% buyer's premium or $51,259.45 buyer's premium). This was the second major offering from the collection from the former co-editors of the Comics Buyer's Guide. Don Thompson passed away in 1994, but his wife, Maggie, continues to be very active in fandom. The top lot from this time from the pedigree collection was a CGC-certified 9.4 copy of Tales of Suspense #39, the first appearance of Iron Man, which sold for $83,650, including the buyer's premium.
Additionally, a CGC-certified 9.0 copy of Amazing Fantasy #15, the first appearance of Spider-Man, sold for $191,200, the highest price paid for a copy in that grade.
First Appearance of Thor Hits $275,000
A CGC-certified 9.4 copy of Journey Into Mystery #83, the first appearance of Thor, sold on ComicLink for $275,000, the highest price ever realized for this issue in any condition.
"The comic book sold to a private collector interested in obtaining some of the best Silver Age Marvels in the world," said Josh Nathanson, ComicLink's founder and President.
Over the years, Thor's August 1962 debut has proven to be very tough to locate in the highest grades. This CGC 9.4 is one of only three certified to date in that grade; there has only been one 9.6.
The $275,000 sale of this example exceeded the most recent sale in September 2013 for this issue in the same grade by nearly 50%, ComicLink reported.
The Cyborg's Name is Deathlok
Viewers of Marvel's Agent of S.H.I.E.L.D. on ABC TV saw the introduction of another character from the Marvel universe right before the series took a break before the Winter Olympics. Unlike Captain America or Iron Man, for instance, this one isn't that well known outside of comic book circles.
Inside fandom, though, Deathlok is a character that has seen several iterations and is very well known. He got his start in the 1970s, an era that saw a wave of change roar through the industry as an infusion of new young, talent entered the field. Known as "Deathlok the Demolisher," he was introduced in Astonishing Tales #25 (August 1974), Deathlok was the brainchild of artist Rich Buckler, who had established his credentials following the legendary Jack Kirby as artist on Fantastic Four. With the help of writer Doug Moench, Buckler crafted the tale of a post-apocalyptic near future, with society fallen into lawlessness and chaos.
Luther Manning, a soldier fallen in battle, was subjected to a top secret military experiment that grafted his brain and other surviving organic tissue into a mechanical humanoid body, making him into a prototype living weapon. With his human memories ostensibly erased, the newly christened Deathlok was programmed to perform high risk military missions. Eventually, however, his submerged human personality began to emerge and reassert itself, with Manning ultimately rebelling and taking control of his own destiny.
And if you're thinking that sounds like another cyborg character you've seen or heard about, it's helpful to note that Deathlok predates the eerily similar cinematic Robocop by 13 years.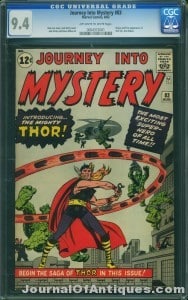 Milestones Exhibit Extended at GEM
Originally slated to end April 30, 2014, Geppi's Entertainment Museum's exhibit Milestones: African Americans in Comics, Pop Culture and Beyond has been extended through December 31 due to overwhelming demand.
Milestones, which is curated by Milestone Media's Michael Davis and co-curated by Tatiana El-Khouri, offers patrons a full spectrum of Black historic contributions made throughout comic book and graphic novel history.
The exhibit kicked off with an invitation-only celebration at GEM on December 13 and then opened to the general public the following day. It had grown out of initial discussions between Bowersox and Davis three years earlier.
For more information about the exhibit, call GEM at (410) 625-7060. The museum is located at 301 W. Camden Street, Baltimore, Maryland 21201 in the historic Camden Station building, immediately adjacent to Oriole Park and directly across the street from the Baltimore Convention Center.
J.C. Vaughn is the Vice-President of Publishing for Gemstone Publishing. Members of the Gemstone staff contributed to this article.