Comic Character Collectibles
By J.C. Vaughn
The final auction of Hake's Americana & Collectibles' 50th year, #222, was held November 14-16, 2017 and it turned out to be the most successful one in the company's five decades. The $1,754,464 realized eclipsed the previous high mark of $1.3 million, which was set in 2013. It also scored the best opening day in Hake's history and was their fastest to top $1 million.
Going in, the auction was primed to be a record-setter. The line-up included rare political material, key comic books and art, and the inaugural offerings from the Star Wars Collection of Russell Branton.
"Talk about ending a half century with a bang," Ted Hake, the company's founder, said. "My two most exciting auctions have to be #1, which saw 155 items gross $193.67, and now Auction #222 with a gross exceeding $1.75 million. My wife, Jonell, and I began as a mom and pop operation, but over the years we assembled a great staff, all collectors at heart, as the business grew based on authentic collectibles accurately described. Selling the business in 2004 to Steve Geppi, owner of Diamond Comic Distributors, propelled Hake's to a new level. With Alex Winter now at the helm as Hake's President, we plan to keep Hake's focused on quality collectibles while remaining true to our principles that have earned the trust of our bidders and consignors."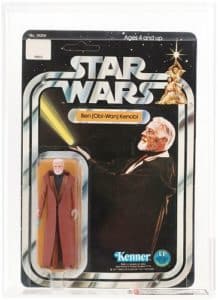 The Tuesday-closing political and historical session achieved two records, both for the "Americanize America" Vote for Cox and Roosevelt jugate button. The exceedingly rare piece reached $47,278, setting a world record for this piece and a world record for any button sold at public auction. Hake's found that there are only eight examples of this jugate, with only four of those potentially in high grade and likely to hit the auction market.
Additionally, a Homestead Grays of 1930 real photo postcard took the second spot on Tuesday, realizing $17,523. The photo, which was taken during Spring Training, depicts National Baseball Hall of Famer members Oscar Charleston, Judy Johnson, Smokey Joe Williams, and Cumberland Posey.
Comic Books
The auction set house records for total comic sales and several industry records as well. For one of those records, a CGC-certified 7.5 copy of Amazing Fantasy #15, which features the first appearance of Spider-Man by Stan Lee and Steve Ditko, sold for $140,760. This topped the previous CGC 7.5 record of $102,001. A CGC 2.0 copy of the issue sold for $13,440, beating the previous record of $12,000.
Among the other high profile comic books, a CGC 9.6 Blackhawk #9 from the Edgar Church/Mile High pedigree brought $14,135 (previous record $9,775), a CGC 8.0 Green Lantern #2, also from the Church collection, closed at $12,390 (previous record $6,573), a CGC 9.8 War Against Crime #10 Gaines File copy sold for $11,235 (previous record $10,074), a CGC 6.5 Eerie Comics #1 brought $4,720. (previous record $1,525), a CGC 9.6 copy of Shadow Comics Vol. 2 #6 (Mile High) went for $4,711 (previous record $2,760), a CGC 9.4 copy of All-Flash #21 (Mile High) totaled $4,568 (previous record $2,600), a CGC 9.8 copy of Crime SuspenStories #2 (Gaines File) realized $4,413 (previous record $4,003), and a CGC 9.4 copy of Marvel Mystery Comics #79 CGC 9.4 sold for $4,256 (previous record $3,884).
Superman
The Man of Steel took center stage with several very strong results, including the Action Comics version of the Superman 1940 contest prize ring, which realized $8,709. The contest was announced in Superman #3 and the ring reads "Supermen of America Action Comics." Hake's knows of 20 examples of the "Member" ring (with planet and lightning bolts on the sides) but this is one of only seven with the words "Action Comics" on the piece and geometric designs on the sides.
The Superman/Tim rare high grade 1948 ring with code symbols for "Good Luck" landed at $6,490. It is the best example known to Hake's knowledge, and was previously in a collection for the past 25 years.
Superman Family original art by Sheldon Moldoff closed at $7,852 after spirited bidding pushed it well beyond the $400 to $700 estimate.
Among the other Superman items of note, an extremely rare, Syroco-like Superman DC promotional figural ashtray sold for $6,749 (estimate $2,000 to $5,000), a custom-framed page of original art by Curt Swan from Superman #137 closed at $5,321, a Wayne Boring-illustrated Superman 1950 Sunday page original in a custom frame brought $3,575, a high grade copy of the rare Supermen ofAmerica – Action Comics emblem/patch and letter topped out at $5,192, and a rare Superman Bread sign flew to $4,130.
Star Wars
Despite the other content and the multiple records, there was no denying that ahead of time a major portion of the interest the auction hadgarnered was for the Star Wars Collection of Russell Branton. It seems to have lived up to the advance hype.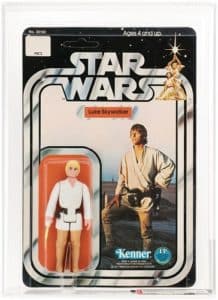 The Ben (Obi-Wan) Kenobi 12-back-A double telescoping action figure, AFA 80, realized $76,700. This piece from the 1978 Kenner toy line is incredibly rare, as few double telescoping action figures were produced.
The Luke Skywalker 12-back-C, AFA 95 (yellow hair), brought $50,622, more than doubling the estimate of $10,000 to $20,000. The Luke Skywalker figure on an unpunched card was made for Kenner's '78 toy line. It is exceedingly difficult to achieve a grade that high, accounting for the incredible price.
The Power of the Force Anakin Skywalker painted Dynacast hardcopy prototype figure was another marquee piece from the Branton collection. It sold for $34,981, well over the $10,000 to $20,000 estimate. The full painted hard resin figure was eventually used in Kenner's '85 toy line.
The Palitoy Return of the Jedi – Boba Fett tri-logo AFA 80 hammered at $11,682. The tri-logo unpunched blister card from the '83 Kenner line was released with English, Spanish, and French text.
Hake's will follow their first offerings from the Branton collection with more in their next few auctions.
Star Wars, Comics, Superman, and Politicals Dominate at Hake's