by Maxine Carter-Lome, publisher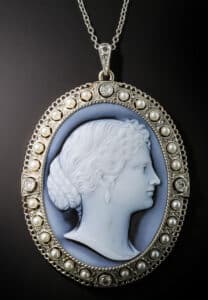 Cameos are one of the most widely recognized types of jewelry. Many of us may even own a piece, most probably handed down from a family member. These miniature relief sculptures have a history that pre-dates the birth of Christ by 300 years, with origins in the ancient carving traditions of the Egyptians, says Anna M. Miller, author of the book, Cameos, Old & New.
In the centuries since, cameos have been used for various purposes, made from a range of materials, and nearly always featured a raised (positive) relief image, most notably women's profiles and scenes or personalities from Greek mythology.
Made in the Gods' Images
Early Greek and Roman carvings showed images of gods and goddesses, themes from Greek mythology, beautiful women, and biblical events. "The subject matter rarely varied, most cameos—whether ancient or 17th, 18th or 19th century—tended to depict scenes or personalities from Greek mythology. The universal appeal of tales of love, loss, deception, and magic endured," says Michelle Rowan, owner of antique store Rowan & Rowan and author of Nineteenth Century Cameos.
"While mythology has been the predominant theme of cameos," says Emily Stoehrer, the Rita J. Kaplan and Susan B. Kaplan Curator of Jewelry at the Museum of Fine Arts, Boston, "some were commissioned to depict real people, a particularly good example of which can be found in bracelet-form in the Museum of Fine Arts, Boston's permanent collection. The bracelet has four cameos representing the Hunt brothers, each one is in the likeness of one of the four brothers and it was donated to the Museum of Fine Arts by their sister."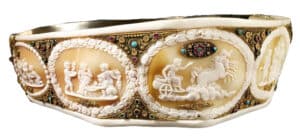 Many tend to associate antique cameos with such decorative women's jewelry as rings, brooches, bracelets, and pendants, yet cameos have in fact been worn and coveted as frequently through the centuries by men and were used to adorn helmets and military accessories like breastplates and sword handles. During the Renaissance, Pope Paul II was an avid cameo collector. According to history, this love ultimately led to his death. His excessive display of carved gems and stones on his fingers kept his hands so cold that he caught the chill that meant his death. Cameos enchanted Napoléon, who wore a cameo to his own wedding and founded a school in Paris to teach the art of cameo carving to young apprentices.
Women began collecting cameos to prove cultural status during the Elizabethan period when a single hand-carved semi-precious gem or cameo was an extremely rare and treasured possession. But it was during the early 19th century that the cameo moved from the realm of the wealthy cabinet collector to a broader audience.
Times of Travel and Collecting
Conch shell cameos were still being carved by hand at the turn of the 20th century, mostly by artisans along the Italian coast. They grew in popularity partially because the relative ease of carving into shell over stone opened up a whole new level of artistry. It also allowed for production carving, which was faster and more formulaic. The end result was a cameo that was both affordable and beautiful.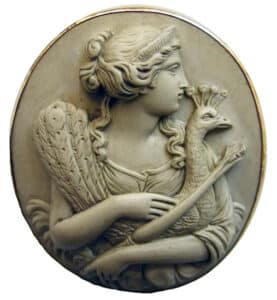 Cameos quickly became the perfect souvenir for those on their "Grand Tour" of Europe to experience the art and culture and mild climate of Italy and Greece. They would return from their journey with Italian carved shell cameo necklaces, rings, and earrings, or the even more highly coveted lava stone cameos, carved out of the earthy colored lava from the base of Mt. Vesuvius. The shell cameo industry in Italy increased in size to meet tourist demand. Even today, a visit to the Ruins of Pompeii includes a side trip to Naples to tour and shop the cameo factories still there after all these centuries.
Today, antique cameos are admired and valued for their craftsmanship, materials, setting, and of course, beauty. These treasures can be found at antique shops and shows, vintage jewelry dealers, estate sales, and online auctions, mostly in the $50 to $250 price range.
In part, cameos are de-valued because they do not appeal to young people or women, in general, today as a form of wearable jewelry. The cameo collectors of the 19th century have passed on their souvenir cameos or items from their personal jewelry collection to their children, and their children's children, who today value their cameo jewelry for its family connections but have little interest, sadly, in collecting more or wearing what they have. There is, though, a growing interest among vintage buyers and collectors for cameos from the 40s, 50s, and 60s, but mostly in the $50 or lower range. Recently, contemporary fashion and jewelry designers have been breathing life into a new, modern representation of cameo jewelry, seen in collections from esteemed designers like Dolce & Gabbana, and in brooches, bracelets, and other artistic forms.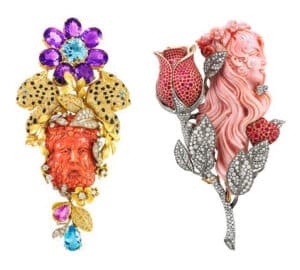 In 2018, Dolce & Gabbana introduced its Alta Gioielleria collection: thirty-two one-of-a-kind brooches, each handcrafted in coral, gold, and diamonds, their images and artistry an homage to the craft of traditional cameo making.
There is a niche market among specialty collectors for antique cameo pieces, especially those with provenance or that depict unique subjects, such as images of men and historical figures. A late 18th/ early 19th century hardstone cameo brooch designed and carved by Nicolo Morelli for Caroline Bonaparte, Napoleon Bonaparte's younger sister, sold for a record price of $67,000 at Bonhams auction in 2015. Here, the history attached to this beautiful image, and an identified maker, all contributed to this record-breaking price.
Cameo Materials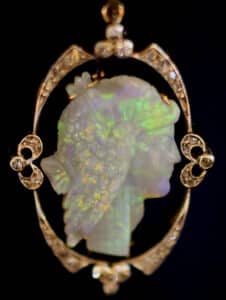 Authentic carved cameos are made from natural materials, such as shell, agate, onyx, ivory, coral, mother-of-pearl, lava, glass, and various gemstones. Authentically painted cameos are typically made from porcelain. These carvings are typically set in either gold or silver.
Glass and hardstone were the oldest materials to be used in the making of cameos, with shell introduced as a relief backdrop for cameos during the Renaissance, in the 15th and 16th centuries, and later popularized by Queen Victoria of England.
All cameos are not the same or made from the same materials, so before you buy a cameo take a closer look to know what you are buying besides a beautiful piece of jewelry and art.
Color is the Key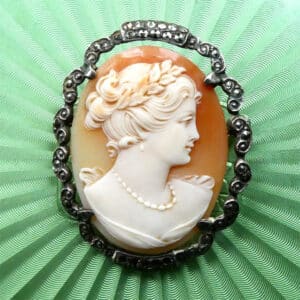 The carnelian shell is the shell most frequently used for cameo carving. In color, carnelian shells are a low-intensity peach or orange color, bringing out a contrast between foreground and background colors.
The sardonyx shell has a thick outer wall and a dark brown interior, and when carved it can resemble marble. Cameos carved in sardonyx shells are distinctive in color with a dark brown background and a white foreground; frequently costing more because of the shells' rarity.
Cameos carved in mother-of-pearl produce a cameo of an opalescent, bluish-gray color. These cameos are best set in silver.
Agate cameos are carved ultrasonically. Its hardness allows for greater detail than the softer shell. Blue or green in color, these cameos come from Germany and have a more modern look despite the fact that agate has been used for cameos for centuries.
Glass cameos are formed by pouring molten glass into an intaglio mold, which was typically made of clay. Vintage glass cameos can be found in stunning black glass and sparkling crystal, as well as rich shades of amber and amethyst.
Cameos made from lava are muddy-colored in appearance and known for their "biscuit porcelain" luster. The lava rock carvings from the Mt. Vesuvius region range in color from off-white or yellowish to varying shades of gray, when it has been dyed any number of deeper colors. Cameos of this type are easily identified both for the material they are carved from and the period when they were made.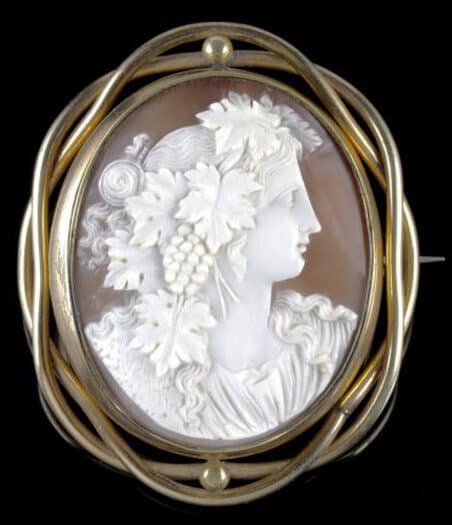 Is It Real or Fake?
Due to the enduring popularity of cameos, there are more realistic imitations nowadays than ever before. It can be difficult to know when a cameo is an authentic antique piece or a modern-day imitation, but here are a few things to consider:
Know which materials are most authentic. Authentic carved cameos can be made of shell or natural stone, while authentically painted cameos are typically made from porcelain. As a general rule, any carved cameo made from a natural material can be considered authentic. Some of the materials used include shell, agate, carnelian, onyx, ivory, lava, coral, jet, bone, mother of pearl, and various gemstones. A cameo is referred to as being non-authentic or fake if it has been made with plastic or resin.
Inspect the cameo for cracks. Hold your cameo up to the light. Regardless of the material and the age, you should see no chips or cracks in the foundation material. Soft plastics chip easier than shell, porcelain, and stone do; however, hard resins are fairly chip-resistant. This speaks more to the cameo's value rather than its authenticity. A chipped cameo might be real, but these signs of damage will cause its market value to decline.
Look at the direction of the face. The majority of antique cameos will have a figure facing right. After that, a leftward facing figure is most common, followed by a forward-facing figure. Since profiles on authentic vintage cameos can face in any of these three directions, this alone is definitely not an indication of authenticity. If you have other reasons to doubt whether or not the cameo is real, though, the fact that the figure faces left or forward instead of right, as is most common, could give you a further reason for doubt.
Observe the facial features. An authentic cameo will have high-quality figures on it. The natural curves of the chin and mouth should be reflected in the design, and the profile will usually have rounded cheeks. Portrait cameos that have a straight nose are typically from the Victorian era. Portraits with strong, "Roman" noses are usually dated before the 1860s. A nose that looks "cute" or button-like usually indicates a newer cameo created in the 21st century. If the nose is turned up and the features are flat, it could be a sign that the cameo is fairly modern and likely created with lasers, making it non-authentic.
Note the type of pin. Flip the cameo over and look at the pin on its back. An antique or vintage piece will usually have a plain "c-clasp" on it. With a "c-clasp," the brooch pin loops under a crescent-shaped piece of metal. There is no roll-over fitting there to keep the end in place.
Take detail into account. While some authentic cameos are plain, many valuable antique pieces will include finer details on the carving or painting. These features usually include things like earrings, pearl necklaces, loose curls, and flowers. Note that some details actually indicate when a piece is fake. For instance, many laser cut imitations have a faint white band near the outer border of the piece.
Weigh the cameo in your hand. Plastic and glass cameos tend to be set in heavy base metals. As a result, they are usually heavier than shell and porcelain cameos. This is not always true, however, so weight alone is not a good indication of authenticity.
Look at the finish. Turn the cameo in your hand and observe the way the light hits it. A real shell cameo should have a matte appearance rather than a glossy one.
View the cameo in a strong light. With the back of the piece facing you, hold the cameo up against the sunlight on a particularly bright day or up against a strong artificial light. You should be able to see the entire silhouette if your cameo is made from shell.
Feel the temperature. Hold the cameo in your hand for 30 seconds or so. A real stone or shell cameo will feel fairly cool, but a plastic piece will quickly warm up due to the temperature of the room and the heat of your skin.