by Erica Lome, Ph.D.
One April morning, when Henry David Thoreau (1817-1862) was fishing in a stream outside the center of Concord, Massachusetts, he was distracted by a hawk as it soared gracefully over the water. "It was the most ethereal flight I have ever witnessed," he recalled. Thoreau began noticing other details around him, such as the "golden and silver and bright cupreous fishes" in the water, which looked to him like a string of jewels, and the "pure and bright" light dappling through the meadows. This moment inspired Thoreau to write: "We need the tonic of wildness … At the same time that we are earnest to explore and learn all things, we require that all things be mysterious and unexplorable, that land and sea be indefinitely wild, unsurveyed and unfathomed by us because unfathomable. We can never have enough of nature."
This excerpt from Walden; or, Life in the Woods (1854), Thoreau's masterpiece of American literature, helps us to understand a man deeply in tune with the natural world. Known as an essayist and political activist, Thoreau described himself as "a mystic, transcendentalist, and a natural philosopher to boot." His interest in science and the environment informed his approach as a collector of Concord's history, wildlife and flora. But while Thoreau may be counted among the great amateur naturalists of the early nineteenth century, he was also—at heart—a poet.
"Rather than love, than money, than fame, give me truth."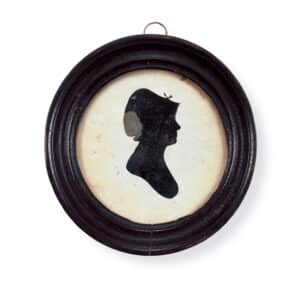 Born as the third of four children to John and Cynthia Thoreau, Henry developed his observational skills thanks to his mother. According to their neighbor Edward Emerson, Cynthia trained the eyes and ears of her children from a young age: "She used to take them out in the door-yard, make them listen to the bluebirds' notes in the bird-box there and then listen to the songs of the more distant singers in the elms and fields close by, framing little verses of exclamations cheerful or plaintive to fit the accent of the outbursts from the various little feathered throats." (figure 1)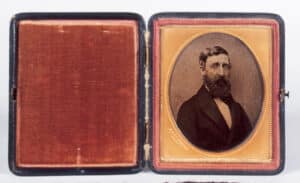 After receiving an education at Harvard, Thoreau dedicated his life and career to writing, supporting himself along the way as a teacher, surveyor and even as a pencil manufacturer (his father's business). While he never grew wealthy from his written works, many of which were published by his sister Sophia after his death, Thoreau considered himself rich "in sunny hours and summer days." (figure 2)
Thoreau was part of the circle of Transcendentalists in Concord, radical intellectuals led by Ralph Waldo Emerson, Bronson Alcott and Margaret Fuller, among others. Predicated on principles of self-reliance, individualism and independence, Transcendentalism was also concerned with the "mindful cultivation" of one's inner bring, a process that took place through education rather than material acquisition. In particular, Transcendentalists believed Nature to be mankind's greatest teacher of moral philosophy. As Emerson put it in Nature (1836): "natural facts serve as symbols of spiritual facts, so the natural world is a perpetual allegory of the human spirit – an allegory to which the eye gives access."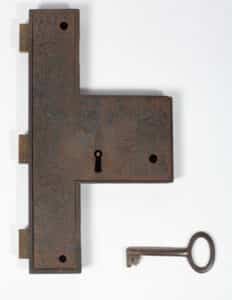 Thoreau subscribed to many of these principles, especially the right of men and women to act with their conscience. One of his most famous works, "Civil Disobedience" (1849) was written in response to the Mexican American War and the expansion of slavery. Thoreau asserted that an individual citizen had a moral imperative to fight injustices perpetrated by their government. He himself refused to pay taxes, protesting "the state which buys and sells men, women, and children, like cattle at the door of its senate-house," and was jailed in Concord for one night as punishment. "Civil Disobedience" has been called one of the most influential essays in the worldwide democratic tradition. (figure 3)
Thoreau followed his own path in life, abiding by his mantra to "simplify, simplify."
In Walden, the writer reflected on the period from 1845 to 1847 when he lived in the woods at Walden Pond, a mile or so from his home in Concord. This utopian experiment was the result of Thoreau's life-long pursuit to live fully—"to live deep and suck out all the marrow of life," as he put it in Walden—but also to live responsibly. By closely observing the natural world, with its endless cycles of rebirth and regeneration, Thoreau found spiritual enlightenment and intellectual purpose.
"All good things are wild, and free."
Thoreau spent most of his adult life collecting and studying the natural world. "I have the habit of attention to such excess that my senses get no rest," he wrote in 1852. But he reminded himself that observation was not all about effort: "Go not to the object, let it come to you." Thoreau collected according to his interests, which comprised anything and everything relating to natural and human history in and around his hometown of Concord.
Ralph Waldo Emerson wrote of the pleasure and privilege of walking with Thoreau: "He knew the country like a fox or a bird, and passed through it as freely by paths of his own … Under his arm he carried an old music-book to press plants; in his pocket, his diary and pencil, a spy-glass for birds, microscope, jack-knife, and twine." His attention to the small and even mundane patterns of the world around him was recorded in the dozens of journals kept throughout his life.
One facet of his collecting concerned wildlife, and especially birds. Thoreau regularly recorded information on bird songs, migratory patterns, and taxonomies in his journals; scholars estimate he penned 8,433 entries relating to birds over twenty-five years of record-keeping. In 1841, Thoreau undertook a four-day walk with companion Richard Fuller from Concord to the summit of Mount Wachusett in Princeton, Massachusetts. Two years later, his essay about this excursion, "A Walk to Wachusett" (published in the short lived periodical The Boston Miscellany) recalled: "The cherry-birds flitter around us, the nuthatch and flicker were heard among the bushes, the titmouse perched within a few feet, and the song of the wood-thrush again rung along the ridge."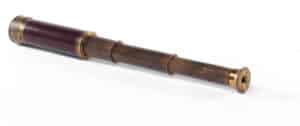 Like many early 19th century amateur ornithologists, Thoreau collected bird skins, eggs, and nests. However, unlike other scientists of the era, Thoreau did not shoot birds in order to study them. And while he was skeptical of scientific instruments as a replacement for human senses, in 1853 Thoreau purchased a spyglass to aid his birdwatching. (figure 4) This object, along with a well-loved copy of Wilson's American Ornithology (originally published in nine volumes between 1801 and 1814), enabled Thoreau to record empirical observations, though his writerly voice was far more reflective and emotional than scientific and objective (figure 5). For example, in a journal entry dated June 1853, Thoreau described the Wood Thrush as "the only bird whose note affects me like music. It lifts and exhilarates me. It is inspiring. It changes all hours to an eternal morning."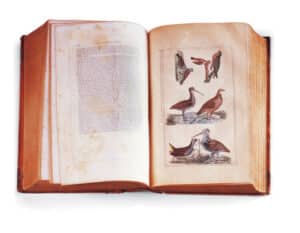 "It's not what you look at that matters, it's what you see"
In addition to creatures which flew overhead, Thoreau's eye also roamed the earth in search of treasures. While the practice of collecting rocks and minerals dates to the fifteenth century, by the mid-nineteenth century, the professionalization of geology resulted in a wave of amateur interest in the same subject.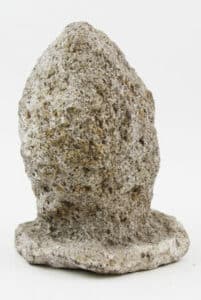 Thoreau amassed a sizable—if somewhat haphazard—collection of pyrite, copper ore, quartz, chalcedony, feldspar, gypsum and other minerals. His interest also extended to the mundane and local, such as clay from Martha's Vineyard and fragments of granite from the neighboring town of Billerica. Of the latter, Thoreau took note of their unique form: a rounded top with a narrow neck and pedestal-like base (figure 6). In a journal entry dated July 22, 1859, he speculated that these rocks were shaped by the friction of pebbles and other material which had washed against them by the rush of the stream at high water.
Thoreau stored his rock collection inside one of several "geological cases" he made for himself and others, including three stackable boxes crafted in 1849 for the Osgood family in Scituate (figure 7). The precise layout and construction of these boxes demonstrates Thoreau's competence as a woodworker, another skill he acquired in order to be self-sufficient. While the box remains at the Concord Museum, much of his rock collection is now at the Fruitlands Museum in Harvard, Massachusetts, purchased by Clara Endicott Sears in 1910.
"Heaven is under our feet as well as over our heads."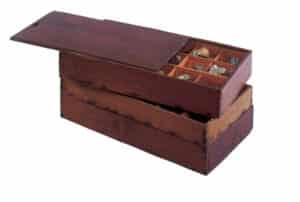 Botany, or the study of plants, also fascinated Thoreau. As early as 1842 he documented the flora of the Concord region, noting where he found them and their Latin names. In subsequent years, the arrival of naturalist Louis Agassiz at Harvard and the publication of Asa Gray's Manual of Botany (1848) stimulated his interest. By 1850 he was collecting and preserving specimens in his personal herbarium, expanding his purview to include examples found throughout New England. All told, Thoreau's collection grew to about 900 specimens.
Thoreau's herbarium offers a peek into a mind driven by a need to study the world around him. Recording all the flora in Concord was an impossible task, one that Thoreau was nonetheless determined to meet. In May 1853, Thoreau wrote in his journal "how long some very conspicuous ones [flowers] may escape the most diligent walker, if you do not chance to visit their localities the right week or fortnight." Three years later, he commented "It will take you half a lifetime to find out where to look for the earliest flower."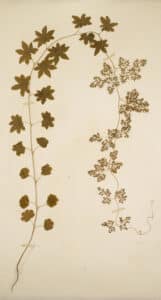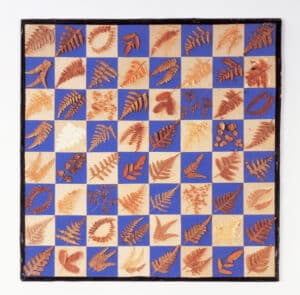 Occasionally, Thoreau got lucky and came upon something truly special. On November 24, 1851, while surveying the Ministerial Swamp in Concord, Thoreau discovered Lygodium palmatum, also known as the climbing fern, the only fern in New England that twines like a vine. Of this extremely rare specimen, Thoreau wrote: "It is a most beautiful slender and delicate fern, twining like [a] vine about the stem of the meadow-sweet, [panicled] andromeda, goldenrods, etc., to the height of three feet or more, and difficult to detach from them … Our most beautiful fern, and most suitable for wreaths or garlands." (figure 8)
Henry was not the only Thoreau to enjoy this pastime; his sister Sophia often joined him on walks around Concord. Together, they collected specimens that Sophia later fashioned into unique works of art, such as a checkerboard onto which Sophia affixed small ferns, leaves, and spores from varying plants (figure 9).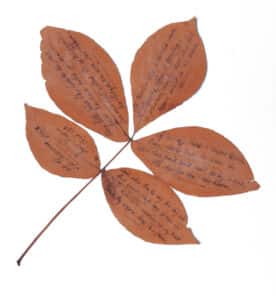 After Thoreau died in 1862 at the age of 44, Sophia began inscribing poems on leaves she had flattened and dried in her flower press. One example came from a shagbark hickory tree. "It is as a leaf which hangs over my head in the path," recorded Henry in his journal; "I bend the twig and write my prayers on it then letting it go the bough springs up and shows the scrawl to heaven." (figure 10) The poem on this specimen, written by Thoreau in 1837, refers to "Fair Haven," a place near the widening of the Sudbury River between Concord and Lincoln where brother and sister had walked together. The poem's ending reads: "And when I take my last long rest,/And quiet sleep my grave in,/What kindlier covering for my breast,/Than thy warm turf Fair Haven."
"Time is but the stream I go a-fishing in."
Henry David Thoreau's impact is not only measured by his literary achievements, but by the work he did to expand our knowledge about the natural world and human life within it. Thoreau's passion for collecting, and the varied objects he collected, made him iconic not only within the Transcendentalist movement but also within the budding fields of natural science, ecology and environmentalism. Not to mention, his impressive collection of historical artifacts contributed to a local antiquarian movement spearheaded by Concord Museum founder Cummings E. Davis (1816-1896).
After Thoreau's death, Cummings Davis continued to collect artifacts that represented Thoreau's life and interests, including architectural fragments of Thoreau's birthplace, his schoolboy ruler, the pen he last wrote with, and the caned bedstead on which he died. When Sophia Thoreau moved to Maine a decade after her brother's death, Davis purchased many items at the Thoreau auction in 1873. Many other objects, purchased by others at the auction, were subsequently given to the Museum.
Today, people continue to take inspiration from Henry David Thoreau's life, work, and collecting. His philosophy remains potent during these uncertain times: "Live in each season as it passes; breathe the air, drink the drink, taste the fruit, and resign yourself to the influence of the earth."
About the Museum: The Concord Museum educates visitors of all ages about the history of Concord and its continuing influence on American political, literary and cultural life. The Museum's nationally significant collection serves as a catalyst for changing exhibitions, extended classroom learning, dynamic programs, and publications relevant to an ever-changing world. Founded in 1886, the Museum is a center of cultural enjoyment for the region and a gateway to the town of Concord for visitors from around the world.
---
Author bio: Erica Lome is the Decorative Arts Trust Curatorial Associate at the Concord Museum. She holds a Ph.D. in History from the American Civilization Program at the University of Delaware and a MA in Decorative Arts, Design History, and Material Culture from the Bard Graduate Center.