Gavels 'n' Paddles: Tiffany table lamp, $206,250, Freeman's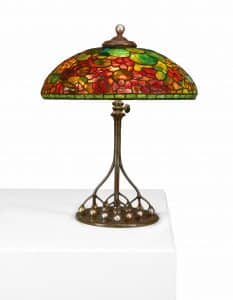 Recent Auction Results From Near & Far
By Ken Hall
A Tiffany Studios "Nasturtium" table lamp, circa 1905, lit up the room for $206,250 in an online-only Design Auction held April 3 by Freeman's in Philadelphia. Also, an important "Holtz" table crafted in 1986 by George Nakashima (1905-1990) sold for $137,500; a framed radiator grill for the Brooklyn Edison Company, circa 1930, by Samuel Yellin (1884-1940) rose to $37,500; and a music stand made in 1962 by Wharton Esherick (1887-1970) changed hands for $37,500. Prices include the buyer's premium.