by Marsha Crafts and Bonnie Salzman
photos by Marsha Crafts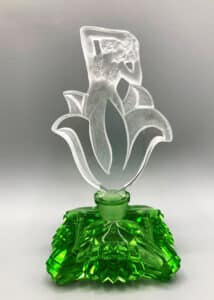 The formation of the country of Czechoslovakia at the end of World War I coincided with the growing popularity of Art Deco design that had originated in France in the 1910s. Included within the borders of the new country was the glass-producing area of Bohemia in the Jizera Mountains near Jablonec nad Nisou where glass had been produced for centuries. With plentiful fuel, resources, and skilled craftsmen, Bohemian crystal glass had overtaken European markets in the first half of the 18th century, successfully competing with Venetian glass. Perfume bottles and flacons have been produced in Bohemia since the second half of the 18th century.1
At the 1925 Paris International Exhibition of Modern Decorative and Industrial Arts, glass manufacturers in Czechoslovakia had a pavilion as did other glass houses from Europe and especially France, featuring Lalique and Baccarat. Postwar Paris was ready to show the world that France was willing and able to define the elements of the emerging style that would be known as Art Deco.2
Several Czechoslovakian companies including Josef Schmidt and Heinrich Hoffmann were influenced by the press-molded and mold-blown glass of Rene Lalique shown at the exhibition. The first Czech design registered of these "artistic crystalware" Lalique style bottles was by Josef Schmidt in 1924. Heinrich Hoffmann soon followed in 1924-25. By 1930 many companies in Czechoslovakia were exporting large quantities of these bottles to the world. The stoppers were press-molded and the bases mold-blown. After removal from the mold, select surfaces were polished to a brilliant shine with the molded design left unpolished. Nude women and other figurals were common motifs for stoppers. Many bottles had art deco jeweling added to compliment the design.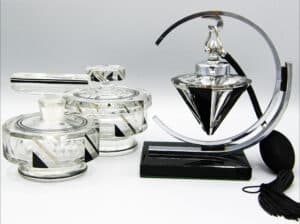 Streamline Moderne emerged in the 1930s in architecture and transportation, as well as home goods and vanity items. Perfume bottles and vanity items with chrome and other metal features were popular. Karl Palda and Bruno Posselt were the more well-known makers in Czechoslovakia selling this art deco style. Generally, glass blanks were purchased from other Czech companies with the enameling and finishing done at the Palda and Posselt factories.
There are several manufacturers in Czechoslovakia that have been identified and recognized for making famous the Lalique style "artistic crystalware" perfume bottles and vanity items. Most of the unfinished glass was produced by Josef Riedel for these companies from the supplied metal molds. Both crystal and opaque colored glass were produced. Opaque colors were red, orange, turquoise, brown, Lapis or dark blue, malachite or jade, ivory, and black.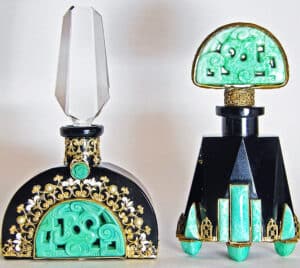 Josef Schmidt was the first company in Czechoslovakia to register this new style of perfume bottle. The Schmidt workshop actually started in 1868 when Bohemia was part of the Austrian Empire. Schmidt had a number of glass-cutting workshops in the area and exported worldwide. Schmidt was one of the most prolific producers of this style of Czech perfume bottles. Art deco ladies adorned stoppers and bases. Enamel highlights, striking color combinations, large floral stopper designs, ornate jeweling, and influences from other countries are all seen in Schmidt bottles.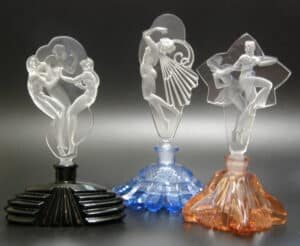 Vogel & Zappe designed some of the most iconic art deco bottles. The company was a general partnership the two formed in 1935 to design & produce these vanity items. Large stoppers in the Art Deco style portrayed intricate images, often in intaglio or double intaglio, in which an image is impressed on both sides of the glass. Asymmetrically finished edges and minute details are features of many Vogel & Zappe bottles.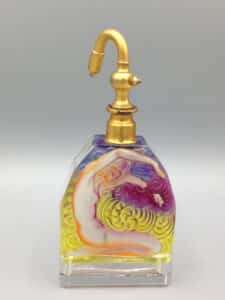 Johann Umann had started with a glass cutting shop in 1860 and by 1926 started production of these vanity items. They supplied many bottles to commercial perfumers as well as direct sales. Fine enameling that appeared as staining was their specialty and is therefore very recognizable. Polishing was done after enameling and produced sharp clean edges. Animals, especially elephants and birds, as well as flowers and other plants were common themes.
Franz Josef Vater had a small cutting and finishing shop for chandelier prisms and parts. In the 1930s he created bottles with simple designs that were a perfect vessel for elaborate jeweling. The clean lines to the glass gave way to art deco exotic jeweling styles from China, Persia, and Egypt. The Neiger Brothers jeweling was some of the best and is highly coveted.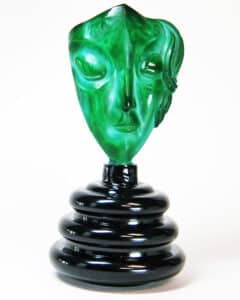 Curt Schlevogt started as an export company in Jablonec, but soon began intensively pursuing the production of artistic crystalware when son Henry Schlevogt joined the firm.3 Most collectors recognize the bottles Henry Schlevogt produced from 1934 and named for his daughter – trademarked as Ingrid. The collection was initially dominated by toilet and vanity sets with other small household items added later. Schlevogt achieved great success by winning the Grand Prix at the World Exhibition in Paris in 1937, and the Ingrid collection became world-famous.4
Heinrich Hoffmann began work for his father around 1900. Before and after WWI, Hoffmann's main business was the fabrication and exporting of costume jewelry stones. In 1926 the focus of the business shifted to artistic glass products.5 There was an emphasis on dressing table glass items from the very beginning. Interestingly, Hoffmann's daughter Charlotte married Henry Schlevogt, son of Curt Schlevogt. Henry worked for Hoffmann from 1927-1930 before moving to his own father's firm. Perhaps the most iconic of all Hoffmann perfume bottles is the hanging nude dauber bottle. These came in various sizes and stoppers, but all have the same shaped base. Most reproductions used a different shaped base. Hoffmann dresser items are some of the most desirable vanity collectibles today.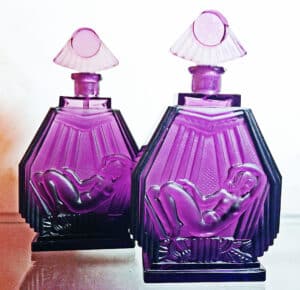 The beginning of World War II in Europe virtually ended all production and export of these lovely items and changed many of these firms forever.
A quick word about metalwork and jeweling. Jeweling was added by other specialty companies typically requested by the importer. High-quality bronze jeweling was done by Turriet & Bardach in Austria with the metal stamped Austria. In Czechoslovakia, Norbert and Max Neiger—two brothers who lived in Jablonec—were very successful in many jewelry lines6 and produced high-quality items. Their work was never signed, so known jewelry pieces have been compared to jeweling details on perfume bottles for identification. Most of the metalwork is merely marked "Czechoslovakia." A few other companies also did jeweling of lesser quality. Much remains unknown.
A cautionary note: After World War II, the new government formed "Glassexport" for bottle production circa 1950-1989. They used molds that they could acquire, often mixing original designers, and produced limited colors of glass bottles. These bottles are of poorer quality and generally do not possess the "Made in Czechoslovakia" base acid stamp found on original production bottles. Today, some companies reproducing these bottles clearly mark them as such while others intentionally deceive. There is much written about these reproductions. Knowledge is power. Know before you buy.
This is just a small sampling of the vast number of art deco items exported from Czechoslovakia from about 1928-1938. They are readily available for you to discover.
To find out more about Czech perfume bottles, see the Czech Collectors Association at: www.czechcollectors.org, and the International Perfume Bottles Association at www.perfumebottles.org
---
References:
1. Petr Novy. "The Magic Garden: Bohemian and Czech Vanity Glass – 18th Century to Present," Perfume Bottle Quarterly, Summer 2013.
2. http://www.arthurchandler.com/1925-art-deco-exposition.
3. http://www.prague-art.cz/catalogue/producers/9-curt-schlevogt-company%2C-jablonec-nad-nisou%2C-czech-republic/
4. Novy, "The Magic Garden"
5. Petr Novy. Ingrid – More than Just a Brand. Published by the Museum of Glass and Jewelry in Jablonec nad Nisou, Czech Republic, 2012.
6. R. Bodien, V. Kocken, and P. Walker. "Round Table on the Neiger Brothers," Perfume Bottle Quarterly, Summer 2013.