by Franceen Munson
The kitchen, perhaps more than any room in a house conjures up more memories and associations than any other, with its smells of favorite foods, images of beloved people and shared times, and the general warmth of home. It was the hub around which much of family life was spent in the past. When asking people what they remember about favorite kitchens, or if they can describe one that may have belonged to a grandmother, aunt, or mother, most remember the items common to the era, including coffee percolators, bread boxes, and the ubiquitous set of canisters sitting on the counter, adding the finishing touch to a tidy, sparkling, and decorated room.
Think back to the post war kitchen of the 1940s for a moment. Due to the post war economic boom, most were gleaming and new, with modern conveniences such as an electric frying pan, and a toaster sitting on the Formica countertop. Pressed, frilled curtains almost certainly adorned the windows, and the countertop most likely held a full set of matching canisters completing the decor. Everything matched, and everything was in its place in this era. Canisters held the common staples of flour, sugar, tea, and coffee, but they were as much about display and decor as use. Canisters were available in glass, porcelain, pottery, wood, aluminum, chrome, copper, Corning, and Kromex, a type of spun aluminum.
Canisters often included a Grease-Saver to collect bacon grease, or grease from frying in post war years, as butter was an expensive commodity. This would be kept next to the stove, and had its own little strainer built in. With bacon and its grease being high on the list of evil foods to be avoided, the grease saver is practically off the radar.
Women hadn't entered the work force as professionals yet, and did most of their own baking and cooking, proudly serving up homemade pies, breads, rolls, cakes, etc., and the handy kitchen canister saw a lot of use. Some sets came with up to 8 or 10 pieces, and when ranged in perfect symmetry from large to small in the kitchen, made quite an impression.
With design and space improvements, time and food saving devices, and the healthier eating habits of nowadays, we might ask if anyone even uses canisters anymore. Have they truly been relegated to the past, or do they have a place on the granite countertops of modern cooks? Have they simply gone out of fashion? As a food storage system, it seems they have, as more, and larger cabinetry has made it possible to tuck staples away (only to fill with the latest kitchen gadgets.) Refrigerators have gotten bigger, and can be considered giant food storage units in themselves, containing and preserving an ever widening group of international foods. Another factor is the two income home, in which women simply don't have the time to bake as stay at home wives of the past had.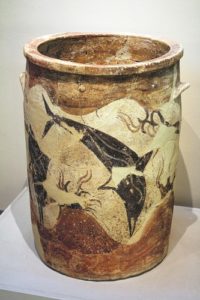 This brings up the interesting question of how cooks kept food safe, sanitary, and fresh through the ages, and of how the home cook came to rely on these useful containers for storing smaller, easier to use amounts of food right on their countertops and at their fingertips!
Food storage containers have been around since the first humans, believe it or not. Cereals such as maize, wheat, and barley have been stored away from people in large buildings off the ground to keep away pests, animals, and vermin. Smaller amounts of essentials were gathered and stored in baskets woven from leaves and grasses. Later, wood boxes, glass and earthenware jars with lids, as well as metal cylinders were put into use to keep out air, moisture, mold, and rodents, thereby ensuring the safety and purity of granular items. Large Greek jars called Pithoi were used to store barley, wheat, lentils, grapes, and of course olive oil and wine.
The Shakers devised a useful and beautiful wooden storage box system, many of which are highly collectible and sought after today. The round, bentwood box called a firkin is made by hand and has indeed become synonymous with Shaker style and culture. These boxes could nest together when not in use, and became one of the most lucrative business ventures of the Shakers. Made since 1799, these boxes usually held spices, herbs, thread, buttons, etc., and were made available to the outside world by popular demand. They remain a favorite amongst antique collectors.
Hand-made baskets were containers which were able to be "built to size" for everything from the transport of gathered food and other items to holding precious goods used by the cooks of their day. The oldest examples have been dated to 10,000+ years old. Over time, basket-making became so refined that they could hold water. The very nature of basket making meant they did not last as long as their ceramic counterparts. Native Americans were and are masters of combining the utilitarian basket with meaningful symbols and beautiful decoration. An art of its own, Native American baskets, whether new or old, can bring hundreds to many thousands of dollars.
In the mid-nineteenth century, traveling peddlers offered tin and metal tins for storing coffee and tea, some of which could be had in country stores as well. Often the tins would be painted or printed with the designs and decorations of advertisers to promote their products. Some had the company logo. In the twentieth century aluminum replaced tin, and collectors today can pick up a vintage aluminum tin for about $30, and over $200 for a well preserved complete set of canisters.
Later on in the early 20th century, Hoosier baking cabinets presented a complete home baking station, conveniently kitted out with cupboards, surfaces, and storage. They contained large glass containers and canisters made to fit the shelves. Highly in demand now for their country-kitchen appeal, the canisters can be had for $20-$80.
The twenties saw the advent of Depression glass, milk glass, clear or pressed glass. Green and yellow were preferred then, but each era had its preferred colors and materials, reflecting the design and fashion trends of the time. New, affordable kitchenware lines were offered in the thirties with the ever-popular Fire King brand, with its most popular color being mint green, known as "Jadeite," color. At the time, a three piece set of canisters sold for $4.25, and is now valued as high as $145. Fire King also made a handy "Range Set," three inch high shakers designed to be kept within reach (usually on the top of the range) for sprinkling and adding small dashes of salt, sugar, flour, and pepper, with a small covered bowl. If you are lucky enough to find a full set you might pay upwards of $200.
Fire King canisters released from 1937 to 1944 were titled Kitchen Kraft and originally issued in a bright red color. Their round shape with cover were often called "ball jug" and are rare to find today. The largest canister piece from a set can bring $75+.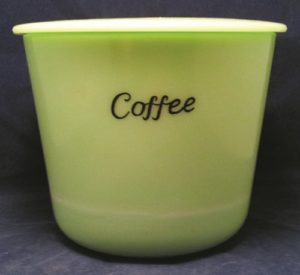 The McKee Company, also active in the 1930s, at one point made its largest canister yet, holding a whopping 48 oz. of content. Meant for storing larger amounts of flour, sugar and coffee, they are today a looked for by collectors at auctions, markets, fleamarkets, etc., with one canister selling for approximately $200, and a full set commanding as much as $750.
Enamel made its debut mostly in the forties, and came in virtually every style and color imaginable, many with the familiar printed labels to keep the home cook organized and efficient. These are very collectible now, with whole sets selling for $20-$40. With the craze for everything vintage, many companies are reproducing this older style in white with red or blue accents.
The Fifties really saw an explosion in the canister market, due to new materials and the exciting, space aged design trends emerging. Canisters were produced with gleaming chrome accents, sleek finishes, Bakelite knobs, and came in the popular colors of the era- pink, grey, black, aqua, turquoise, and copper. As mid-century modern canisters, decorators sought to bring in the clean lines of the living room and the simplification of form and function into the kitchen with "space-age" design elements.
Also appearing in the fifties were the new, high quality plastics. Kitchen companies jumped on the bandwagon, turning out canisters in a variety of colors, sometimes with contrasting knobs.
Ceramic sets were also flourishing from companies such as California Pottery, Buffalo Pottery, McCoy and Metlox and were bordering on mass production of canister sets to meet the demand of baby-boomers starting their homes. They also incorporated wood lids in some of their designs, bringing more durability to an often-broken piece. These generally can cost from $25 to $75 today.
Favored colors for the sixties were "harvest colors" – olive, gold, rust, brown, burnt orange – and canisters reflected popular motifs, mostly in ceramic, of mushrooms, daisies, homesteading, etc. This is also when beautiful, one of a kind hand-thrown pottery canister sets appeared in the kitchens of those with a heightened sense of getting back to nature, and honoring handcrafted items. These tend to bring anyware from $75-150 for a nicely done set with signed pieces bringing much more.
On the flip side, hand painted ceramic canisters from molds (greenware) were being done by housewives and craft-seeking individuals at ceramics classes that were catching on around the country. These "works of art" are starting to show up in droves on the vintage market and go for as little as $25 for a complete set.
In the seventies, Tupperware was the canister seen on most countertops, or at least in the pantry. They were durable, came in lots of colors, and were stackable. They turned the tide for food storage, with most kitchens today boasting a cupboard completely devoted to plastic containers of every size and shape. A hot collectible right now, these inventive containers are showing up in hipster kitchens and in magazine editorials.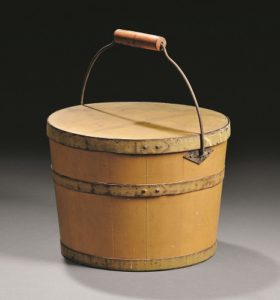 Canisters have great appeal to collectors, antique dealers, and just plain lovers of vintage. They are a functional collectible, and are still useful. Our eyes light up when standing in front of a beautiful complete set of Delft hand painted canisters! While they may not be ranged in order on the kitchen counter anymore, or filled with food staples, they can be found holding anything from children's crayons, to cotton balls, to Christmas greenery. Forties enamel canisters have been spotted holding paintbrushes and knitting needles. They are easy to find as well, appearing in vintage shops, tag sales, thrift stores, garage sales, flea markets, and Etsy and eBay. One could say that the humble kitchen canister has been reinvented and re-imagined in this era of up cycling, reusing, and collecting.
Franceen Munson owns and operates an eclectic store called Windowbox Boutique in Stafford Springs, CT, where she mixes antiques and vintage with quirky modern decor and locally made crafts. Franceen has a degree in both art and history and enjoys painting, gardening, and treasure hunting for vintage and antique pieces.
Defining Your Space: Kitchen Storage