By Maxine Carter-Lome, publisher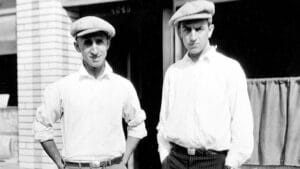 The Walt Disney Company has a big birthday to celebrate in 2023 and they will be throwing the biggest party ever for fans and friends to celebrate 100 years of telling stories and creating magic.
Disney's Centennial Celebration branded Disney: 100 Years of Wonder, will officially kick off during Dick Clark's New Year's Rockin' Eve with Ryan Seacrest on ABC, but will quickly spread and evolve into a global event involving all Disney divisions. This highly-coordinated, globally-integrated branding campaign is designed to "reflect the optimism and creativity of Disney as the company celebrates its first 100 years and looks toward the next century," according to former Disney CEO Bob Chapek.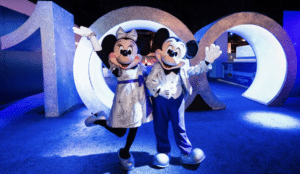 And everyone is invited to join along in the fun and wonder. Leading the party parade will be Disney's mascot Mickey Mouse who, we are told, will have a shimmering new "platinum" outfit designed for the festivities. Expect Minnie and many of their other pals to be sporting new looks, as well. Also new is a shining upgrade to Disney's century-old logo, even if it is only for one year.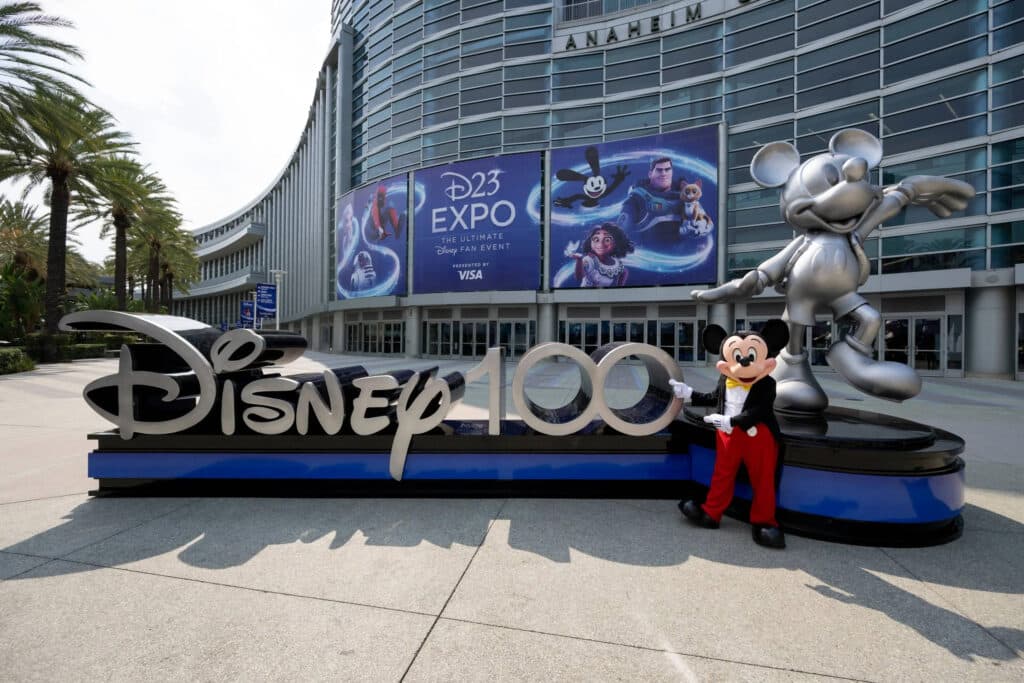 Join in The Celebration
Disney has a number of special events planned throughout 2023 to celebrate its big birthday, using 21st-century technology to connect its fans to the Company's roots. Throughout 2023, Disney's music division will be touring Europe with the Hollywood Sound Orchestra, bringing to life Disney100: The Concert with a series of seminal music moments from its history. The live multimedia experience will see legendary film scenes accompanied by live performances from star solo artists and the orchestra. The concerts will feature songs from such films as Beauty & the Beast, Mary Poppins, and Encanto, along with highlights from the worlds of Pixar, Star Wars, and Marvel.
In 2023, Walt Disney Animation Studios will also release Wish, an epic original animated musical inspired by the Studios' legacy of films and featuring all-new songs by Grammy-nominated artist Julia Michaels. The magical story, which looks ahead to the next 100 years for the studio and explores how the wishing star that so many Disney characters wished upon came to be, is set in Rosas, a fantasy kingdom where wishes literally can come true. Inspired by watercolor illustrations of fairytales that fascinated Walt Disney, the look of the film blends a timeless watercolor style with contemporary 3D CG animation.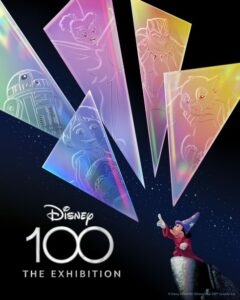 Disney100: The Exhibition, opening on February 18, 2023, at The Franklin Institute in Philadelphia, Pennsylvania, will then tour domestically and internationally. The exhibit invites guests to step into their favorite stories using innovative and immersive technology throughout ten galleries in the 15,000-square-foot exhibit. The Walt Disney Archives is opening its vault of treasures, showcasing more than 250 of its "Crown Jewels," rarely-seen original artworks and artifacts, costumes and props, and other memorabilia. Disney has curated special behind-the-scenes glimpses into the creation of the company's most popular characters, films, shows, and attractions—from Disneyland to Walt Disney World and beyond.
Disney: 100 Years of Wonder, a once-in-a-lifetime documentary event from ABC News Studios, will take viewers on a journey that started in 1923 and whose future is not yet written. "The project will tell the company's story through the lens of the values and philosophies that have guided it through our ever-changing world."
At theme parks, Disney guests can also expect new nighttime spectaculars, downtown Main Street parades, and more special entertainment. And, of course, a ton of amazing commemorative and collectible merchandise!
Anniversary Collections
Disney Consumer Products, Games, and Publishing has several exciting new merchandise collections and collaborations planned to commemorate Disney: 100 Years of Wonder. The first of these include: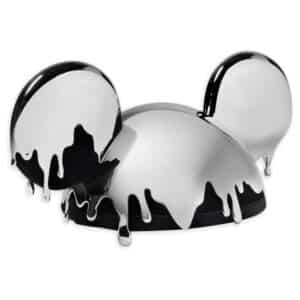 Disney100 Platinum Collection – The Platinum Collection of Disney100 products, including a platinum Disney100 ear hat and headband, will roll out over the next year. Additional details about this collection—including the introduction of new products—can be found on shopDisney.com.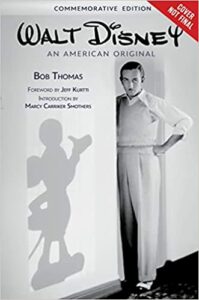 Disney100 Books from Disney Publishing – Fans looking to celebrate 100 years of Disney through its beloved tradition of storytelling can look forward to brand-new titles in 2023, including Walt Disney: An American Original, Commemorative Edition; The Official Walt Disney Quote Book; The Story of Disney: 100 Years of Wonder, by John Baxter, Bruce C. Steele, and the Staff of the Walt Disney Archives; and People Behind the Disney Parks: Stories of Those Honored with a Window on Main Street, U.S.A. by Chuck Snyder with original art by Josey Tsao.
Disney100 Decades Collection – As part of the Disney100 Celebration, Disney is introducing the Disney Decades collection, a merchandise line that celebrates classic stories and eras from the company's history. Debuting early next year on shopDisney.com with products centered around the 1920s and Steamboat Willie, this ongoing series will celebrate a different decade and the beloved stories from them including Snow White from the 1930s, Pinocchio from the 1940s, and more.
Disneyana Anniversary Collectibles
When it comes to branding and merchandising, nobody does it better than Disney!
To get Disney collectors and fans engaged, commemorative anniversary merchandise and limited edition collectibles will soon be available at theme parks and through Disney's online store, online retailers, and catalogs. Already, you can find a number of these items on eBay and Amazon although official merchandise through the Disney online store is not yet available.
In addition to t-shirts and other wearable merchandise in every color and style sporting the anniversary logo, fans and collectors will also find new pin badge series, commemorative cups and glasses, holiday ornaments, and figurines, among other popular, mass-produced
souvenir items. The year will also see special anniversary releases of popular Disney book series and movies.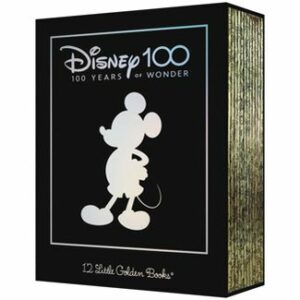 On December 27, 2022, Disney will release a 100th Anniversary Boxed Set of 12 Little Golden Books, including Mickey Mouse's Picnic, which has been exclusively reprinted for this box. Available for pre-order now on Amazon.com, the packaged box set comes with a $65 price tag, although it's sure to retain and grow in financial and personal value over the years. Disney will also release an anniversary coffee table book showcasing the company's history and rich legacy—past, present, and future—through vibrant voices and rare Disney concept art and photographs. In addition, Disney Music Group will release a vinyl compilation highlighting the Company's musical moments across film, television, and the Parks, and Disney Music Group and Deutsche Grammophon will release Lang Lang: The Disney Book, celebrating 100 years of Disney with iconic melodies reimagined for the piano.
Into the Next Century and Beyond
Most of what Disney has planned for this special anniversary is still under wraps. Go to the Disney website and you are teased with "Coming January 1, 2023." Most of what we do know was announced in September at an event called D23 Expo 2022 with little more revealed since then. But stay tuned. Twenty-twenty-three promises to be a year of wonder, to be captured and collected forever.
A Guide to Disneyana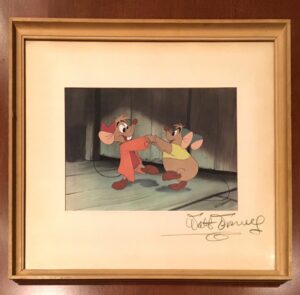 With 100 years of collectible merchandise, commemorative items, movies, and beloved characters, the "Disneyana" market is huge and encompasses a wide range of vintage and contemporary Disney articles. With the release of new 100th Anniversary memorabilia,
limited edition collectibles, and associated Disney-branded items, that market is only expected to grow.
According to invaluable.com, Disneyana can be loosely split into three overarching categories:
1. The movie memorabilia, primarily from their animated features. This includes animation cels, production sketches, and faithful Disney-produced replicas.
2. Theme park memorabilia, ranging from props and signage to exclusive merchandise sold in the many Disney Parks.
3. Miscellaneous merchandise, toys, collaborations, and memorabilia centered around Walt Disney himself.
Historically, animation required thousands and thousands of individual animation cels—named for the transparent celluloid sheets—for even a short cartoon let alone a feature film. Each cel was hand drawn and painted by the Disney animation team, painstakingly
photographed, and then linked together to create beloved masterpieces like Snow White and the Seven Dwarves. Unfortunately, very few of these cels from Walt Disney's personal heyday (the 1920s to the 1960s) survive today.
Why? Nobody responsible had any inkling that these would become highly prized collectors' items. Therefore, most were either washed to be reused or simply destroyed. An authenticated cel of good quality, featuring popular Disney characters or famous moments, can reach a high price at auction, and some cels can even fetch close to six figures – though it's much rarer for those sorts of cels to come to auction. Minor characters from less popular films and shorts will cost much less, towards the lower thousands and upper hundreds.
There are also official limited-edition recreations issued by the Disney company. These are serigraph cels – created by silk-screening layers of color onto celluloid. Print runs range from a thousand to ten thousand for such cel recreations, making them far more accessible than an original cel.
Usually, these are originally sold by Disney and are available widely from auction houses. You can also look into production drawings:
character sketches, model sheets, and rough layouts. The prices vary between animator and project but you can often find them at lower prices than the original cels they inspired.
With Disney theme parks all around the world, merchandise connected to the experience and purchased on-site is what memories and collections are made of. From mouse ears to park brochures are saved and collected by fans. Serious Disneyana collections think even bigger, including props, signs, and other items associated with the magic of Disney. When it comes to props, the biggest thing to pay attention to is the phrase "park used." A replica might look nice but it will never be as valuable as a piece bearing the wear and tear of actual use in a Disney Park. "Park used" pieces are also much rarer as they're made in limited quantities for practical use and were only sold to second-hand sellers by the company itself. But in exchange for the higher price, you get a truly unique object that once delighted people in their millions, now retired to the comfort of your private collection.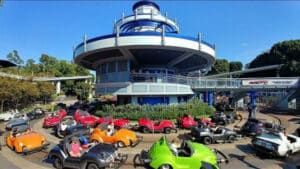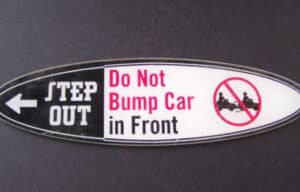 One of the more popular and unique Disney Park Disneyana collectibles is park signs. These range from signs for attractions and park shops to ride warnings and even old employee parking spot signs. But some collectors dream bigger than a sign; they want a piece of the ride for themselves. The rarest and most expensive collectibles are ride parts: cars, props, and the coveted of all, animatronics. These items come up rarely.
Outside the world of theme parks and films, many other pieces of Disneyana strike the fancy of collectors. Disney has collaborated with many companies over the years creating cross-branding and marketing items. There are the original Donald and Mickey Pez dispensers that usually sell for a few hundred dollars. Then, the first editions of Disney comics that began in the 1940s. The countless unique releases of their film classics in every format imaginable and the many, many toys. Most lauded of all the Disney toys is one of the very first, the Mickey Mouse doll created by American seamstress Charlotte Clark.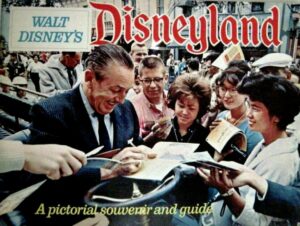 The fervor extends to Walt Disney himself. His autograph on its own or with his typical Mickey Mouse drawing regularly sells for over fifteen thousand dollars. But it doesn't stop at the signature. People collect all sorts of items and objects tangentially related to his life. The key to authentic Walt Disney collectibles is Phil Sears (www.phil-sears.com), the leading expert in Walt Disney's signature and the man whose name you should look for when purchasing a Walt Disney signature.