by Ken Hall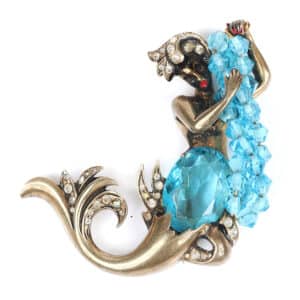 Eisenberg Originals are the most beautiful and brilliant pieces of costume jewelry no one's ever heard of. The massive collection of someone who literally wrote the book on Eisenbergs was recently auctioned off to many lucky buyers who, thanks to her, know what the excitement is all about.
A Collection—and Specialty—Begins
Ever heard of Eisenberg Originals? If not, don't feel bad. Sharon Schwartz was a seasoned antique dealer and collector who had never even heard of Eisenberg when she entered an antique shop in the late 1980s to browse, and there spotted a gorgeous rhinestone piece. "On the back, it said, 'Eisenberg Original,'" she said. "I fell in love and began a collection that grew and grew."
Schwartz tried to learn more about Eisenberg Originals, "but there was very little out there." So, with help from her husband (a research super-sleuth), a friend (and antique shop owner), and an extensive collector who was known as "the queen of Eisenberg" (who began her collection prior to WWII), Schwartz became an authority on Eisenberg Originals, as well as a serious collector.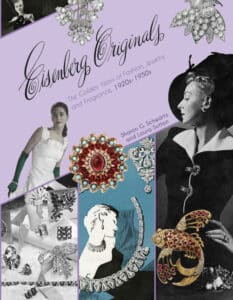 Her knowledge of the company and the items they produced—mostly dazzling costume jewelry pieces but also clothing, handbags, perfumes, compacts, cosmetics, and belts—was so vast, she wrote the definitive book on the subject: Eisenberg Originals, The Golden Years of Fashion, Jewelry and Fragrance, 1920s-1950s. Laura Sutton, a friend, and collector, was a co-author.
The book, published in 2017 by Schiffer, took three years to compile and write. Then, Schwartz made the difficult decision to sell her collection, in its entirety, which she did, on September 12th, through Ripley Auctions in Indianapolis. "I'd love to report my children were interested in my Eisenberg Originals, but sadly they weren't," she said. "So, I decided to offer them to the world."
The sale was a huge success, grossing nearly $100,000. "The auction was organized in the same order as the book," said Kristen Hein of Ripley Auctions.
"We literally started with page one and went through the last page, offering lots in the order as they appeared. Hundreds of pieces were sold, with prices that mostly blew past even the high estimates. Even the old magazine ads did well."
 The Original Eisenberg
As chronicled in the book, Jonas Eisenberg immigrated from Austria to the United States in the late 1800s and worked in the fashion industry for 30 years before founding a fine dress company with his brother, Julius, in 1914. The partnership dissolved within five years, after which Jonas moved to Chicago and launched Eisenberg & Sons with sons Harold and Sam, both in their 20s.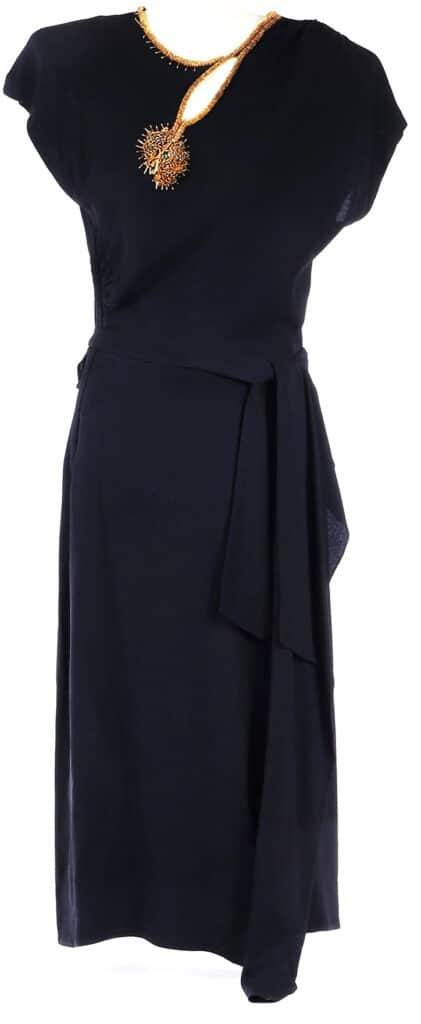 At first, Eisenberg & Sons was solely a dress manufacturer. The company label, Eisenberg & Sons Originals, was defined by luxurious designs that showcased impeccable taste. The company stepped into the world of jewelry when rhinestone dress accents evolved as individual jewelry pieces that were sewn onto the dress to finish the look. Jewelry became a separate line by 1935.
"Eisenberg & Sons was one of the first American design houses," Schwartz said. "The jewelry that bears their mark is among the finest costume pieces ever made. They used only the finest craftsmen, designers, and available materials that were workable for a vintage piece of jewelry. For instance, they used Austrian Swarovski crystals, which had a higher lead content than other, less expensive crystals. It's what helped give Eisenberg jewelry its shimmer and brilliance."
That commitment to excellence spilled over to the company's other lines, like fragrances, belts, scarves, and what Schwartz called "ladies' things," all of which were in her collection. When the country plunged into the Great Depression, Eisenberg & Sons not only survived but flourished and grew. In 1929 it hosted three showings daily of designs (just dresses) for a variety of ages.
By the mid-1930s, Eisenberg & Sons had figured out that the jewelry component of their business—initially an add-on—could be autonomous (and profitable). The adornments were an integral part of the vision of each dress, but now the jewels could be removed or worn with a different garment. Women raced to own these pieces, which came packaged in a blue velvet box.
Jewelry Moves to the Forefront
Eisenberg & Sons very quickly solidified its place in the fashion industry as the first dress company to make jewelry that complemented its fashions. The company didn't design its early jewelry, incidentally. That job was outsourced to Agnini & Singer in Chicago, with whom they formed a partnership. Agnini & Singer deserves praise for its beautiful, elaborate decorations.
Later, when the Eisenbergs launched a full jewelry line, it severed ties with Agnini & Singer, perhaps because the demand for the jewelry had grown so large Agnini & Singer might not have been able to handle the increased volume. Demand was so great that, according to legend, some women would go into a store, try on an Eisenberg dress, remove the pin, steal it, and ditch the dress.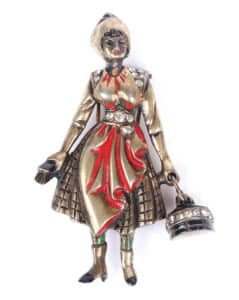 By 1936, Eisenberg & Sons was manufacturing a stand-alone jewelry line and its main jewelry supplier was now Fallon & Kappel. The early pieces were made of pot metal and were mostly dress or fur clips. In 1940, the jewelry manufacturing was spun off as its own division – Eisenberg Jewelry, Inc. At Christmas, 1941, it was named an "advertiser's choice" for a spread in Vogue magazine.
That same year, 1941, ads began promoting "Eisenberg Ice," a term coined by Sam Eisenberg in reference to the gangster use of the word "ice" for diamonds. The phrase caught on with buyers, who instantly caught the connection between Eisenberg jewelry and the diamond-like sparkle and superb luster of the high-quality rhinestones and crystals (especially, as noted, Swarovski).
Entering the World War II Years
In the 1940s, Ruth Kamke was named Fallon & Kappel's sole in-house jewelry designer, and Eisenberg loved to market her floral creations. Whether it was their clear rhinestones, vibrant colored stones, or Swarovski crystals, Kamke jewelry was always the top-quality workmanship, with unique and imaginative designs. The demand was great, especially for the colorful pieces.
During World War II, supplies were becoming strained. The pot metal used in the jewelry was restricted to be used in the war effort, and high-quality imported stones were becoming less available. Oddly enough, in 1943, sterling had replaced pot metal.
By the mid-1950s, Eisenberg's days as a powerhouse in the costume jewelry business had come to a close. The Eisenberg family merged with Berns-Friedman in 1977, reproducing some classic Eisenberg pieces. Unfortunately, Berns-Friedman went out of business in 2011.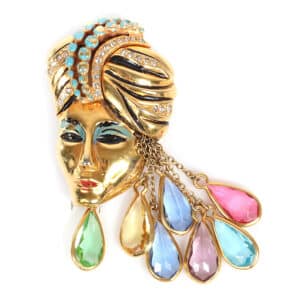 The Connoisseur
Sharon Schwartz attended Drexel University in the 1960s, where she took courses in sewing, art, and design. This led to an interest in fashion and design, which defined the early portion of her career. "In high school, my sewing teacher impressed upon me ideas regarding design and finery," she said. "I entered sewing and design contests and taught sewing. I also made dresses."
Later, in the 1980s, she began going to antique shops and shows, always with an eye on the costume and fine jewelry. That led to her becoming a dealer, under the company name Of Times Gone By. She worked the shows circuit but never had a brick-and-mortar store. "I was on Ruby Lane for years and did very well," she said. Schwartz and her husband live in Cherry Hill, New Jersey, and Boca Raton, Florida.
---
All jewelry images courtesy Ripley Auctions
Ken Hall is a freelance writer living in Atlanta, Georgia. He is the author of the monthly column, "Gavels 'n' Paddles."