By Maxine Carter-Lome
"My preoccupation is to make women look beautiful."
Oleg Cassini, Time , 2005.
---
Although identified as a great American designer, and best known as the "man that dressed Jackie" during her White House years, Oleg Cassini was actually born Oleg Aleksandrovich Loiewski in Paris in 1913 to an aristocratic Russian family with maternal Italian ancestry.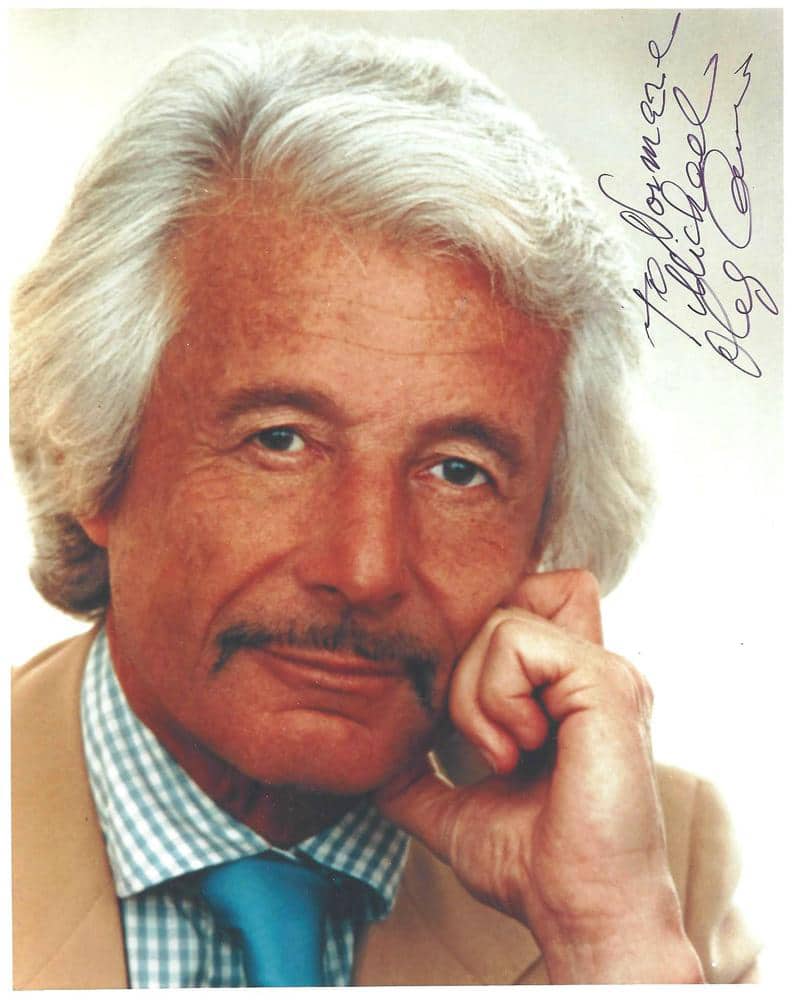 A title
Classic 1970s autographed photo of Oleg Cassini originally selling on Etsy for $131.25

Cassini was the eldest son of Countess Marguerite Cassini, the daughter of the Russian Ambassador to the U.S. Count Arthur Cassini who served Tsar Nicholas II of Russia as foreign minister to China and as the ambassador to the U.S., and her husband Count Alexander Loiewski, a Russian diplomat. Oleg lived a childhood of international privilege growing up in Florence, Italy, where his looks, pedigree, and social attributes made him a welcome addition to the most fashionable social sets wherever he traveled.
A true Renaissance man, Cassini spoke Russian, French, Danish, Italian, and English; studied medieval and modern European military history and costume; and was an accomplished equestrian. A natural-born athlete, he played soccer with the teenage team the "Boys" of Fiorentina, and played tennis for the Italian Jr. Davis Cup team, becoming Italian Jr. Champion. Cassini also studied fine art under painter Giorgio de Chirico at the Accademia di Belle Arti Firenze.
Both of Oleg's parents were fashion-oriented and played a role in shaping his future within the world of fashion and design. It is said his father was a man of style, who wore shoes made by John Lobb, Ltd., suits by Brandoni of Milan, and claimed to own 552 ties. His mother had her own dress shop in Florence — a business she started shortly after the family fled Russia in 1917 on the heels of the revolution, leaving the family's fortune behind.
Marguerite's salon, known for its hats and carrying the latest European fashions, was favored by both European aristocracy and wealthy Americans, many of whom she knew from her youth traveling with her father on diplomatic business for the Russian government. It is said that Marguerite's formula for success was based on what today we would consider "knockoffs." She ventured to Paris twice a year, looked at the new French fashions, sketched them, and brought them back to Florence, where ingenious Italians would make them for less money.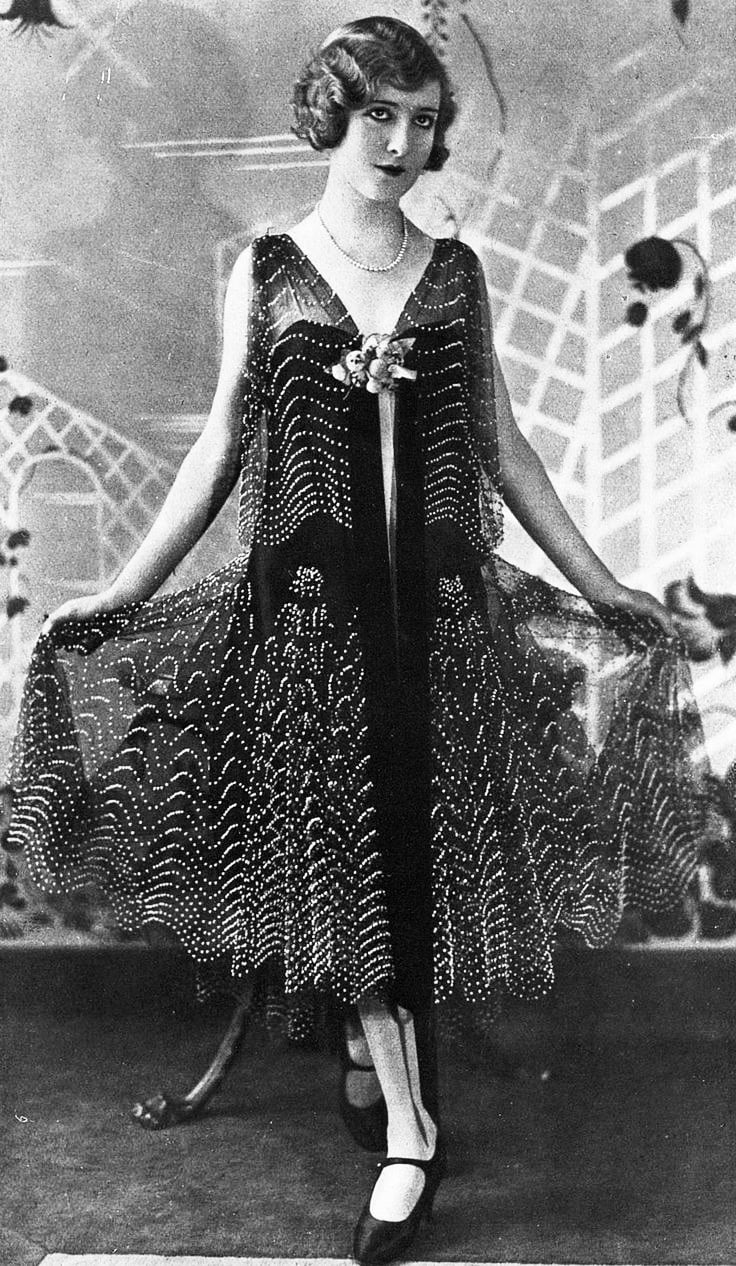 A title
A design by the French Couturier Jean Patou, who gave Cassini his start. Photo: isabelrose.com

Oleg also loved to sketch, so as he got older his mother started sending him to Paris to sketch the French fashions and to begin to formally study the art under the French couturier, Jean Patou. Cassini (the family had adopted Marguerite's maiden name when they moved to Italy) launched his career as a designer in his early 20s by opening a small fashion house in Rome. He was getting orders from the European aristocracy and American debutantes, whom he did his best to introduce to the ways of romance, as he tactfully noted in his 1987 autobiography,
In My Own Fashion
. It only took a few years before his sights were set on even bigger conquests!
Cassini sailed into New York Harbor on Christmas Day 1936. His autobiography describes his possessions upon arrival in America as being limited to a tuxedo, two tennis rackets, a title, and talent. After working briefly and struggling as a political cartoonist in Washington, D.C., Cassini headed for Hollywood to live a life straight out of a Hollywood movie.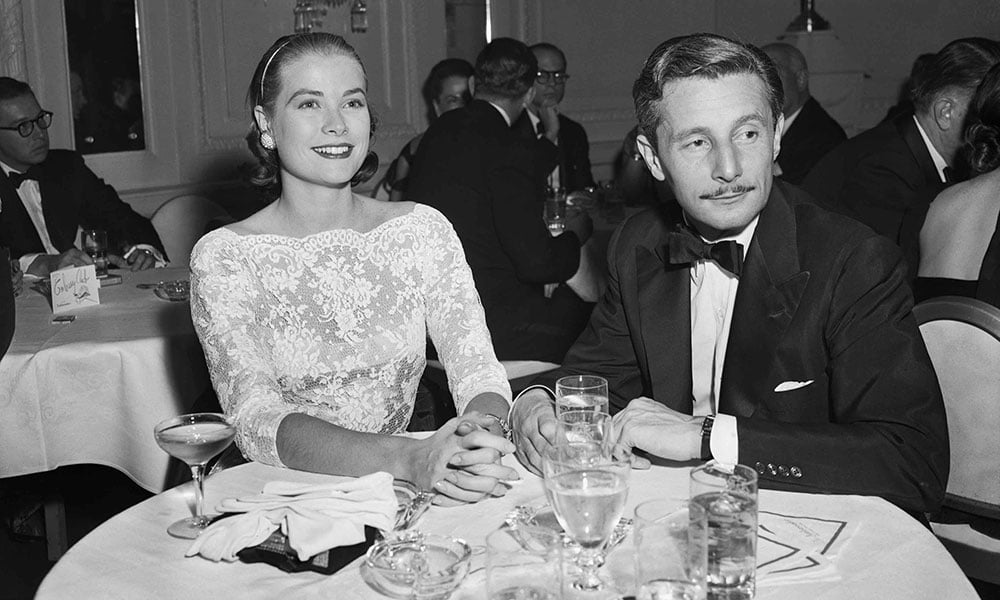 A title
Actress Grace Kelly with her then-fiance Oleg Cassini

Armed with a pedigree, rackets, and his skills as a tennis player, Cassini gained entrée into the West Side Tennis Club shortly after arriving in Hollywood. His doubles partner in a tournament they had won introduced himself as the head of Paramount Pictures and offered Cassini a job as a costume designer at the Studio for $250 per week. His first film, I Wanted Wings (Paramount Pictures, 1941), not only launched his career but that of the film's star, newcomer Veronica Lake.
Cassini went on to dress most of the Studio's fashionable leading ladies of the day including Rita Hayworth, Audrey Hepburn, Janet Leigh, Betty Grable, Jayne Mansfield, Lana Turner, and Gene Tierney. He was also known to date many of them, including Gene Tierney, whom he married in 1941 and divorced in 1947. He was madly in love with Grace Kelly, with whom he became engaged to before she left him for Prince Rainier. From there, he dated Marilyn Monroe, Anita Ekberg, and Ursula Andress, amongst others.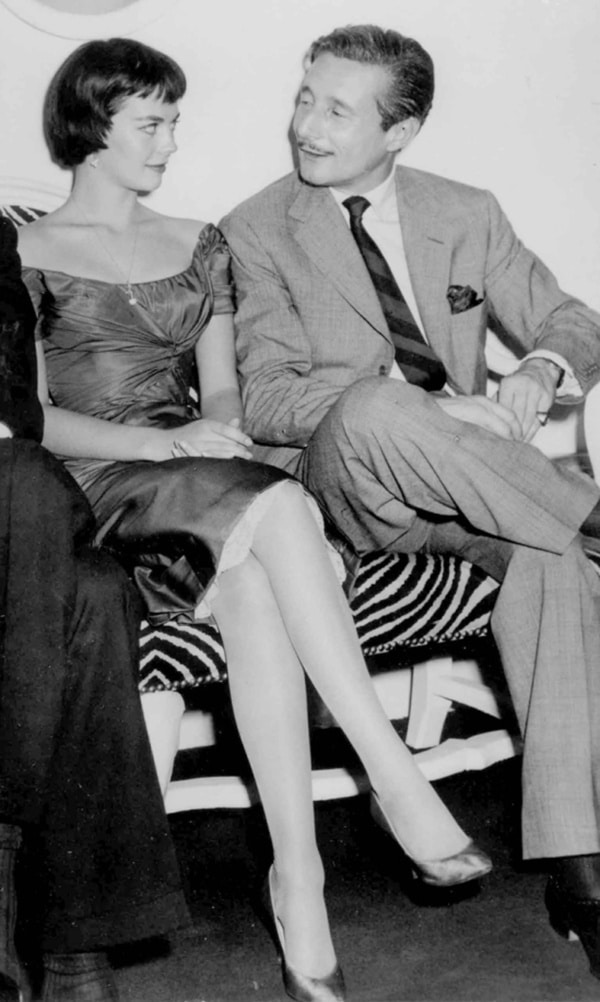 A title
Oleg Cassini and Natalie Wood at the El Morocco club in New York, 1956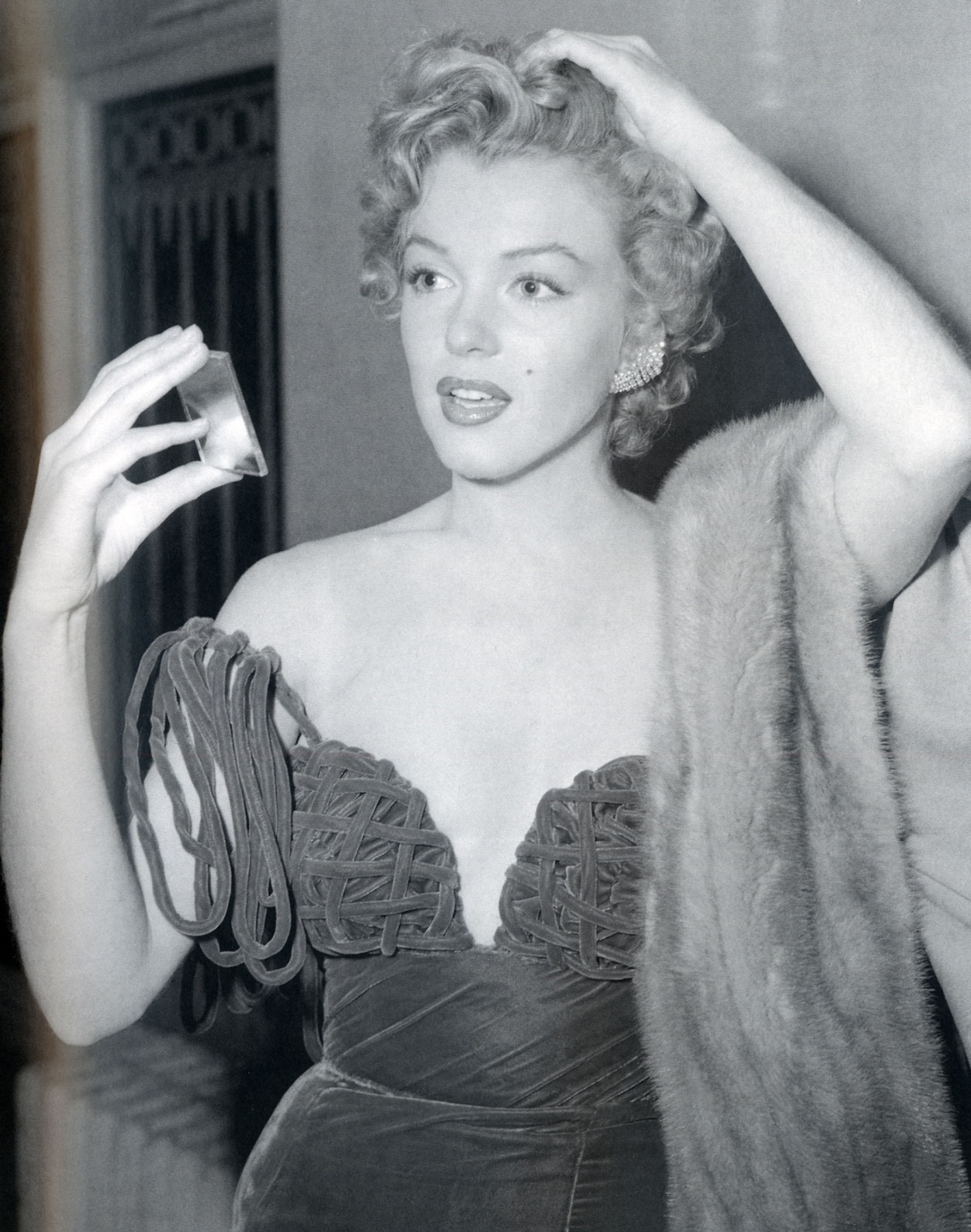 A title
Marilyn Monroe wearing this red velvet gown by Oleg Cassini in 1951 as she accepted her "Best Young Box Office Personality" award

Oleg was joined in his Hollywood reign as a "man about town" by his brother, Igor, a sharp-tongued Hollywood gossip columnist that wrote under the byline, Cholly Knickerbocker. The two brothers were often seen and photographed at all the fashionable parties and watering holes in the best of Hollywood company—especially its starlets—forever cementing their reputation as playboys.
In spite of a heady social life in Hollywood and reputation for designing and dating Hollywood's leading ladies, Cassini returned to New York in 1950 to launch his own design label and fashion house. He was determined to advance his reputation as a serious American fashion designer rather than just a Hollywood costume designer.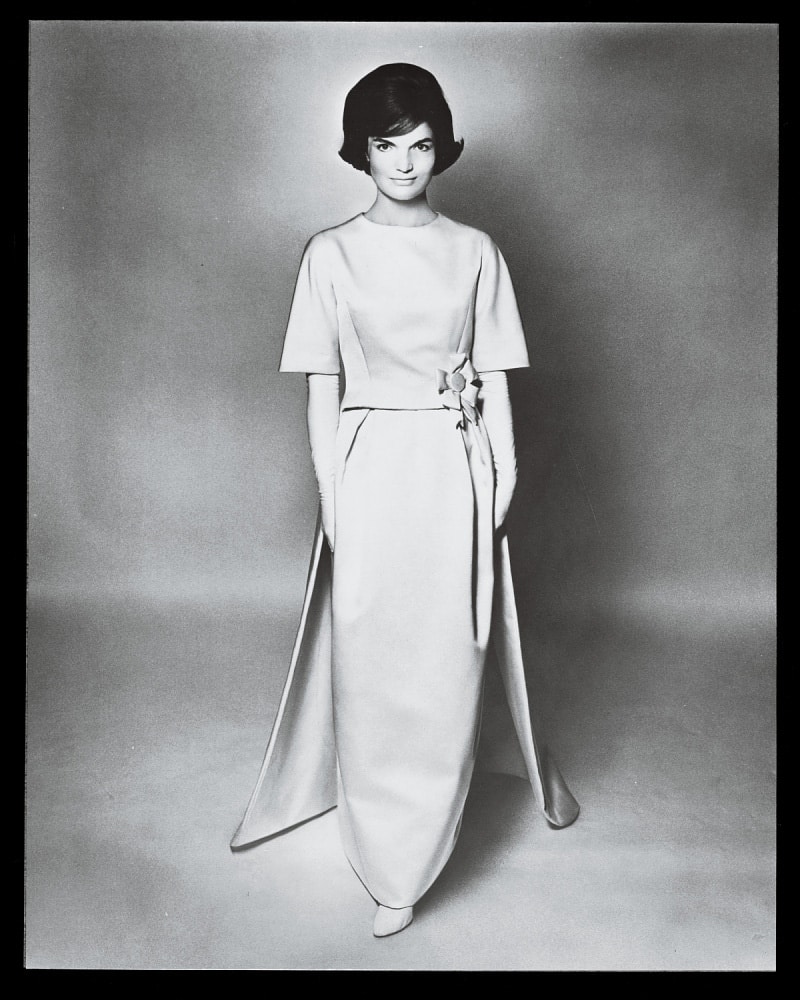 A title
Jacqueline Kennedy wore this dress by Oleg Cassini to the pre-inaugural ball on January 19, 1961. In the contact sheets, one can see the holes in the paper created by the heels of her shoes. The holes were eliminated by retouching a print the copy negative used to make this photograph. Photo: Richard Avedon

It wasn't until 1959 when the newly elected President John F. Kennedy asked him to be the official designer for his wife that Cassini's dream took off. Jack had persuaded his wife that she should use Oleg, who the family had been friendly with for years, as the creator of her total look, rather than one of many designers. Kennedy's father, Joseph, picked up the tab for the nearly 300 outfits designed by Oleg for the First Lady in her 1,000 days of office.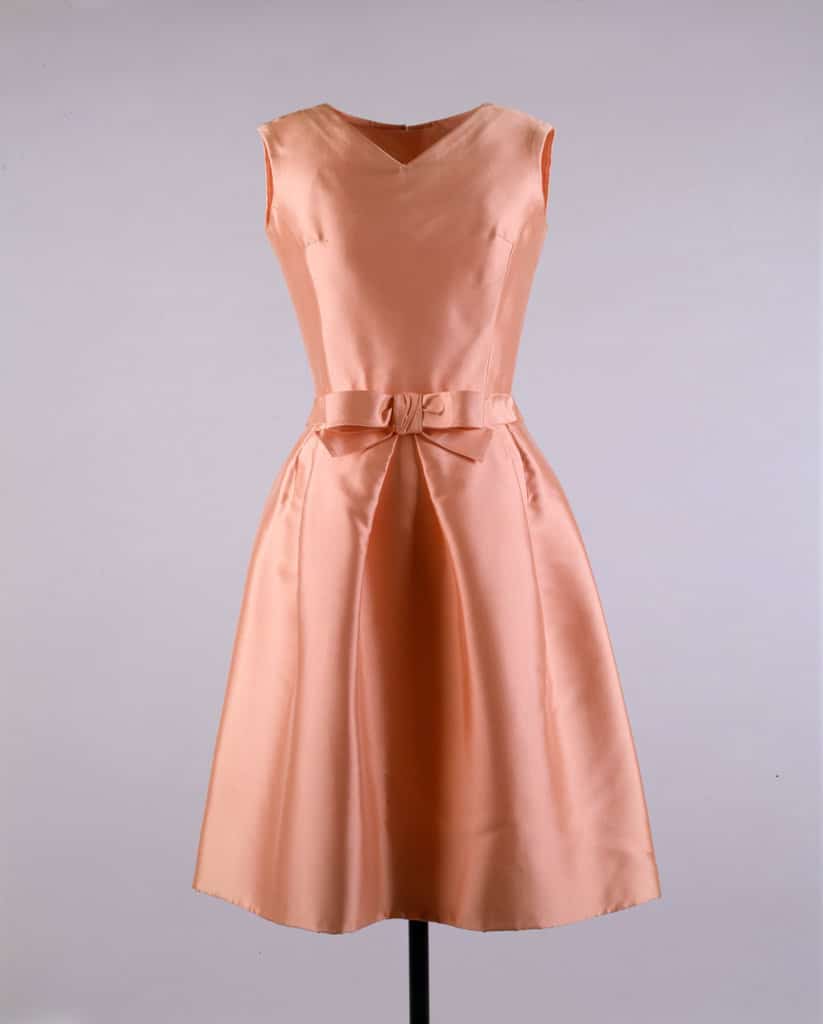 A title
Mrs. Kennedy packed a sleeveless apricot-colored Oleg Cassini dress that she had worn on a trip to Udaipur, India, for Texas. Photo: John F. Kennedy Library Foundation

As the First Lady's designer, Cassini foreshadowed a time when designers would be defined by their celebrity clients, yet the "Jackie Look" was very much a collaborated effort between the two.
In a nine-page letter to Cassini in December 1960, Kennedy was specific about the magnitude of the commitment she was looking for from him. She asked, "ARE YOU SURE YOU ARE UP TO IT OLEG?" Suggesting he put his brilliant mind to work, imagining what she would wear if her husband was the president of France—trés Princess de Rethy—mais jeune. . ." She also indicated how familiar she was with the hazards of "PUBLICITY." "One reason I am so happy to be working with you is that I have some control over my fashion press, which has gotten so vulgarly out-of-hand. You realize that I know that I am so much more of fashion interest than other First Ladies," before adding that she refused to have her husband's administration plagued by fashion stories of a sensational nature — "to be the Marie Antoinette or Josephine of the 1960s."
Through the First Lady, Cassini's fashions were thrust into the international fashion arena on one of the most admired and photographed women of her time. Whatever she wore—whether a strapless dress to an art opening at the National Gallery or a pink-and-white straw-lace dress with a matching cape for a reception at Versailles—Mrs. Kennedy's style was photographed and written about around the world. Women across the country wanted to look like her and dress like her. "The Jackie Look is the single biggest fashion influence in history," said Edith Head, a renowned Hollywood costume designer, about the impact of Oleg and Jackie's style collaboration.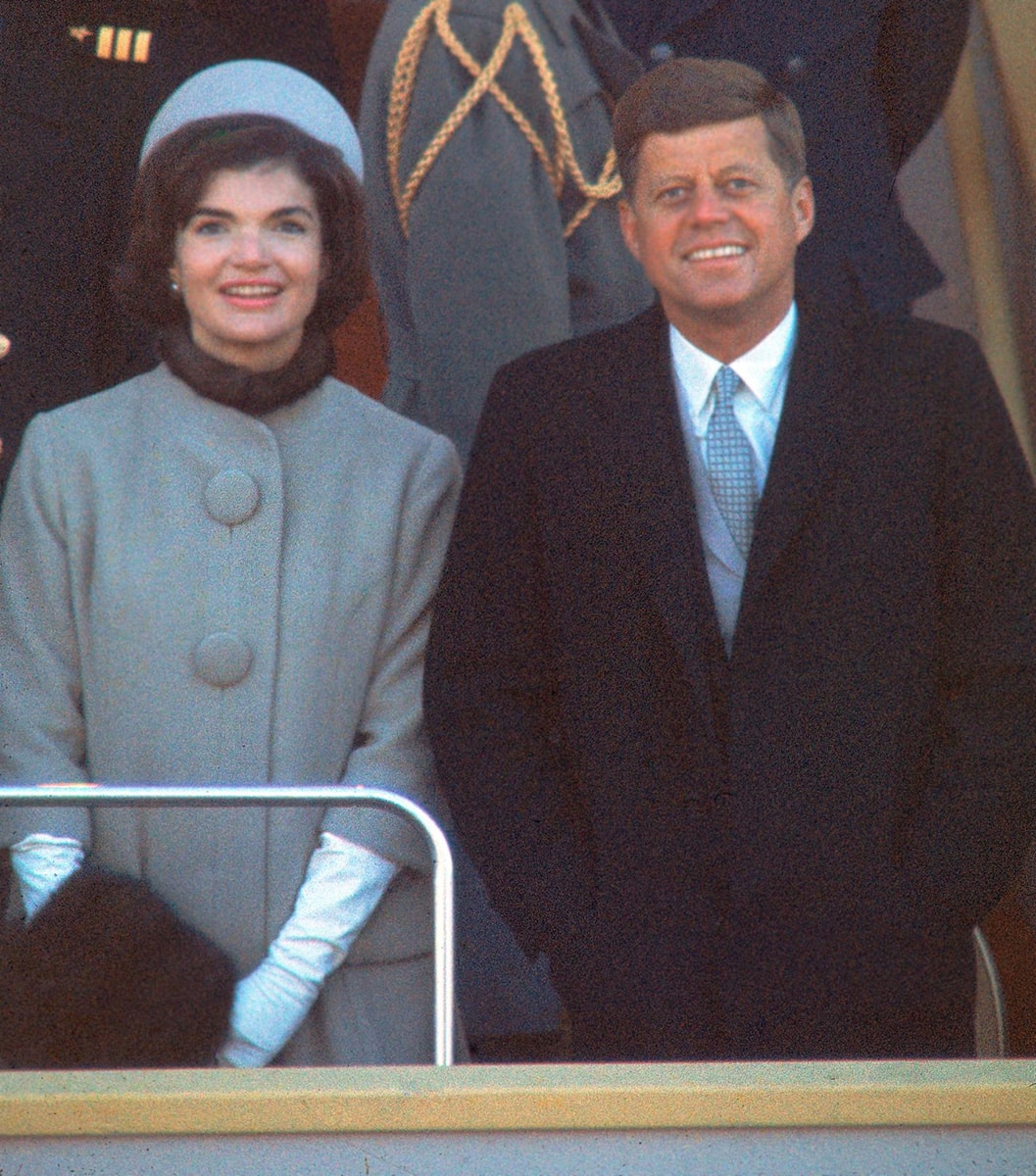 A title
First Lady Jackie with President Kennedy at his inauguration with the pillbox hat that set the fashion world on fire

After President Kennedy's assassination, Cassini and the first lady parted ways, but not before the designer's name was imprinted in the American consciousness. He had, by then, also become a full-fledged member of what his brother Igor/Cholly Knickerbocker had termed "the jet set." He was now in demand and ready to launch a new chapter in his life as a great American designer, creating a legacy that continues to generate millions today in licensing fees for products that bear his name.
Cassini had one of the longest careers of any designer in America, spanning seven decades of creating both high fashion for Hollywood's elite and ready-to-wear fashions for the average consumer. Cassini was also one of the first designers to recognize that there was wealth to be had in ready-to-wear instead of high fashion, and that celebrity and image sell.
Although known primarily as a woman's clothing designer, Cassini did not stop with only women's dresses and gowns. The Cassini signature was also available under license to the makers of women's hosiery, hats, shoes, gloves, girdles, jewelry, furs, swimsuits, sportswear, and sunglasses. And he did not overlook clothing for men — he was the first to introduce brightly colored shirts for men, was responsible for the short-lived trend of the Nehru jacket, developed a line of men's suits named after Johnny Carson, and licensed his name to slacks, neckties, underwear, belts, watches, and sweaters. He even marketed linens for the bathroom and bedroom, and in the 1990s used his brand to launch his own, non-licensed fragrance company.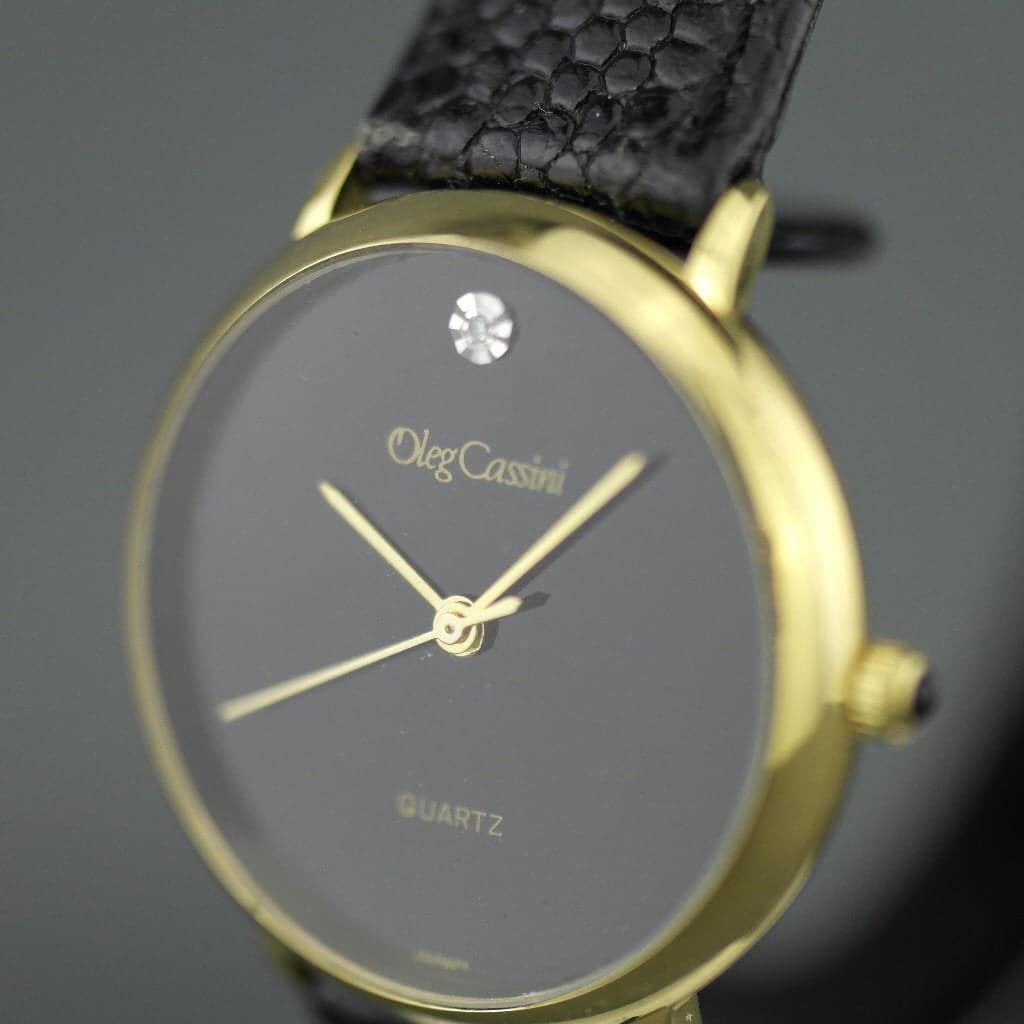 A title
Gold-plated with diamond Oleg Cassini watch selling for around $100 online

While it is the pillbox hat, designed to accommodate Kennedy's newly acquired bouffant hairdo, that is most closely associated with Oleg Cassini the designer, he is also credited with the A-line, sheath, and empire-strapless dresses—silhouettes still referenced by contemporary designers,—and especially the licensing company that continues to design bridal gowns under the Oleg Cassini brand, which
Inside Weddings
credited as "changing today's bridal fashion" in 2016.
Cassini's designs are credited by the fashion world as having offered an elegant new way to be classically American. He took conservative staples, such as the shirt dress, the simple shift, and the wool coat, and made them into new American classics. He also made them sexy. While his looks define the "Old Hollywood," "Camelot," and "Ready-to-Wear" eras in fashion, they have stood the test of time and are now considered timeless, making them still desired by both collectors and fashionistas of vintage American fashion.

A title
Vintage Oleg Cassini 893 glasses selling for $200+ online.Photo: vintageglasses.com

Last June, Doyle Auctions held an estate auction of personal items and furnishings from Cassini's 43-acre Morelands estate in Oyster Bay, New York, a 1915 Italian Renaissance-style mansion built by former Tiffany & Co. chairman Charles Berg, and his neo-Gothic Gramercy Park townhouse in New York City.
Among the 750 lots were English and Continental furniture, table settings, artwork, Kennedy family memorabilia, and personal correspondence including several letters to Cassini from Jackie Kennedy, as well as four from the actress-turned-princess Grace Kelly. During his lifetime, Cassini never sold any of the vast Kennedy memorabilia that he archived along with other career triumphs.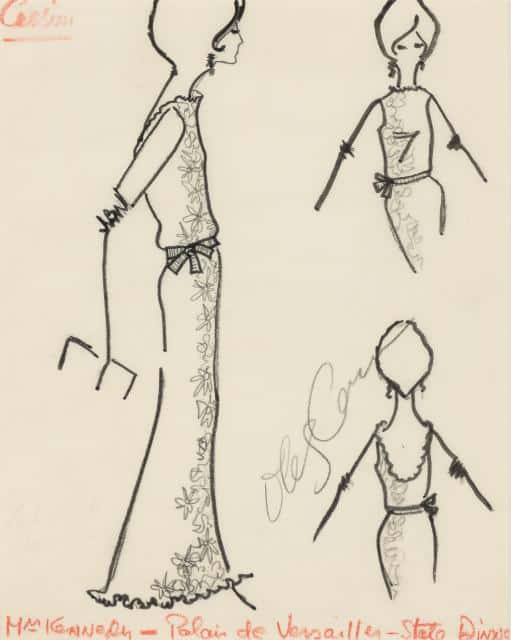 A title
Oleg Cassini fashion sketch titled "Mrs. Kennedy-Palais de Versailles-State Dinner," likely 1961 but possibly later, pencil. Sold for $1,625 (includes buyer's premium). Photo: doyle.com

The all-day event also featured a nine-page handwritten letter by Kennedy to Oleg, 130 sketches drawn in the 1990s for Cassini's book A Thousand Days of Magic, 18 Kennedy-era sketches, and a detailed ledger from 1960 to early 1964 with fabric swatches and descriptions of Kennedy-approved ensembles. The auction brought in more than $1.3 million — well above pre-auction estimates of $578,185 to $884,260.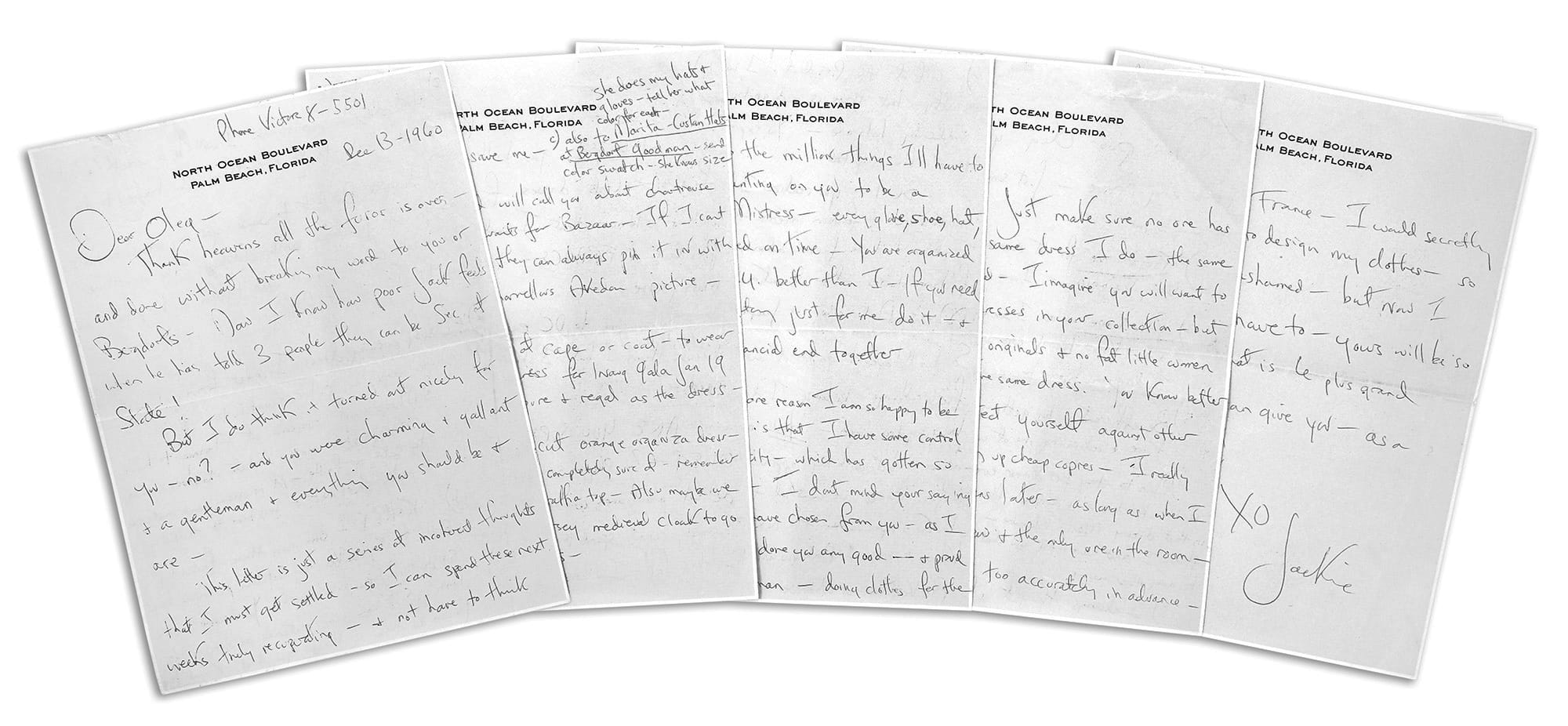 A title
Magnificent nine page autograph letter from Jacqueline Kennedy as First Lady (elect) signed to Oleg Cassini in advance of the presidential inauguration. Sold at Doyle's for $16,250 (includes buyer's premium). Photo: doyle.com

What were perhaps the most interesting lots were the auction's rainmaker items: a composite suit of plate armor in the Maximilian style that sold for $262,500 — setting a new American auction record for European armor, and a George I gilt-gesso side table attributed to James Moore that fetched $75,000. These and other like items collected and invested in over time present what perhaps is the best reflection of who Oleg Cassini was in terms of his personal interests. The rest, as they say, is window dressing.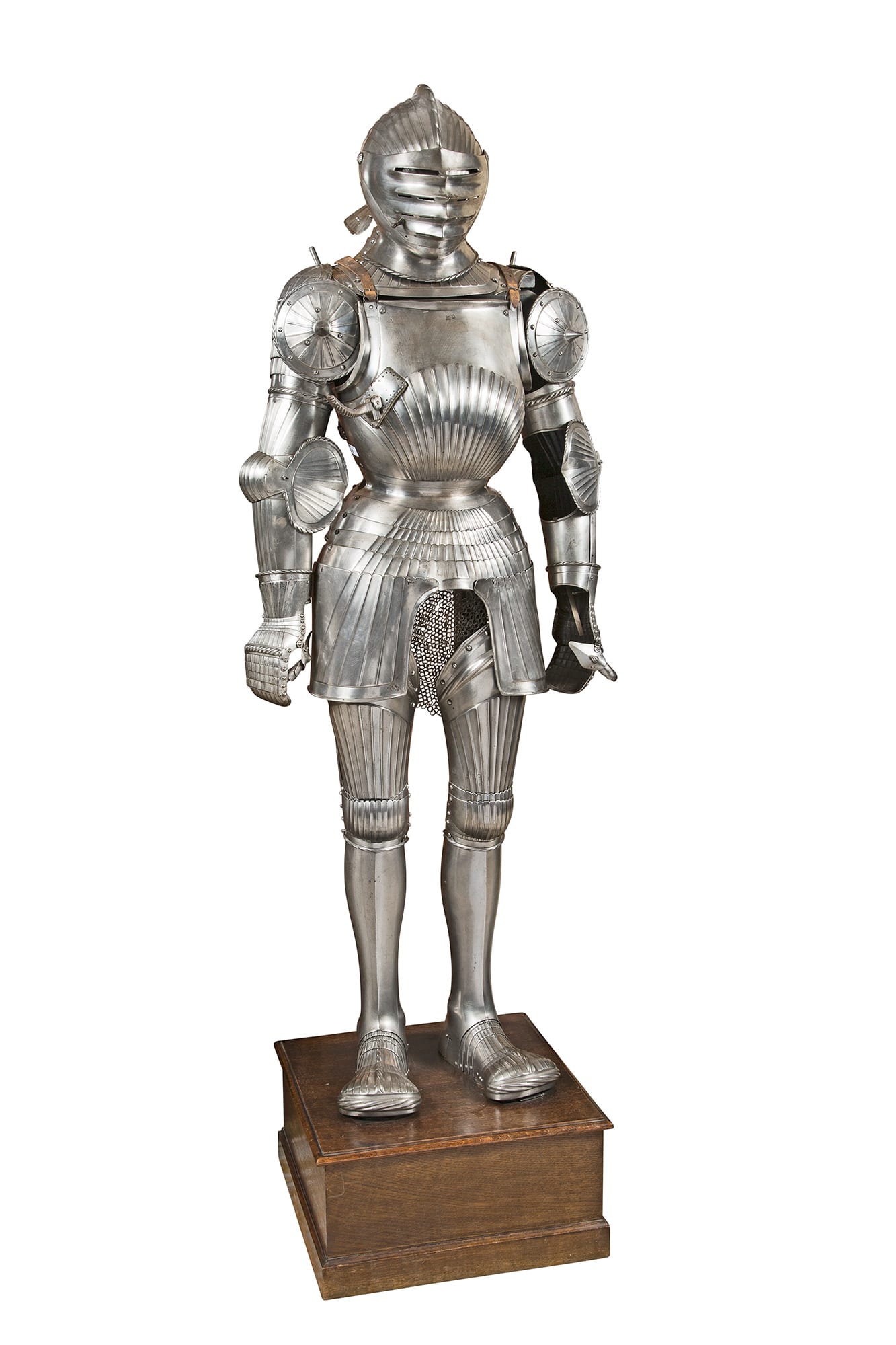 A title
Composite Suit of Fluted Armor in the Maximilian style sod for $262,500 (includes buyer's premium) photo: doyle.com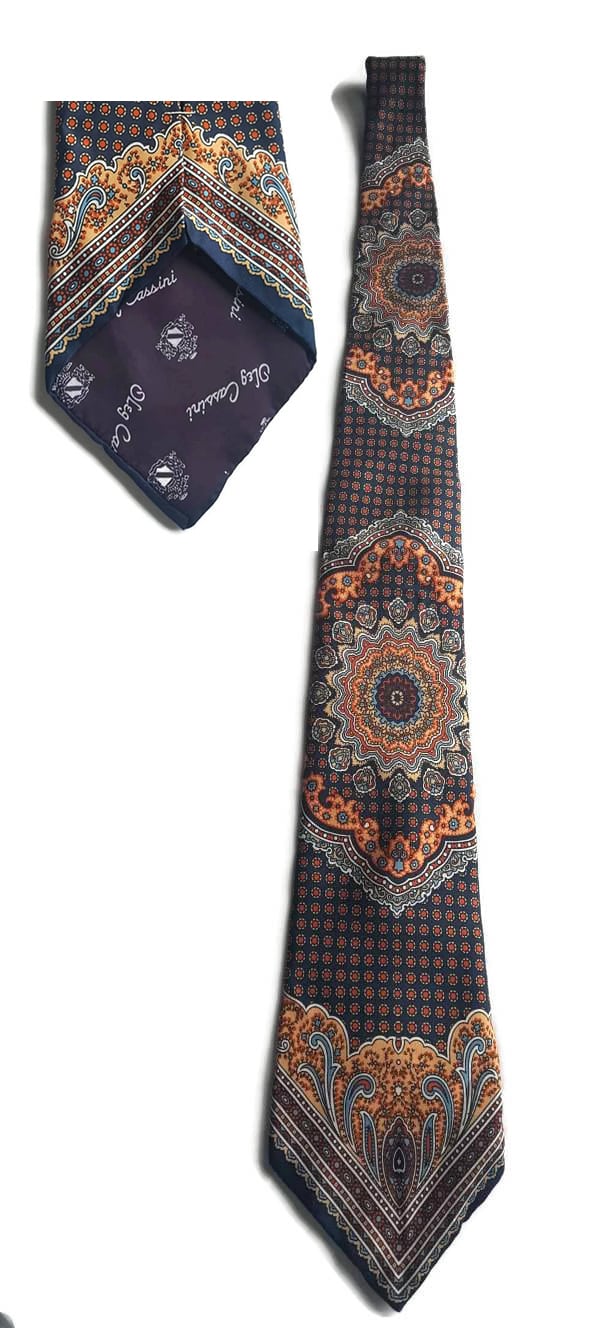 A title
Vintage Oleg Cassini tie selling online for around $20. Photo: vintageboutique.com