By Maxine Carter-Lome, publisher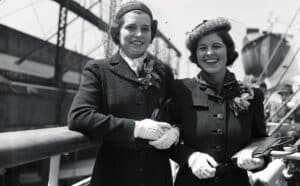 Born in Brookline, Massachusetts on July 10, 1921, Eunice was the fifth in a rapid succession of nine children born to Joseph and Rose Kennedy. Growing up in the boisterous Kennedy household with her eight siblings, Eunice was expected to be an active participant in the family's all-season love of sports and athletic activities. The fact that she was frail, underweight, and susceptible to illness as a child was no excuse for sitting on the sidelines. What she lacked in physical stamina she made up for in energy, initiative, and drive, according to her mother Rose Kennedy. Later in life, Eunice, like her older brother Jack, would be diagnosed with Addison's disease, an uncommon disorder that occurs when your body doesn't produce enough of certain hormones.
Among her older siblings, Eunice was closest to her older sister Rosemary. Eunice was acutely aware that Rosemary had an intellectual disability but the two had a close bond, spending time swimming, sailing, and skiing together. That relationship, perhaps along with the challenges that came with her own health issues, gave Eunice an awareness and appreciation of abilities that transcend any disabilities.
As a child, Rosemary was often left out due to her seizures or episodes of mental illness. As a young adult, she became more difficult to care for, often running away from the convent where she was sent to live. As a last resort, in 1941—when she was 23—her father arranged for her to have a prefrontal lobotomy in an effort to calm her. But the procedure, which was relatively new, only further incapacitated. Lasting effects included her speech becoming a mix of garbled sounds and words, partial loss of the use of one arm, and a leg that was permanently turned inward.
Rather than bring her home to be cared for by her family, Rosemary was sent first to Craig House, a psychiatric care facility, then to the residential care facility called "St. Coletta School for Exceptional Children" in Jefferson, Wisconsin, where she remained until her death in 2005 at age 86. It was not until Rosemary's father suffered a stroke in 1961 that her mother Rose was able to see her namesake again, having gone twenty years without being allowed to visit because Joe Sr. felt it would have been too much for her to bear.
At the time, there were few options for intellectually disabled individuals, even for families as wealthy and influential as the Kennedys. Yet Rosemary's fate weighed heavily on Eunice and became a driver in her personal mission to fight for the rights and provide opportunities for the disabled.
Starting Out
Eunice received a Bachelor of Science degree in sociology from Stanford University in Palo Alto, California in 1943, and went to work for the U.S. State Department in the Special War Problems Division, eventually moving to the U.S. Justice Department in 1950 as executive secretary for a project dealing with juvenile delinquency. The following year, 1951, Eunice moved to Chicago to work with the House of the Good Shepherd and the Chicago Juvenile Court and resumed her relationship with Sargent Shriver, whom she had met several years back at a party in New York.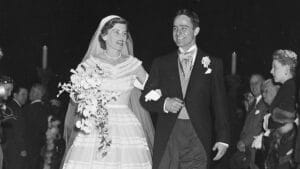 At the time, Shriver was working as an assistant editor at Newsweek after his discharge from the Navy. Shortly after he met Eunice, her father, Joe Kennedy, asked Shriver to look at diary entries written by his eldest son, Joseph P. Kennedy Jr., who had died in a plane crash while he was on a military mission during World War II. This request brought Shriver into the Kennedy fold. Later, Kennedy tapped Shriver to manage the Merchandise Mart, part of Kennedy's business empire, in Chicago, Illinois, bringing the couple together again in Chicago.
After a seven-year courtship, Shriver married Eunice Kennedy on May 23, 1953, at St. Patrick's Cathedral in New York City. Together, they went on to have five children, most notably Maria Shriver, former First Lady of California and media journalist. Eunice happily fulfilled her role as a dutiful wife and mother but she, like many of her siblings, was destined for so much more in service to her country.
Starting Her Life of Service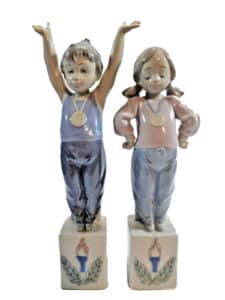 In 1957, Eunice took over the direction of the Joseph P. Kennedy, Jr. Foundation, established in 1946 as a memorial to her oldest brother, Joseph P. Kennedy, Jr., who was killed in World War II. It was under Eunice's stewardship that the organization shifted its focus from Catholic charities to the prevention of mental retardation and improving the ways in which society deals with people with intellectual disabilities. She had found her calling as an advocate for children's health and disability issues at a time when, according to Edward Shorter, author of The Kennedy Family and the Story of Mental Retardation, [In the 1950s] "the mentally retarded were among the most scorned, isolated and neglected groups in American society. Mental retardation was viewed as a hopeless, shameful disease, and those afflicted with it were shunted from sight as soon as possible."
Eunice knew this only too well from first-hand experience, and in 1962 made the bold decision that the family should publicly acknowledge Rosemary's condition for the first time, leading Eunice to write an essay in the Saturday Evening Post. In part, Eunice wrote, "Like diabetes, deafness, polio, or any other misfortune, [intellectual disabilities] can happen in any family. It has happened in the families of the poor and rich, of governors, senators, Nobel prizewinners, doctors, lawyers, writers, men of genius, presidents of corporations – the President of the United States."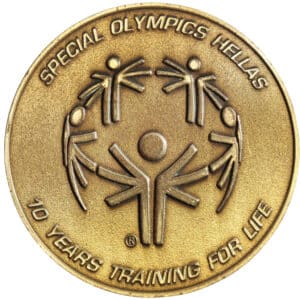 During the Kennedy Administration, the Foundation was instrumental in the formation of President Kennedy's Panel on Mental Retardation in 1961, the development of the National Institute of Child Health and Human Development (which is now named for Mrs. Shriver) in 1962, the establishment of a network of mental retardation research centers at major medical schools across the United States in 1967 and the creation of major centers for the study of medical ethics at Harvard and Georgetown in 1971. But it was what she started in the backyard of her home in the early years of her marriage that had the most profound impact on the life of the disabled community.
The Special Olympics
In 1961, Eunice started a summer camp for children with intellectual disabilities on the lawn of her Maryland estate, providing them the space, opportunity, and encouragement to find and nurture their greatest abilities. Her take-away from her childhood was that everyone participates to the best of their ability, regardless of their disability, and that athletic activities are a shared experience.
This was an extraordinary idea at the time. The prevailing thought had been that mentally retarded children should be excluded from physical activity for fear that they might injure themselves. As a result, many were overweight or obese.
From Camp Shriver came the concept of Special Olympics, an organization dedicated to empowering people with intellectual disabilities to realize their full potential and develop their skills through year-round training in sports and competition.
In 1968, working with the Chicago Park District, the Joseph P. Kennedy Jr. Foundation planned and underwrote the First International Special Olympics Summer Games, held in Chicago's Soldier Field, where 1,000 athletes with intellectual disabilities from 26 states and Canada competed in athletics.
"Today's Chicago Special Olympics Games have not been organized as a spectacle. They are not being conducted just for fun. The Chicago Special Olympics prove a very fundamental fact. Those exceptional children … can be exceptional athletes, the fact that through sports they can realize their potential for growth. … But they are only 1,000 out of one-and-one-half million [children with intellectual disabilities] who should be competing in games like this all over America. But most of these million-and-one-half children live in communities where there are no games, no exercise, no competition for [those with intellectual disabilities]."
– Eunice Kennedy Shriver
Opening Remarks of the 1968 Chicago Special Olympics, Chicago, Illinois, July 20, 1968
In December of that year, Special Olympics, Inc. was established as a non-profit charitable organization. The Arc of the United States, the Council for Exceptional Children, and the American Association on Mental Deficiency pledged their support for this first systematic effort to provide training and competition in sports for individuals with intellectual disabilities based on the Olympic tradition and spirit. In 2019, nearly 115,000 Special Olympics sports competitions were hosted around the world, with more than 5.7 million athletes from 200 countries.
A Legacy of Service to Others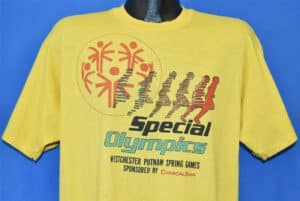 Recognized throughout the world for her efforts on behalf of persons with intellectual disabilities, Eunice Kennedy Shriver received many honors and awards during her lifetime. Among them is the U.S. Presidential Medal of Freedom, the highest honor awarded to civilians in the U.S. When awarding her this prestigious honor, then-President Ronald Reagan said of her, "Her decency and goodness have touched the lives of many, and Eunice Kennedy Shriver deserves America's praise, gratitude, and love."  Yet, she always felt that it was people with intellectual disabilities who deserved the awards.
Eunice Kennedy Shriver, forever linked to empowering the disabled and for her founding role in the Special Olympics, died of a stroke at age 88 on August 11, 2005.
"When the full judgment of the Kennedy legacy is made, including JFK.'s Peace Corps and Alliance for Progress, Robert Kennedy's passion for civil rights and Ted Kennedy's efforts on health care, workplace reform, and refugees, the changes wrought by Eunice Shriver may well be seen as the most consequential," U.S. News & World Report said in its cover story of Nov. 15, 1993.
Eunice 100th Birthday
Today, many of Eunice's children continue her work with the disabled community and Special Olympics. On what would have been her 100th birthday, July 10, 2021, Eunice Kennedy Shriver's family celebrated her Special Olympics legacy and spoke in the magazine PEOPLE about her relationship with Rosemary in the later years.
"'She'd sit with Rosemary, play flashcards with her, and try to help with her speech. She'd order all the sweets Rosemary loved — angel food cake, puddings, creams," says Tim, who today serves as the chairman on the Special Olympics board. 'It made Mommy happy that she'd found a way to bring Rosemary back to life, back to the family.'
"By giving Rosemary what she missed in the two decades she was hidden from loved ones, Eunice became a "model for a new generation on how to include a sibling with an intellectual disability and not to be embarrassed," says Eunice's daughter Maria Shriver, 65. "That's the big thing. If you see people with special needs going to the White House, which Mommy made happen for the first time, then you're like, 'Wow, that can happen.'
"'Eunice continued to set an example when her grandchildren visited her homes in Maryland and Hyannis Port, Massachusetts.
"'I was so amazed by the way my grandmother would hear Rosemary and then translate to all of us,' says Kathleen, who remembers how Rosemary would sit with Eunice at the head of the dining table. 'And I was like, that is the coolest friendship ever.'"