by Maxine Carter-Lome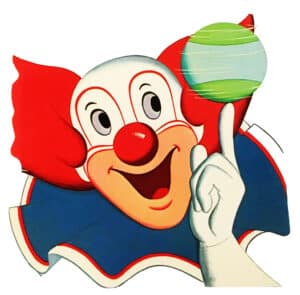 In 1946, Capitol Records writer/producer Alan Livingston introduced Bozo the Clown to the world via a children's record entitled Bozo at the Circus – a first-of-its-kind record album with an illustrative read-along book set. It lasted an astounding 200 weeks on Billboard's "Best Selling Children's Records" chart and sold over one million copies – unheard of at the time for a children's recording. The title character, Bozo the Clown, was portrayed by the voice of Vance "Pinto" Colvig, known as the voice of many popular Disney characters.
A Clown Is Born
In interviews conducted in later years, Livingston claimed the clown's name, "Bozo," was created during a late-night brainstorming session when they were talking about the circus folks' use of the word "bozo" when they were referring to tramp clowns.
The success of Bozo at the Circus led to the production of more read-along books over time, including 15 that featured Bozo, and encouraged Livingston and Capitol Records to branch out and capitalize on Bozo's fame.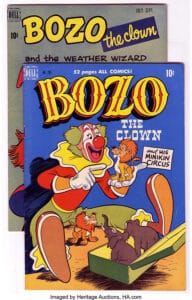 In 1948, Capitol and Livingston began setting up royalty agreements with manufacturers and television stations for use of Bozo's character on products and in programs. KTTV in Los Angeles began broadcasting the first show, Bozo's Circus, in 1949 featuring Colvig, the voice of Bozo from the records, as Bozo the Clown, with his blue-and-red costume, oversized red hair, and whiteface clown makeup.
"Those were great days in TV," recalled Lee Carrau, the floor manager on the first Bozo TV show. "It was a live show, two cameras in a small studio, with animals and screaming kids. We never knew what would happen, monkeys jumping around everywhere. Every week was absolute pandemonium."
This live half-hour circus show, which aired Fridays at 7:30 p.m., lasted less than a year but the idea of a show based around Bozo the Clown was just starting to catch on with kids, parents, and television executives.
As a result, the high demand for Bozo to make personal appearances where Bozo records and other Bozo merchandise was sold, Livingston put out a casting call for more Bozos. Larry Harmon, a would-be actor, answered that call and was cast among others to play the loveable children's clown. Although Alan Livingston created Bozo and hired Harmon, it is Harmon who has taken credit for creating Bozo's personality and image as they are known today, turning the popular children's character into a cultural icon, still fondly remembered and highly collected over 50 years later.
The Harmon Years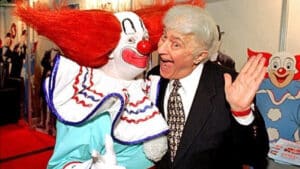 Harmon had an innate marketing sense and could see the potential in Bozo's rising popularity. In 1956, he formed a group of investors to purchase the licensing rights to the Bozo character from Capitol Records, which by this time had generated record sales in excess of $20 million.
Harmon renamed the character "Bozo, The World's Most Famous Clown," and modified the voice, laugh, and costume. He then worked with a wig stylist to get the wing-tipped bright style and look of the hair that had previously appeared in Capitol's Bozo comic books. And thus, Bozo, as we know him now, was born.
In the late 1950s, Harmon created and cast his voice in the Bozo animated series, Bozo: The World's Most Famous Clown, which ran from 1958–1962, and traveled from city to city creating local Bozo the Clown TV shows in nearly every major U.S. market. Unlike many other shows on television, Bozo the Clown was mostly a franchise as opposed to being syndicated, meaning that local TV stations could put on their own local productions of the show complete with their own Bozo. Although Bozo's look and costume were now predetermined, thanks to Harmon, the shows were geared to the local market.
Because the cost of producing a weekly children's show was beyond the reach of smaller markets, Harmon began producing and packaging Bozo's Big Top for syndication in the mid-1960s, a daily half-hour show featuring a live Bozo, a studio audience of children, and five-minute cartoons (many of which were of his own creation, and for which he did his own voice work). Bozo's Big Top was widely popular in these smaller markets and helped to boost Bozo the Clown's brand across the country.
When Harmon bought out his business partners in the mid-1960s, Bozo was grossing over $150 million in merchandise worldwide.
Bozo Comes to Chicago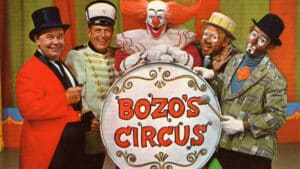 The most successful Bozo in the franchise aired on station WGN in Chicago from 1960 until 2001.Bozo the Clown premiered on WGN on June 20, 1960, starring Bob Bell as Bozo. The live 30-minute show, which aired weekdays at noon, featured comedy skits and Bozo cartoons. The following year, the station introduced an expanded Bozo's Circus to a live 60-minute show performed in front of a studio audience at the station's new Bradley Place studios. Due to its popularity, WGN took the show national via cable and satellite in 1978.
From the beginning in 1961, when "Ringmaster" Ned Locke blew his whistle and announced to thousands of lunchtime kids that "Bozo's Circus is on the air!," to its last incarnation as a weekly comedy/educational series on August 26, 2001, Bozo's Circus got the last laugh as one of the longest-running, locally produced children's shows in the country.
When asked about its cancellation, the station cited a dwindling audience and increased competition from cable as the reasons behind their decision.
Bozo, the Original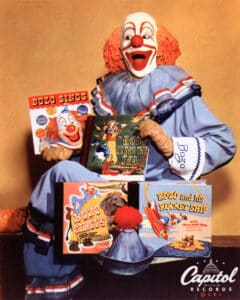 In its over-50-year reign as America's TV clown, hundreds of performers have donned the Bozo clown suit, starting with Pinto Colvig, who did the voice work for Bozo on the original Capitol Records recording, and then a few years later played Bozo on the short-lived Bozo's Circus on KTTV in Los Angeles.
Colvig, who passed away in 1967, led an incredible life. A circus clown turned newspaper cartoonist, he was one of Walt Disney's original cartoon stars, originating the voices of Goofy, Grumpy, and Sleepy, among others, and co-writing classics like Who's Afraid of the Big Bad Wolf? Colvig is also credited as portraying Bluto from Popeye cartoons; a Munchkin voice in The Wizard of Oz; and hundreds of other characters.
Explaining his wild career, Colvig once told a reporter, "I have been trying to make up my mind whether I wanted to be an actor, cartoonist, writer or musician." In many respects, he will always be remembered, among the many other achievements in his professional career, as Bozo the Clown. That distinction was recognized in 2006 when Colvig was posthumously inducted into the International Clown Hall of Fame as the original Bozo the Clown.
Other Famous People Donning the Nose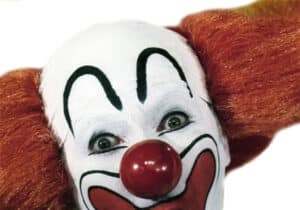 In addition to Colvig and Harmon, other notable Bozos in local and nationally-syndicated productions include Frank Avruch, Bob Bell, Joey D'Auria, and Willard Scott.
Frank Avruch was Boston's Bozo from 1959 to 1970 and was the first nationally syndicated version of the clown. Avruch died in 2018 at the age of 89. In a statement, his family wrote: "While it's hard to say goodbye, we celebrate the legacy of joy and laughter he brought to millions of children around the world as Bozo the Clown on TV … Our dad loved the children of all ages who remembered being on his show and was always grateful for their kind words."
Bob Bell became the most successful portrayer of Bozo, starring as Chicago's WGN's Bozo from 1960 until 1984 when Joey D'Auria took over the role and red nose until the show's cancellation in 2001.
Willard Scott, best known for his role as the weatherman and on-air personality on the Today show, had the distinction of playing two well-known and beloved clowns, Bozo (1959–1962) and Ronald McDonald (1963-1967), using his experience playing one to help create the other.
After returning from the Navy in 1959, Scott was cast as Bozo after WRC in Washington, D.C. bought the local rights to Bozo the Clown for a daily one-hour show. Although his tenure was short in Bozo years, his time was memorable, even taking Bozo to the White House to meet JFK and Caroline.
Many of Bozo's public appearances at the time were held in McDonald's parking lots. Scott wrote in his book The Joy of Living that he originally created the Ronald McDonald character at the fast-food restaurant chain's request a year after leaving the Bozo show in 1962. The Ronald McDonald character allowed the restaurant to continue to attract children to its establishments with a friendly clown, upon which they built their own franchise of children's characters. While Scott played the first Ronald McDonald for ads in the Washington, D.C. market, he was replaced by the company's ad agency for the national campaign because he was "too heavy to play the part of an 'extremely active' Ronald," according to the book McDonald's: Behind the Arches. "It was the first time I was really screwed by the mass media," the book quotes Scott as saying.
Bozo Merchandise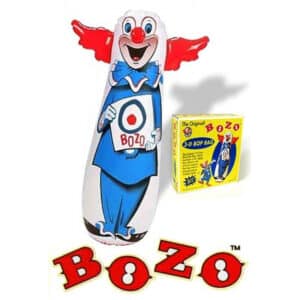 Harmon's licensed look for Bozos ensured that whoever played the Clown dressed and acted the part, and credits himself with training over 200 performers to play the title role both here in the United States and abroad. The established Bozo "look" allowed Harmon to license the Clown's distinct and recognizable likeness across a wide range of products.
Vintage Bozo merchandise can be found on sites such as eBay and Etsy in the form of plush dolls, costumes, trading cards, board games, piggy banks, and other toys and novelty items. Most of these items are in the affordable $25-$50 range; more if new in box, older than the 1980s, and special editions, although reproductions of older merchandise and popular items are common finds and can be misleading.
Perhaps the most well-known toy is the Bozo "bop bag," an oversized, inflatable, Bozo-shaped punching bag that was in the playrooms of children across the country in the 1960s. Reproductions of the original bop bag are readily available for sale on Amazon for $19.99.
Although Bozo has been off the air since 2001, he still makes fans and collectors smile, and his licensing company, money. In 2018, Larry Harmon Pictures Corporation, which still retains the Bozo IP, signed an exclusive representation agreement with Beanstalk, a global brand extension licensing company, to produce and market a new line of Bozo products in such diverse categories as apparel, novelties, toys, and collectibles.
In 2020, David Eaton published his autobiography, Being Bozo: The World's Most Famous TV Clown about his time as Bozo the Clown at WSWO in Ohio during the late 1960s. There is even an updated Facebook page for fans and collectors!
While there is no real money or value beyond personal sentiment in collecting Bozo memorabilia, at least at this time, to fans, its items are dripping with nostalgia and fun to revisit and consider. Bozo the Clown's enduring popularity, all these decades later, is proof that laughter is both timeless and priceless. "Wowie kazowee!"