Figure Skating and the Arts
By Frances Dafoe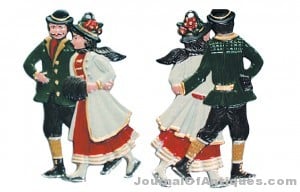 When I started working on the book Figure Skating and the Arts: Eight Centuries of Sport and Inspiration, I had no idea of the treasures I would find in private and public collections in so many countries around the world. It was a journey of discovery for me and my collaborators: John Vollmer, my project editor, Joyce Hisey, Canada's former representative to the International Skating Union (ISU), and figure skating historian Ben Wright. To our delight, readers shared our sense of wonder at the centuries-long exchange between art and figure skating. Many wrote to me after reading the book amazed both by how far back the relationship stretched and by the variety of art forms represented. For over 800 years, something about skating inspired generations of artists and artisans to reach for their brushes, their chisels, their hammers, looms, kilns and cameras to capture the simple elegance of the human form gliding on ice. That same 'something' would later catch the interest of collectors—captivated by the beauty of their labours.
Some of the first depictions of skaters appear in stained glass dating to the Middle Ages. By the 16th century, tapestries featuring nobles skating in front of grand castles were woven in Belgium. Later, painters from Dutch Masters (Breugel, Rembrandt) to French Impressionists (Gaugin, Renoir) took to canvas to portray skating parties on frozen waterways. Skating's influence on the arts, however, was not solely a European phenomenon. In China, paintings of "Ice Games" date to the Manchu Qing dynasty with literary descriptions of skating dating back seven centuries earlier to the Song Dynasty. More recently, sculptors Taylor/Gebler and the charming simplicity of P. Buckley Moss continue the artistic exchange into the modern era. The imaginative, colourful world of Toller Cranston's illustrations, and the incredible graphic artistry of Sergey Tyukanov whose work pays homage to Averchamp with such wit and charm. Figure skating lives in virtually every art form imaginable.
So where does an avid collector-in-waiting begin? Many of the private collectors we met during the course of writing the book shared the same story: no matter how grand their collection eventually became, they started with a single purchase that reflected their interest in skating. They had no inkling that it would lead to a life-long passion. Some stumbled upon cherished objects quite by accident, while others meticulously researched and sought out individual treasures. My own collecting history began in a similar fashion.
Together with my figure skating partner Norris Bowden, I started as an athlete trading pins with competitors from other countries. Later, as a World and Olympic figure skating judge, this gesture of competitive bonhomie grew into something of a raison d'être. Eventually, I followed the same path as so many collectors before me — spending what little spare time I had in a quest for a particular piece, searching for hidden and not-so-hidden antique stores tucked away in dark alleys in every town and city where I judged.

The Christmas Holidays
Skating is one of the most beloved of winter pastimes, and offers an excellent opportunity to begin collecting. Starting with ornaments for the tree at fairly reasonable prices, the greatest joy is to unpack old ornaments made mostly of cast lead showing both the front and the back of the skaters. Many of these treasures came from Germany and Switzerland more than 100 years ago. Hand-blown ornaments from other countries are a joy to collect. Even Hallmark has joined the group with small hanging miniatures of lady skaters. Ornaments can be displayed on the family Christmas tree as a tradition each Christmas or as a table decoration.
Christmas cards are another great and inexpensive way to build a collection of skating artists who painted scenes involving skaters. Cards are an excellent gateway to familiarize yourself with the different painting styles as you decide where to take your collection next.



Porcelain
There are many collectables to be found in the world of porcelain — charming figurines, unusual plates which are in current circulation, Royal Doulton, Royal Copenhagen, Bing and Grondahl, and Wedgwood. There are also special limited editions made by many of these companies for the Christmas season — hard to find but worth the effort. The most valuable finds are the old Meissen and the early Dresden pieces.
Sculpture
Outstanding sculptors, such as the late Canadian Dr. Robert Tait McKenzie, the Norwegian Per Ung, the New York surgeon Dr. Stanley Taub and the American sculptors Meghan and Douglas Taylor/Gebler have added so much to our appreciation of the inspiration figure skating has engendered. Meghan and Douglas Taylor/Gebler have the unique ability to depict in bronze, the dynamic motion of skaters in action. Some of their exquisite sculptures appear in our book. Meghan Taylor/Gebler has said "figure skating is such a lovely melding of athleticism, the pure celebration of the body in all its strength and beauty, and it is brought out though costuming." These individuals certainly represent skating present and future! Their work will be sought long after they have gone.
Dutch Tiles
As one would expect, the world of skating developed in The Netherlands. Dutch Artists were the first to record the breakdown of the mediaeval social order when peasants joined the aristocracy to skate on the frozen canals under the whirling blades of the windmills. It was also the Dutch who invented the under glaze blue and purple Delftware tiles on which this history is recorded.
Antique Blades
What we know as the sharp-edged contact point with the ice was once a canvas for fanciful engraving and exquisite metalwork. Before the toe picks of today, the front of earlier blades featured carving as ornate as the prows found on any wooden ship. Swans, dragon heads, and acorns graced blade tips. In the beginning of my collecting, I found people with common interests starting to form clubs. The reknowned Antique Blade Club is one of the most informative active collecting groups. Following the advent of television and the internet, it became easier for collectors to find one another. eBay has encouraged many of us to delve into the new technical world where we find collectors willing to sell their treasures.
Different Approaches to Becoming a Collector
Some collectors approach the topic academically. They love the research aspect for its own sake and not necessarily acquiring the objects themselves. A Dutch gentleman, Ed Braakman belongs in this category. He shared his impeccable research with me. As a result some of his work appears in our book.
Generous collectors take great pride in displaying their treasures over web sites for others to share. One great man, Bert Van Voorbergen, maintains a fabulous and informative site—The Virtual Ice Skates Museum (only on the internet). This site www.iceskatesmuseum.com is well worth visiting.
There are many others, however, who are fascinated by the objects or individuals themselves. If you ever want to know anything about Sonja Heine, the world's largest collection outside her museum in Norway resides with Ann and Jim Bates in Maine.
The Sonja marionette pictured is one I found in a Florida toy shop of all places. Norwegian sculptor Per Ung has created a beautifully sculpted bronze of Sonja for the world to admire. It is in Vigelands Park, the world's largest sculpture park in Oslo, Norway. Small copies of this sculpture have appeared on the art market in the United States.
Where to Find Collections
Three of the largest collections of which I am aware and have had the privilege of seeing are: The Bezic Collection in Toronto, Canada, containing some outstanding antique treasures including lithographs and sculptures of the Art Deco period; the exceptional Dick Button Collection in New York City which includes a rare sculpture by the Canadian Dr. Tate Mckenzie; and the World Hall of Fame and Museum
in Colorado Springs which probably houses the most comprehensive skating collection of artifacts and memorabilia.
In the world of show business, the most important and amazing collection of all-time belongs to Roy Blaikey, a gracious former professional skater and photographer who recently appeared on the Antique Road Show with a costume worn by Sonja Heine from one of her professional shows.
Figure Skating Approaches to Collecting and Where to Place Your Newly Acquired Treasures
Photographs, cards and stamps can reside in albums. Lithographs can be framed and hung but the rest of the collections of blades, porcelains and other memorabilia needs space to be seen. Purchasing a collection is one thing–displaying it is another large consideration.
The Future
The future of figure skating art is already assured for the coming generation of collectors, thanks to the dedicated contemporary artists who continue to find inspiration in figure skating and create a rich variety of works for collectors to consider.
Costume designer for stage, screen and television, Frances Dafoe, former World
and Olympic medalist and judge, brought her gift for design to skating. She has created skating costumes for many leading athletes the world over.
A special printing of her book, Figure Skating and the Arts: Eight Centuries of Art and Inspiration, will be used as the Official Gift at the 2013 World Figure Skating Championship to be held in London, Ontario.