By Melody Amsel-Arieli
Wine, coined elixir of the Gods, is an alcoholic beverage made from fermented grapes or other fruit that reflects the history of civilization itself. Evidence of production, probably from wild growth, has been found in Georgia as far back as 6000 BC, while the earliest known winery dates to around 4000 BC in Armenia. Domestication of the grapevine evidently occurred during the Early Bronze Age, around 3000 BC, in Sumer, the Near East, and Egypt. Wine has played a significant role in Jewish rites since Biblical times, as well.
Between 1550 and 300 BC, Phoenicians maritime merchants and traders spread their knowledge of viticulture and wine production throughout the Mediterranean. Greeks, too, founded vineyards and carried on a lively sea trade.
During the height of Roman rule, everyone– citizens, women, soldiers, and slaves alike– drank large amounts of wine daily. Ranging from sweet to sour, this popular drink was often flavored with herbs or spices and diluted with warm water. In addition to slaking thirst, wine was also prized for its medicinal, religious, and social roles. To insure a constant supply, first-growth vineyards, harvested by innovative cultivation techniques, were established across the Empire. These world-renowned winemaking regions are today located in France, Italy, Germany, Spain, and Portugal.



Although alcoholic beverages are forbidden in Islamic culture, 7th and 8th century Muslim chemists distilled wine for medicinal or military purposes, or created perfumes and – when mixed with silver filings – ink.
During the Middle Ages, wine remained the common drink wherever grapes were cultivated. Although beer and ale were preferred in the northern reaches of Europe, wine was required to celebrate the Christian mass. So monks, including Benedictines, Carmelites, and Templars, cultivated vineyards, established cellars for aging and storage, and marketed wine for religious and everyday use. Despite the expense, many noble northern households served red or white wine, mulled or spiced, at each meal.
Wine production may vary considerably from year to year. This is because different types of grapes respond differently to differing temperatures, humidity, amount of sunlight, and production methods, sometimes dramatically. If wine from a particular vintage is not sufficiently successful in itself, it is often blended with that of other years to create a consistent product, then labeled as such. Wine labels usually denote regions, years of production, types of grapes, their maturity, and their degree of sweetness.
Fine wines, like outstanding vintages from the finest vineyards in Bordeaux, Burgundy, Rhone, Loire, Champagne, and Alsace, all in France, offer a balance of sweetness, acidity, tannin, and alcohol enriched by satisfying depth and a lingering finish in the mouth. Fine wines also offer a complexity of aromas and flavors, often described in a language all its own, like lush, sexy, sensuous, opulent, ethereal.
Full-bodied red wines, multi-layered bouquets of dark berries, black cherries, crushed plums, leather, and spices, for example, may be tart, astringent, smooth, silky, smoky, or stony. If aged in oak barrels, they may also become vannilin, tarry, or toasty.
Cool white wines, hinting of lavender, honey, pear, apple, apricot, citrus, or peaches-and-cream, may be bright or bold, sweet or dry, earthy or elegant. Some wines are friendly toward meat, others toward cheese. Jammy, soft, or creamy wines may be desserts in themselves.



Wines from the Bordeaux region, the largest wine-growing area in France, are consistently collectibles of choice. They are not only produced in quantities that sustain a secondary market, but reliably improve with age. Indeed, some, if stored correctly, may "drink well" for a century or more. Bordeaux prices, like that of all wines, vary accord to quality, vintage, and availability. The area produces predominantly red, sweet white, and dry white wines, including Ch'teau Latour, Ch'teau Lafite Rothschild, Chateau Mouton Rothschild, Chateau Margaux , and Petrus.
Red and white burgundies, which are produced in east-central France, are also highly collectible. Vintage variations are great, however, and small yields insure some of the world's highest prices. So wine investors who lack professional guidance may easily be led astray. Still, bottling of any vintage of Domaine Leroy, Chambertin, Romanee-Conti , Henri Jayer, Christophe Roumier, and Armand Rousseau, for example, are sure to afford delight.
Most sparkling champagnes are produced from multiple-vintage blends of Pinot noir,   Pinot Meunier, and white Chardonnay grapes from the Champagne region of France. Sweetness varies according to the ripeness of their grapes and the amount of sugar added in the fermentation process. MoÎt & Chandon , Veuve Clicquot, and GH Mumm are some notable champagnes.
Among connoisseurs, having the right wine on hand for any occasion is a powerful incentive to accumulate a bit of stock. To those with means, a few extra bottles can easily multiply into wine cellars stocked with dozens, scores, cases, then hundreds of cases – far more than one could possibly drink in a year or more.
Some wine cellars feature particular types of wine, wines from particular locations, or wines of limited productions. Others feature single wines arranged vertically, vintage by vintage.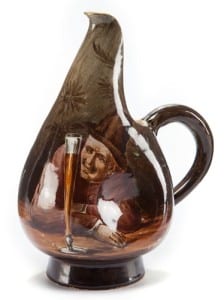 Because one of the delights of wine is enjoying each in its due season, however, most cellars feature a varied selection. Youthful wines, suitable for day-to-day drinking, rest alongside newly-released vintages, which will be consumed when the time is ripe. Cellars may also include a selection of rare, fine wines at the peak of their flavors and aroma, ready to savor. How does a beginner know the right age to drink a wine? There is no right age. It's a matter of taste.
Fine wines not only improve in quality over time, but may also appreciate. So connoisseurs, in addition to collecting for personal enjoyment, often cellar wine as investments. Investing in wine is like investing in stocks, however. If you buy the right wine at the right time, it will go up in value. If you "miss the boat" either buying or selling, it will go down. So collectors must know when to hold and when to fold.
With so many wines, with so many differing characteristics from so many vineyards and at so many prices, how does one begin a collection? Slowly. Enthusiasts are advised to sample many types from different regions before deciding which geographical locality they prefer. Then they should try different wines and vintages from within that locality. Over time, their preferences will become clear. Their explorations will bear fruit.
Melody Amsel-Arieli, an Israeli-American raised among collections of antique telephones, Stangl pitchers, pop-up books, and  Native American jewelry, writes extensively about collectibles and history. She is the author of Between Galicia and Hungary: The Jews of Stropkov (Avotaynu) and Jewish Lives: Britain 1750-1950 (Pen & Sword). Visit her at www.amselbird.com.
Grape Finds


Wine Notes
Bottle Sizes
Half Bottle – .375 liters
Bottle – .750 liters
Magnum – 1.5 liters
Marie-Jeanne – 2.25 liters
Double Magnum – 3 liters
Jeroboam (Burgundy, Champagne & Rhone) – 3 liters
Jeroboam (Bordeaux) – 4.5-5 liters
Rehoboam – 4.5 liters
Imperial – 6 liters
Methuselah – 6 liters
Salmanazar – 9 liters
Balthazar – 12 liters
Nebuchadnezzar – 15 liters
Melchior – 18 liters
Wine Label Conditions
bsl – bin-soiled label
fl – faded label
gsl – glue-stained label
ll – loose label
nl – nicked label
scl – scuffed label
tal – tattered label
tl – torn label
tsl – tissue-stained label
wasl – water-stained label
wisl – wine-stained label
wl – writing on label
wrl – wrinkled label
Cork & Capsule Conditions
cc – corroded capsule
crc – cracked capsule
cuc – cut capsule
nc – nicked capsule
noc – no capsule
oxc – oxidized capsule
tc – torn capsule
sdc – slightly depressed cork
spc – slightly protruding cork
sos – signs of seepage
ssos – slight signs of seepage
Other
ocb – original cardboard box
ogb – original gift box
owc – original wood case
Courtesy of Heritage Auctions