By Maxine Carter-Lome, publisher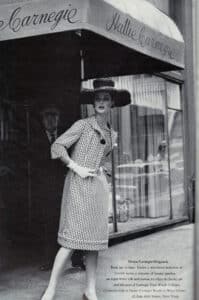 "My clothes are built to show off the woman who wears them. I like them to be simple… to move well, to move with the times and a little ahead of the times." – Hattie Carnegie
From the 1920s through the 1940s, Hattie Carnegie was the go-to American fashion designer for the rich and famous – and those with aspirations. During her three-decade reign leading a fashion empire, Hattie Carnegie was associated with simple elegance and high fashion. Her work ranged from one-of-a-kind creations for clients such as the Duchess of Windsor, Clare Booth Luce, Tallulah Bankhead, and Joan Crawford to designing uniforms for the Women's Army Corps., for which she received the Congressional Medal of Freedom.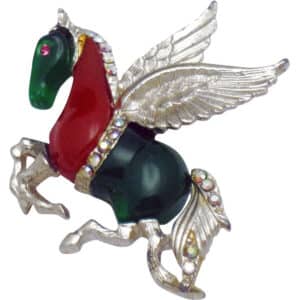 Today, Carnegie's designs are in the permanent collection of the Metropolitan Museum of Art in New York, the Shelburne Museum in Vermont (Hattie Carnegie was Museum Founder Electra Havemeyer Webb's designer of choice), and the Museum of Fine Arts Houston, among others. Not bad for an immigrant and a woman at the turn of the century who went on to build and run a fashion empire valued at $8 million (the equivalent of $77.5 million today) at the time of her death in 1956 at the age of 69.
Born Henrietta Kanengeiser to a poor Jewish family from Vienna, Austria-Hungary in 1886, Hattie was the second of seven children born to Hannah and Isaac Kanengeiser. The family immigrated to the United States when Hattie was a young girl, settling in the Lower East Side of Manhattan. To help support her family, Henrietta took a job as a messenger at Macy's at age 13 and by 15, was modeling and trimming hats in their millinery department, an experience she would later parlay into her own hat-making business.
As the story goes, Henrietta conceived of the surname Carnegie while on the ship to America. Hattie asked a fellow voyager who the richest and most prosperous people in America were and the answer was, "Andrew Carnegie." She formerly changed her name to Hattie (supposedly a nickname given to her because she made hats) Carnegie in her mid-20s when she launched her own business. Eventually, the rest of her family dropped the Kanengeiser name, as well, and adopted Carnegie as the family's surname.
A Young Entrepreneur
In 1909, Hattie partnered with Rose Roth, a seamstress, to open a custom clothing shop called "Carnegie-Ladies' Hatter" on East 10th Street in New York City. Roth made the dresses (Hattie could not sew) and Carnegie designed the hats. Together, the two built a successful business, partly due to Hattie's sense of style and appearance. Four years later, they moved their shop to a larger more fashionable location on West 86th and Riverside Drive and incorporated their business. In 1919, Hattie bought Rose Roth's share of the business, and Hattie Carnegie, Inc. was born.
At this time, all fashion came from Paris. Hattie threw herself into studying Parisian styles and started traveling several times a year to Paris on buying trips to seek out and adapt the latest fashions for her growing clientele of rich, fashionable American ladies. One could buy a Chanel at Hattie Carnegie, or one could buy her interpretation of Chanel's work.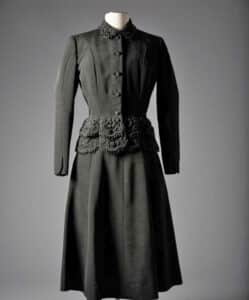 Although she was known for her sense of style and the creations that she put out under her label, Carnegie could not sew or cut a pattern herself. She did, however, have an eye for talent. As her business expanded into wholesale ready-to-wear, her company employed some of the most prominent American fashion designers of the twentieth century, including Norman Norell, Pauline Potter (later Baroness Philippe de Rothschild), Jean Louis, James Galanos, and Clare McCardell to design for her label.
Carnegie's best-known works were her "Little Carnegie Suits." Carnegie's suits typified a style that was neither youthful nor matronly, but very feminine and very neat-the "Carnegie Look." Carnegie claimed in 1951 that "there is really no 'Carnegie Look,' there is only the 'you' look." Carnegie was also known for her versions of the little black dress.
Ready-to-wear
According to the Vintage Fashion Guild, up until the mid-1920s, all the dresses at Hattie Carnegie were made to order but in 1928 she hired Norman Norell, credited as the father of American high fashion, to design her first ready-to-wear line which allowed her to expand her brand into high-end department stores and make her clothes more accessible.
I. Magnin was the first store to buy Hattie Carnegie designs wholesale, making her the first custom designer to create special collections for a ready-to-wear label for wholesale trade. These designs carried the I. Magnin label and the "Hattie Carnegie Originals" label. By the late 1930s, her ready-to-wear dresses, hats, and accessories were sold in better department stores and specialty boutiques around the country.
By 1940, Hattie Carnegie, Inc. was employing over 1,000 workers, most working in the manufacturing of the company's ready-to-wear lines. Carnegie had successfully steered her business through the Depression and came out the other side a larger, healthier, and stronger company thanks to the cache of her brand, reputation for taste and style, and entrepreneurial instincts.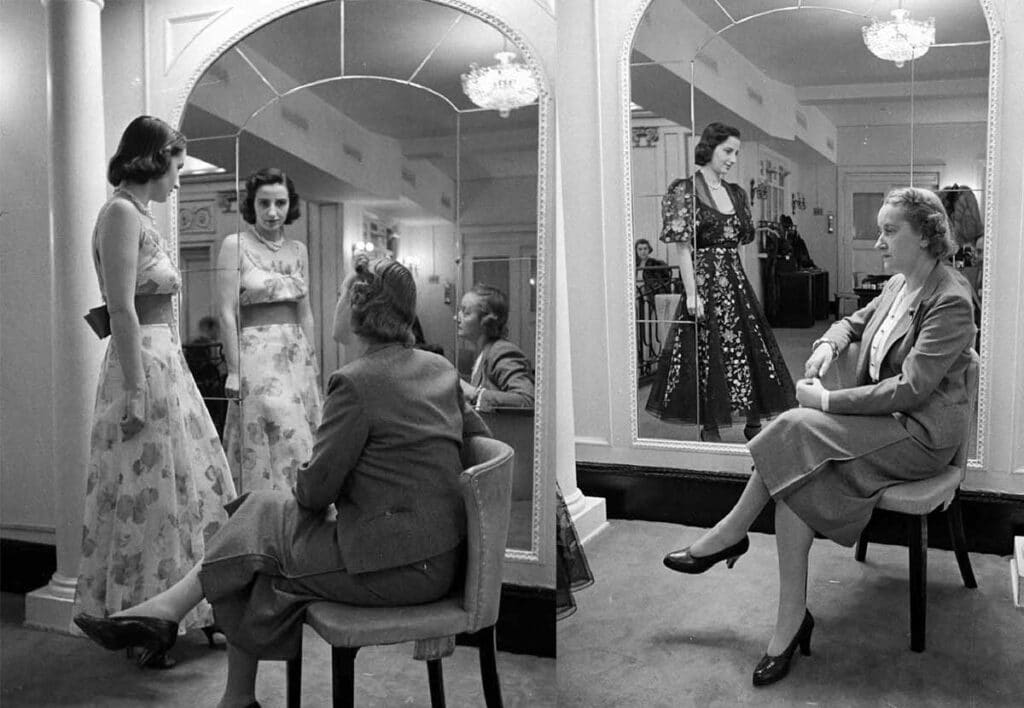 The 1940s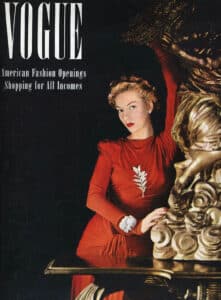 The 1940s were a decade of further brand diversification and business expansion for Hattie Carnegie, Inc. According to the Vintage Fashion Guild, by the 1940s, Carnegie had turned her store from a custom-made dress shop into an actual department store. There was a handbag shop where a customer could order a bag to match an outfit or hat; a fur salon; the Custom Salon – a millinery shop and ready-to-wear hat shop; a jewelry department; an antique shop that sold furniture, china, and glass; a perfumes department; the Jeune Fille shop, which offered a line of lower-priced clothing for her younger customers under the Spectator Sports label; and the Blue Room, where she sold her own and other manufacturers' ready-to-wear lines. Like her namesake, Carnegie was now a household name in her own right.
A LIFE magazine article about Carnegie published in 1945 features a striking photo of her seated at an elegantly appointed desk. The intro reads, "With a 'look,' a little suit, and a knowledge of all the angles, she has risen from poverty to be the absolute boss of a $6,500,000 dress business."
Carnegie Jewelry
The Carnegie look embodied total perfection, and accessories were as much a part of the "look" as the clothing, especially the jewelry. In 1939, Carnegie added a jewelry line to go with her clothing designs.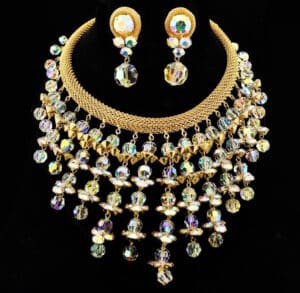 Like Chanel and Elsa Schiaparelli, Carnegie flourished in the "cocktail jewelry" movement (1935-1960), where pieces like brooches and demi-parures of necklaces, bracelets, and earrings put the finishing touches on outfits. Rather than trying to copy fine jewelry, Carnegie's early pieces are often creative and quirky such as a cupid figure riding a balloon swing or handsome unicorn brooches made in several variations.
Over the years, Carnegie worked with a wide array of talented designers and manufacturers on her jewelry line under the Carnegie name but launched her jewelry business with Fallon & Kappel, a famed manufacturer who also supplied Eisenberg with jewelry. Today, these early pieces made by Fallon & Kappel are considered by collectors to be the most important and valuable of Carnegie jewelry.
As the decade wore on and her jewelry business expanded, Carnegie Company expanded its stable of jewelry designers and manufacturers to include Kenneth Jay Lane, Norman Norell, and Nadine Effront, a French sculptor and onetime student of George Braques. As a result, her jewelry over the decade reflects different styles; however, flowers, fruits, and leaves are constantly repeating motifs.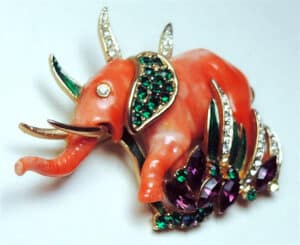 Carnegie jewelry is known for its use of such wonderful elements as glass cabochons, pressed glass leaves, beaded flowers, rock crystal, and artificial pearls, and for incorporating specific themes into its jewelry lines. One of Carnegie's more popular jewelry collections is the Oriental line, inspired by Far Eastern and Indian motifs.
The collection includes elaborate metal human figures with features made with tiny rhinestones and faux pearls, as well as things like a figural elephant carrying a howdah and a snuff-bottle pendant. Inspired by the African art that influenced Paris fashion in the 1930s, Carnegie also created a line of animal-shaped brooches made of Lucite in bold colors like red-orange, emerald green, ivory, and turquoise blue, and were trimmed with rhinestones, colored beads, and gilt metal. In addition to themed collections, she made many beautiful, more traditionally styled jewelry pieces featuring beautiful rhinestones.
Carnegie costume jewelry was made from the 1940s to the 1970s; however, jewelry designed before she died in 1956, while under her personal guidance, is considered rare and therefore is most valued by collectors. These early pieces can be identified by an "HC" mark. Some of the last pieces including the Carnegie name were sold in the to include the Carnegie name were sold in the late 1970s as Valentino for Hattie Carnegie, Yves St. Laurent for Carnegie, and Anne Klein for Carnegie.
Legacy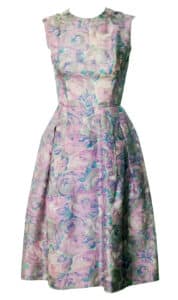 Carnegie's fashion empire continued on for another decade after her death with the help of two of her brothers who had worked closely with her over the years but the strength of Carnegie's personal dynamism and leadership was so closely identified with the company that it was difficult for it to continue successfully without her. On November 26, 1964, The New York Times ran an article that "Hattie Carnegie, the specialty shop at 42 East 49th Street … will go out of business next year."
According to the article, reports of the imminent demise of the wholesale apparel and accessories divisions of the corporation founded by the creator of "the little Carnegie suit" had been circulating in the fashion industry in recent months but a statement issued by Edward Isaacs, chairman of the board of Hattie Carnegie, emphasized that it was the store that was being closed, not the company, to enable the expansion of the wholesale operations.
After the Custom Salon closed in 1965, the company continued to produce jewelry, hats, and accessories until 1976, when the business closed for good.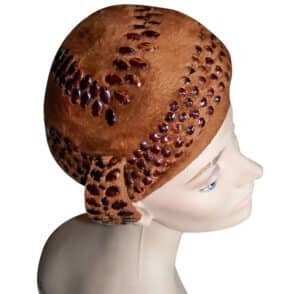 Carnegie's designs were described in Who's Who in Fashion 1988 as "youthful and sophisticated, never faddy or extreme. She was noted for suits with nipped waists and rounded hips, especially becoming on smaller women, embroidered, beaded evening suits, at-home pajamas, long wool dinner dresses, and theater suits. Beautiful fabrics and excellent workmanship were hallmarks, anything but the best was abhorrent to her."
Carnegie's outstanding work was recognized by two awards given during her lifetime: the Neimann-Marcus Award in 1939 and the Coty American Fashion Critics' Award for "consistent contribution to American elegance" in 1948. Yet, one of Carnegie's most important legacies to American fashion was the designers that came out of her workrooms, a sort of fashion incubator for emerging talent. Carnegie was known to have an amazing ability to recognize design talent. Although she never gave these designers credit for their work, they credit her with the future career opportunities that came from working under her label.