Marshall Fogel's Tips on Collecting Baseball Memorabilia
The Journal of Antiques and Collectibles – May 2012
The February 2012 article in The Journal of Antiques and Collectibles entitled "Baseball, A Collectible for Now and Forever" provided an historical and emotional account of baseball and the profitability of investing in baseball cards and memorabilia and the enjoyment of owning and displaying baseball collectibles. This article focuses on how and what to collect.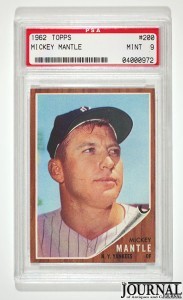 There are six recommendations of how to collect:
Learn the history of baseball.
Read the biographies of famous baseball players.
Review the Professional Sports Authenticator website for information on card grading, autographs, baseball bats, photograph authentication and the card registry section. (www.psacard.com)
Request auction catalogs from The Journal of Antiques and Collectibles advertisers. Most catalogs are free.

Review the sports auction websites of past auctions sales so as to be familiar with baseball 

related items and their fair market value.

Attend the 33rd National Sports Collectors Convention in Baltimore, Maryland starting August 1, 2012. (www.nsccshow.com)
Once armed with this basic information, it is recommended to collect horizontally rather then vertically. This method of collecting enhances the ability to collect in many important and different areas such as cards, game used professional baseball bats, photographs, advertising pieces, programs, scorecards, trophies, pinbacks and tickets. Collecting high value items in different formats and in high grade condition is not a function of money as much as it is a function of historical importance and commercial demand. Many of these valued artifacts are priced under $1,000. Collecting in this manner protects a collector's diversified investment as the market fluctuates over time.
Baseball memorabilia: collecting "vertically"
Collecting vertically is defined as a collection that is centered around one subject placing the collector at risk in the future resale market. An example of vertically collecting is best illustrated when a collector purchases all items representing the Brooklyn Dodgers in volume. The chances are good that 10 to 15 percent of the items have an upside value and the rest of the collection is not investment grade. In other words "digging deep" the collector ends up with "a bunch of junk."
Baseball memorabilia: collecting "horizontally"
Collecting horizontally forces the collector to address not just how to collect but what to collect. Unless the collector has unlimited funds, then collect commercially. Collecting commercially equates with high demand. It is better to buy a high graded sought after Mickey Mantle card then a rare baseball card of an unknown baseball player and pay $30,000. There is an old saying in the collectible market – "If less than five collectors bid on an obscure expensive item and they get divorced, declare bankruptcy, dies or places the item for sale who is going to replace them to buy the same obscure item." If the same events happen to the collectors who purchases a Mickey Mantle card where the demand will be at least constant the result will be more positive.
What are your thoughts on collecting baseball memorabilia?