So Maybe I Don't Want to Collect Casino Chips
This column is devoted to pieces of gaming memorabilia OTHER than the CHIP!
by Sheldon Smith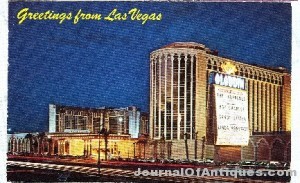 There are so many items of casino memorabilia to collect that the hobby is truly diversified. Some of them are included here. If it has a casino name on it – it's a casino memorabilia collectible.
But why would I want to collect items other than the most common collectible:
THE CHIP? Actually that is a fairly easy question to answer. The many items that you can collect in many cases tell a better story about the casino than the CHIPS they have/had.
Some of the best casino collectibles are POSTCARDS from the casino. The postcards tell much about the casino and if you get a whole chronological grouping of their postcards you can see the development of the casino as time goes by. You can even spot the weather prevalent at the time of the postcard's manufacture, which tells you a lot about the location, too.

Another highly favorable collectible is the MATCHBOOK. There are many reasons why folks collect matchbooks and casino matchbooks are no exception. They are often filled with information unavailable elsewhere. Addresses, phone numbers, types of games they play (ed). One interesting aspect of collecting matchbooks, casinos and others, is the change in the type of matchbook that occurred with the transition from FRONT STRIKE (deemed to be dangerous) to BACK STRIKE (much safer matchbooks).
Yet another highly collectible casino memorabilia are the PLAYERS' CARDS, inserted in machines or presented by players at table games.  These are used by casinos to record how much you gamble in the machines and on the tables. In addition to the players' cards, there are ROOM KEYS (image, top right) that carry advertising about the casino's latest show, newest attraction or some other information the casino would like you to know about. Players' cards and room keys are a relatively inexpensive way to join the casino collectible hobby. They are very colorful, highly durable and made by just about every casino in the USA.
One more collectible that no longer is made that can identify the casino is the ASHTRAY. Once upon a time, the casinos were proud to have their name, logo, phone numbers and street addresses emblazoned on their ashtrays. They became instantly collectible and that, along with the strident attempts to curb smoking in the casinos, doomed the ashtray to a sort of casino collectible's purgatory. Too heavy to carry around to show your friends, too fragile to just toss in a bin, the casino logoed ashtray is pretty much a thing of the past. In all the years of collecting, Chris and I have seen only one new ashtray being produced — from the M casino in Las Vegas. Still, ashtrays are very collectible, often show-up at flea markets and antique stores and are pretty inexpensive for the most part.
Next time, we will delve into other casino collectible items of which there are many and tell a few stories of fabulous finds.