Modern Covers: Treasures from the Trash?
by Doug Finch
Something that was always a beginner's way to collect stamps has become a way to collect covers; and the decline in interest in postal history has had a lot to do with it.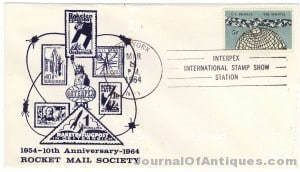 Modern postal history was a hot area for awhile. Stamp auctioneer Robson Lowe sparked interest in "postal history," a term he coined, with his sales of collectible philatelic items that unlike mint stamps had traveled through the postal system. But now, lack of stamps on covers has caused casual collectors to cease collecting in this area. But paradoxically, it might be just the time to add some of these items – especially current items – to your collection.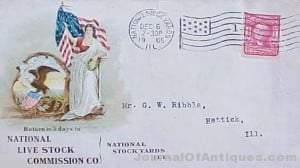 The future will find that today's stamps on cover are scarce. One can't be sure exactly what type of cover will be a good buy until the future comes around. But it could be that your mundane daily mail could hold some philatelic treasures. After all, stop to think that many of the covers in our collections – advertising, war, commercial airmail, etc. – were once simply part of a day's mail, saved only because recipients saw the value of them.
Stamped Mail Now a Rarity
It is highly doubtful that today's junk mail will ever find its way into a high-class philatelic auction, though it might wind up in a dealer's stock and later into a cover collection. Of course, these aren't the philatelic covers, like the one in Illustration 1, much collected for their souvenir value, containing special cancels, cachets and markings. These covers, often referred to as event covers have their own charm, and note a philatelic place in time that wistful collectors want to capture by freezing the moment with a souvenir cover.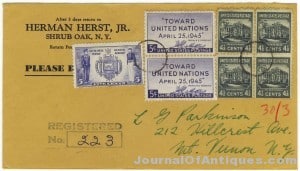 Much as cover collectors have for decades accumulated ad covers showing everything from fancy horseless plows from the early 20th century – many featuring  patriotic motifs illustrating products and businesses, as on the cover in Illustration 2 –  and through the years up to recent history as tech took off and ad covers showed early Apple computers and the like, future collectors may want postal evidence of our time and its progress showing cell phones and the latest come-on from video rental giant Netflix. Thanks to the lack of stamps on most of today's items, they will straddle the ephemera and postal history categories. Still, even stampless, if they have traveled through the mails they will be postal history; legitimate and worthy items for the cover collector.
Old Style Stamp Dealer Covers Disappear
One area that will be poorly represented in the future is the stamp dealer cover. These items, like that in Illustration 3 have always been enthusiastically collected by those with an interest in the history of stamp and cover collecting. But today, stamp dealers know that they no longer attract customers through the mail, but rather online and in the few philatelic publications that still exist. Of course there are still some old school dealers around, who will festoon envelopes carrying your purchases with all manner of odd denomination and colorful stamps. But this is the exception rather than the rule, as the ability of printing out postage labels at home means that dealers can put together shipments quickly and easily, though sadly, without stamps.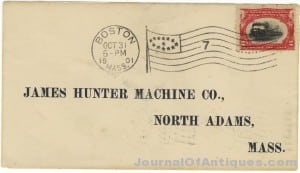 It may be hard for collectors to understand the items that some dealers are now featuring for sale – simply their own mail, received with greater denomination commemorative, priority and express mail stamps, that with high catalog value, and the current scarcity of stamps on mail, allow them to charge $5 and up for items that not too long ago would have wound up in the trash, or cut up to save the used stamps for later resale.
The lack of stamps on today's mail also means that a classic style of cover collecting, namely picking a particular stamp like that in illustration 4 and putting together all forms of usage of it on cover will now be impossible. It was once true that a showing of a stamp on various covers – airmail, transatlantic, experimental routes, etc. – could be a collection of real meaning. Now that it is a chore to find stamps on everyday regular mail – forget a cover with an interesting usage or destination – such a collection is no longer a possibility. Perhaps the only usage the collector of current stamps will find is a first day cover, always in abundance.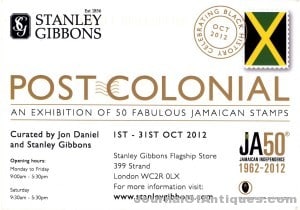 Stamps Celebrate Themselves
It may be stating the obvious, but commemorative stamps like the Pan Am stamps celebrate their subject. The great philatelic postcard in Illustration 5 is notice for an exhibit of Jamaican stamps to celebrate the country's 50th anniversary of independence in 2012. Illustrated is the picture side of the postcard, featuring a faux stamp and cancelation.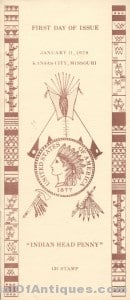 Something the stamp world has always been very good at is celebrating itself. Or celebrating the world around stamp and cover collecting. And for some, postal history means the history of the stamp collecting hobby itself. It used to be the release of a commemorative stamp had a first day of issue ceremony celebration, and the cover or program, like that in Illustration 6 was a souvenir of the party. Now, more and more stamps are not getting a ceremony, due to budget cuts.
It is also the economy that is prompting collectors to scale down from collecting classic postal history covers and concentrate on modern, or less exalted examples of the classics, franked with lesser value, more affordable stamps. Still these items tell a story of the posts and the mail, a story the cover collector finds endlessly fascinating.

Doug Finch has worked for several northern New Jersey newspapers as a columnist, reporter, and photographer. He has written on film for publications like Cinefantastique and on collectibles for Scott's Monthly, Linn's Stamp News and Stamp Collector, among others. Doug is also the Stamp Collecting Guide at About.com, a site of many topics, where experts in their area guide readers toward greater knowledge and enjoyment of their interests. Contact him at jdfin2@hotmail.com