Wedding Cake Toppers
By Donald-Brian Johnson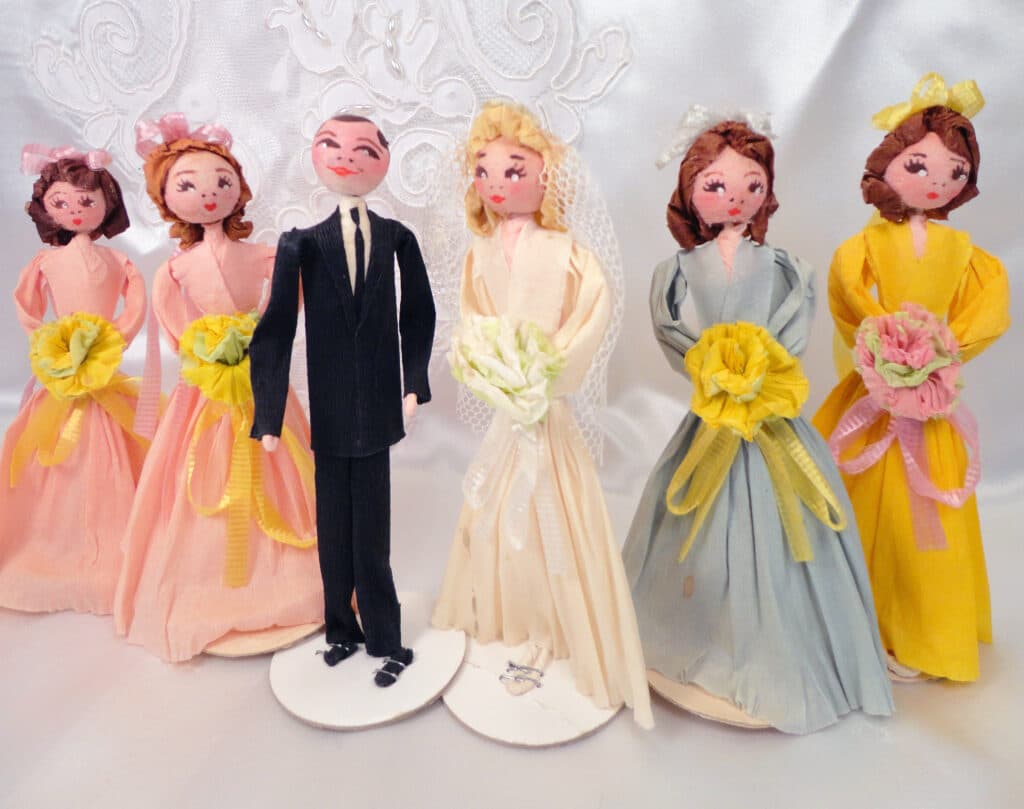 The sun shines merrily, in a brilliant blue sky. The birds are chirping, the church bells ring. The radiant bride and her glowing groom have at last shouldered their way through the shower of well-wishers, making a grand entrance at the wedding reception.
Maybe that reception is being held at an elegant country club … a crepe-paper festooned rental hall … or perhaps even a cozy church basement. Regardless of location, the newly-united pair are ready for their closeup. Right now, they're posed cheek-to-cheek behind another of the day's star attractions: the wedding cake. Smiles are wide, as overlapping hands grasp a decorative knife, poised to cut that first festive slice at the photographer's command.
Perhaps this wedding cake is a toweringly elegant confection, adorned with candied roses and ribbons, miniature Grecian pillars supporting the many layers. Maybe it's a much smaller cake, one festively decorated "for show," surrounded by pans of sheet cake "for eating." Or, it could be a simple homemade affair, lovingly assembled and hand-frosted by Grandma.
But tall or tiny, chances are that, at the cake's very tiptop, stands a platform with two miniature figures serenely surveying the happy (and hungry) crowd. A bride. A groom. Put them together, and you have what's known as a "cake topper."
Something Old: The First Cakes and Toppers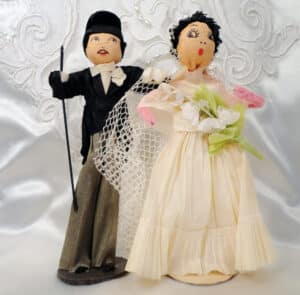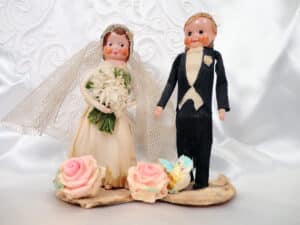 Wedding cakes have been around for almost as long as weddings themselves. However, the flat wheat cakes of ancient Rome and the honey-and-sesame concoctions of classic Greece bear little resemblance to the sweet treats we're familiar with today. Rather than serving as a focal point for the wedding feast, these biscuit-sized "wedding cakes" were intended as symbols of fertility. Several were eaten by the bride and groom; then, in those pre-rice-throwing days, the remaining crumbs were tossed over the bride's head.
In the 1500s, the addition of spices and dried fruits heightened the cakes' palate appeal, but the first sort of cake a modern bride and groom might actually find recognizable today made its debut in the late 1600s. Among the clutch of French chefs who followed Charles II from France to England, one unsung pastry innovator stacked several spiced fruitcakes high, spackling the resulting pileup with icing. His "layer cake" was an immediate hit, appreciated for both its taste, and imposing visual appeal.
Tiered, frosted cakes became a staple at upper-class British weddings, their ornamentation (and height) keeping pace with the rungs on the social ladder. Sugar Cupids, bells, cherubs, doves, flowers, domes, arches, and even coats-of-arms turned simple tiered cakes into architectural wonders (the 1858 wedding of Britain's Princess Royal featured a cake topping out at seven feet!) With the mid-1800s advent of fine-ground flour, baking soda, and baking powder, a lighter, whiter cake better geared to bridal fantasies came into favor, relegating the fruitcake to holiday appearances.
Plenty of cake. Lots of frosting. But what about those toppers?
In ancient times, "totems"—small handmade representations of the bride and groom—were offered up during wedding ceremonies, in hopes of prompting marital blessings. Early American wedding parties, particularly among those recently arrived in the country, often featured, as table favors, tiny bride-and-groom dolls dressed in ethnic costume. But the best-known predecessor of the modern cake topper came courtesy of Queen Victoria.
At her 1840 wedding to Prince Albert, pride of place at the top of Victoria's wedding cake went to a figure of "Britannia," a symbol of Great Britain, blessing Roman-costume-attired figurines of the Queen and her Consort. (Victoria evidently enjoyed wedding grandeur: the Princess Royal, dwarfed by that seven-foot cake in 1858, was her daughter.)
Although Victoria set the fashion, it took several decades for figural cake toppers to catch on with the world's everyday contingent of brides and grooms. Until then, vases of flowers customarily crowned cakes in England and the United States. The first readily available cake toppers, dating from the late 1800s, were hand-painted and fashioned of marzipan, a sugar-and-egg-based moldable almond paste. Marzipan and the also-edible gum paste toppers were produced by bakery supply firms (one of the earliest topper ads appears in an 1892 issue of The British Baker).
Something New: Wedding Cake Toppers of All Types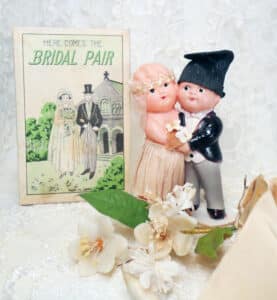 Soon though, there were other options, as manufacturers realized that cake toppers needn't necessarily be made of cake (or candy). They could be made of. . .well. . . wax, Plaster of Paris (aka "chalkware"), paper-maché, crepe paper, fabric, porcelain, ceramic, metal, bisque, celluloid, plastic, wood, composition, saltware, glass, pipe cleaners, shells, and even peanuts (for starters). Many toppers were combos of different materials: a celluloid bride with a net veil or crepe paper gown; a plaster groom, his elegant tux a mix of fabric and paint.
Although generally conjoined, some bridal couples were "separates," with jointed limbs, allowing them to be posed as desired. For those in search of company, complete wedding party "separates" could be purchased, That way, everyone from the maid of honor right down to the ring bearer could participate in top-of-the-cake fun.
Something Borrowed: Incorporating Varied Themes and Elements into Wedding Cake Toppers
A demure bride in a traditional dazzling white gown. A slick-haired groom in a dapper tuxedo. Those wedding toppers were good enough for Mom and Dad—but, as the twentieth century progressed, budding Bridezillas wanted more. Unique elements were incorporated into cake topper designs, providing one-of-a-kind touches for what was, (in theory at least), intended to be a once-in-a-lifetime event. There were music box toppers. "Pez" toppers. Electrified toppers, that bathed the happy duo in twinkling lights. Wedding pairs struck their poses in cars, coaches, Fabergé-styled eggs, gondolas, and even hot air balloons. They found themselves framed in arbors and gazebos and stood their ground amidst such unlikely accessories as airplanes, sailboats, "Good Luck" horseshoes, and oversize Cinderella slippers. Some even pulled
double-duty, serving as salt-and-peppers.
Religious diversity was celebrated by toppers that came complete with their own Rabbis, priests, or ministers (accompanied by such job prerequisites as canopies and altars). Ethnic diversity took a bit longer: early toppers were simply identical figurines with different skin tones. Eventually, toppers more accurately depicted a range of ethnicities, their costuming celebrating a wide range of heritages.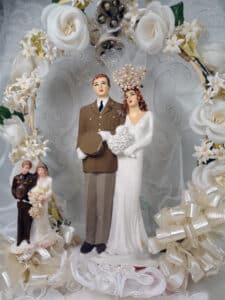 In the military? Grooms (and sometimes, brides) could be found attired in the appropriate uniforms. Occupational figurines included firefighters and police officers. Athletic brides could opt for tennis-skirted stand-ins. And, for the grooviest gals of the 1960s and '70s, Coast Novelty offered a bride decked out in either a traditional floor-length gown – or a mini-skirt. Taking originality one step further, Coast provided "customized hair": the bride came with a rubber wig, in a choice of color and cut. (Since the wigs were removable, the possibility of a bald bride, thanks to a tipsy reception prankster, was always an unsettling possibility.)
"Specialty" toppers represented, it's assumed, specific collecting interests dear to the heart of the bride-to-be (or her intended). Among the numerous themed toppers: Barbie and Ken; Precious Moments; Mickey and Minnie Mouse (along with a variety of other humanized animals); and even Marge and Homer Simpson.
Among the most popular early specialty toppers were "Kewpies," based on the Rose O'Neill illustrations introduced in the December 1909 Ladies' Home Journal. These wide-eyed, blue-winged cherubs (along with their close competitors, the non-winged "Googlies") found themselves adapted to a variety of uses, including cake-posing.
"Novelty" toppers included the celebrity-influenced, from the respectful (doe-eyed brides attired ala Jacqueline Kennedy or Grace Kelly) to the uncomfortably eerie ("Elvis" grooms and "Marilyn" brides). Good for a bridal party chuckle (and sure to annoy the bride's mother), were intentionally comic toppers: forceful brides dragging reluctant grooms to the altar, or "Shotgun Wedding" pairs, (although these were usually saved for 25th-anniversary celebrations).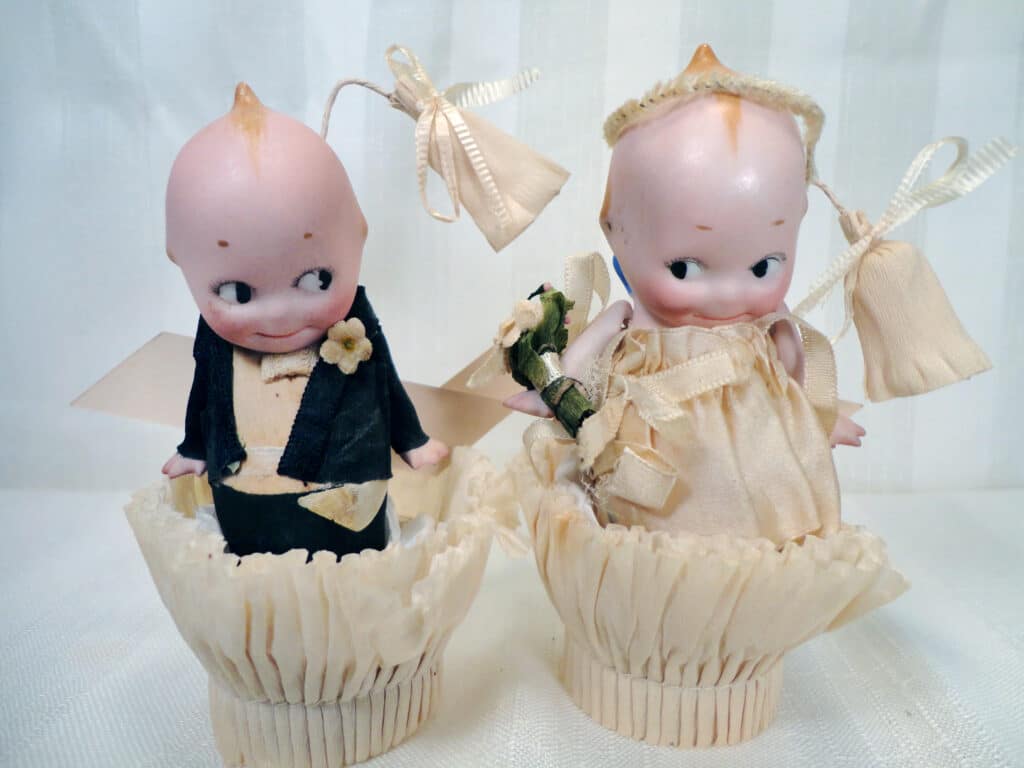 Something Blue? Wedding Cake Toppers Today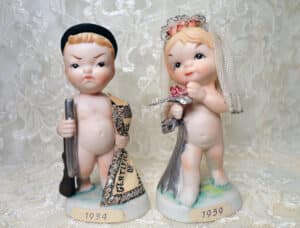 Weddings are the most joyous of occasions, so what's there to be blue about? Well, cake topper condition has left more than one collector teary-eyed. These pieces were really designed for a single brief turn in the wedding day sun, rather than for longevity. Nowadays, finding a topper of almost any type in mint condition can present a major challenge.
Paste toppers of the early 1900s, for instance, were hardly intended to withstand the ravages of bugs, water, heat, and humidity for over 100 years, no matter how carefully stored. We're talking food items here. Really old food items.
Other toppers of porous material, if stored with a chunk of wedding cake, have almost always been discolored or eaten away by contact with sugary icing. Ceramic crazes. Celluloid cracks. Crepe paper crumples.
The best way of transforming those cake toppers collecting blues into bright blue skies is to accept the toppers "as found," making only the most minimal, non-invasive repairs. If more extensive fixups are desired, trust your topper to the hands of an expert skilled in doll restoration. That way, you'll avoid the fate of the collector who tried to remove stains from a chalkware topper, with water. The stains disappeared. So did much of the chalk.
Toppers can still be found in ready abundance at such likely hunting grounds as garage and estate sales, and household auctions. Prices can range from $5 to $1,500, based on such factors as age, condition, and cross-collectible status. (Many "name" manufacturers, including Lladro, Ceramic Arts Studio, Lefton, and Josef turned out toppers; collectors not normally in pursuit of wedding memorabilia will avidly seek out their favorites.)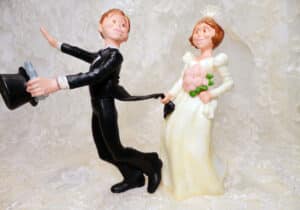 When considering a wedding cake topper purchase, always ask yourself:
• "Is there any damage?"
• "If so, can I live with it?"
• "Does the asking price reflect the actual state of wear?"
•  And, (most importantly), "If I pass this one up, will I ever find another one like it?"
If the positives outweigh the negatives, then go right ahead!
A comprehensive cake topper collection can serve as a sort of sculptural photo album, offering three-dimensional snapshots of times gone by. A "flapper" bride, rouged knees peeking through the fringed hem of her bosom-flattening dress, conjures up vivid visuals of the "Roaring '20s." A mustachioed groom, his elegance enhanced by a spiffy vest and bow tie, and his bride, her high-necked ivory gown secured with pearl buttons, re-animate the "Gay '90s." And, if he's in a white dinner jacket and crewcut, and she's in a full-skirted, frothy net gown, there's no doubt we've wandered into a wedding from the "Eisenhower Era." (There's added fun to be found in matching up vintage toppers with actual vintage wedding pix. Since almost every wedding album includes at least one "cutting-the-cake" photo, the goal is often achievable.)
Wedding Cake toppers can be appreciated for their craftsmanship, and diversity of style, but even more, enjoyment comes from imagining the uniquely personal histories of the couples who first cherished them. A wedding cake topper is a treasured memento of a day like no other … a welcoming promise of countless happy days ahead.
---
Donald-Brian Johnson is the co-author of numerous Schiffer books on design and collectibles, including Postwar Pop, a collection of his columns.  Please address inquiries to: donaldbrian@msn.com
All photos by Patty Deden. Wedding cake toppers are from the Patty & Barney Deden Collection, courtesy of the Douglas County Historical Society, Omaha, NE.
Photo Associate: Hank Kuhlmann