Story and photos by Donald-Brian Johnson
In the world of mid-twentieth-century décor, it wasn't enough for a designer to be a household name. What sold everything—from dinnerware to dishwashers to draperies—was exactly the right household name. That name had to be exotic, but not so exotic as to frighten away customers. It had to suggest exclusive buyer taste, without suggesting exorbitant cost. And, most importantly, it had to be unique.
To ensure that their names were firmly implanted in the minds of the buying public, many giftware designers of the 1950s and '60s had them boldly emblazoned on their work. No need to wonder if a fused glass platter was by Michael and Frances Higgins. The "Higgins" signature in gold said it all.
Some designers, whose given names were less than melodious, took the movie star path, rechristening themselves with names that were, like their designs, fresh, new, and previously unknown. Georges Briard, for instance, whose signed kitchen and partyware items became ubiquitous mid-century fixtures, began life as the equally mellifluous (but perhaps less ad-friendly) Jascha Brojdo.
For three popular ceramists of the period, whose careers were entwined, their names became their brand. Two opted to go the name-changing route. Sascha Brastoff originally answered to the more mundane moniker of Samuel Brostofsky. His protégé, Marc Bellaire, was known to the folks back home as Donald Fleischman. The least well-known member of the trio, however, opted to stick with the name he was given: Matthew Adams.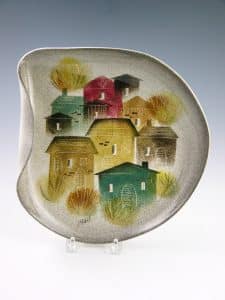 Sascha Brastoff: The Modern Cellini
Sascha Brastoff was his own best invention. While many giftware designers of the era have faded into oblivion, the Brastoff name endures. Certainly, his superb decorative talents, accompanied by seemingly limitless imagination, account for much of that success. But there's another reason Brastoff remains just as popular with today's collectors as he was with consumers of the past: his natural flair for self-promotion. Brastoff's public persona became so intermingled with his work that it's hard to imagine one existing without the other. "Sascha Brastoff" became a household name, encompassing both the artist and his art.
Ads of the period show the perennially youthful and photogenic Sascha ensconced among his many modernistic creations, looking just as one might imagine an artist should look — pensively musing; art pad and brushes in hand. No false modesty here: he was billed as "the man of many talents," "the modern Cellini," and "the internationally acclaimed designer from whose talented hands comes a galaxy of new and exciting contemporary accessories."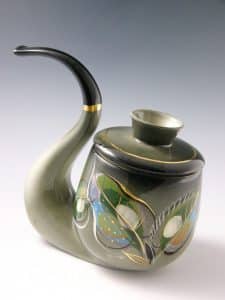 Brastoff was also more than happy to promote his work with frequent in-store appearances and gala gatherings with such stars-of-the-time as Zsa Zsa Gabor and Joan Crawford. The message was clear: Sascha Brastoff exuded glamour – and, by extension, so did those who purchased his product. Fortunately, the Brastoff talent more than lived up to the promotion.
Born in 1918, Brastoff trained briefly at Cleveland's Western Reserve School of Art, then moved to New York. Following military service during World War II (which included stage and screen appearances in Winged Victory), his flair for theatrical design found an outlet at 20th Century Fox, where he designed costumes for, among others, Carmen Miranda. Along the way, his ongoing ceramic work attracted the attention of Winthrop Rockefeller. The philanthropist/investor became Brastoff's patron, an association that lasted throughout the artist's career.
The 35,000 square foot Brastoff studio in Los Angeles, which opened in 1953, became a Mecca for tourists and movie stars. An endless array of ceramic products was on view, from ashtrays and lamps to enamelware and sculptures, in such fanciful designs as Star Steed and Rooftops. Brastoff supervised all design, turning out over 400 new items yearly. His sure sense of what the public would want embraced almost every type of project. There were the practical ones, such as candelabra, cigarette boxes, vases, and ashtrays. There were purely art objects, such as wall plaques and decorative obelisks. There were even complete lines of china and earthen dinnerware.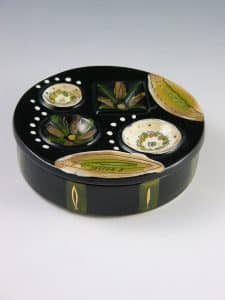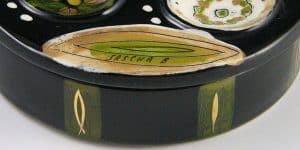 The "designer extraordinaire" (those ads again), worked in a variety of media in addition to ceramic. Included in his varied output were freeform metal sculptures, mosaic wall masks, terra cotta figurines, fabric, and even a line of "hologram jewelry."  Brastoff's designs eventually even found their way into films: his Illusion sculpture can be seen in Forbidden Planet.
Brastoff's fame was so widespread that, even after ill health forced his retirement in the early 1960s, the Brastoff company continued to successfully turn out pieces in his style for ten more years. (Items with a full "Sascha Brastoff" signature were decorated by Brastoff himself. Those with only a "Sascha B." signature, or the Brastoff name and a "rooster" stamp were products of the decorating staff.)
Although Sascha Brastoff's mercurial creative interests led him in many directions, certain elements remain constant in his work. The presentation is always highly theatrical, and laced with whimsy. There is an ongoing use of unusual color combinations, sometimes metallic, or with metallic accents. And above all, each Brastoff piece shows his keen ability to make the extraordinary both commercially and artistically appealing.
There are artists. There are promoters. And then there was Sascha Brastoff: the best of both.
Marc Bellaire: Master of Modern Ceramics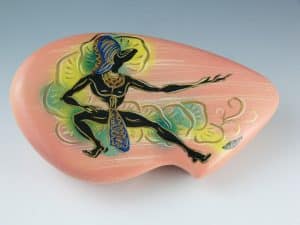 Although not as universally recognized as the heavily-promoted Brastoff, Bellaire's design influence was equally long-lasting. In fact, many amateur ceramists of the period owe their entire technique, for better or worse, to Bellaire. After achieving his own success, Bellaire wrote numerous "how-to" articles for Popular Ceramics, allowing the artistically-deprived (or challenged) to try their hand at bowls, vases, and other vessels featuring his characteristic elongated figures and colorful glazes. Examples of these home-based projects, which often turn up at yard sales, indicate that talent was not always readily transferable.
Born in Toledo in 1925, Marc Bellaire studied at the Chicago Academy of Art and Chicago Art Institute, before moving to California in 1950, and beginning his association with early employer Brastoff. The object shapes and placement of decoration on many Bellaire pieces show the Brastoff influence. A curved-edge central image is often the focal point of a design, echoing the curved edges of the object itself, whether ashtray, bowl, or rounded platter. Bellaire also favored Brastoff's bold, contrasting colors, and metallic accents. Themes, however, show a much greater variance: Brastoff's images are often romanticized and ethereal. Bellaire's fierce Jungle Dancers and blank-faced Mardi Gras celebrants are darker, more knowing, and more exotic.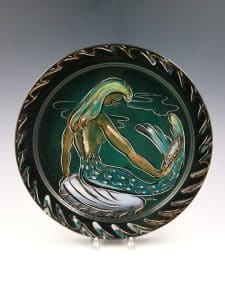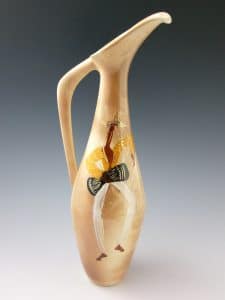 In the early 1950s, Bellaire branched out on his own, opening the Marc Bellaire Ceramics Studio in Culver City, California. While he produced artware in the Brastoff vein—platters, planters, and the like—the stylistic touch became distinctively Bellaire. Brastoff's figures, though often whimsical, generally retain normal proportions. Bellaire's, with arms and legs of exaggerated length, and bizarre or rudimentary features, at times, resemble aliens or stick figures.
The effect is even more pronounced and startling in the three-dimensional figurines Bellaire produced to accompany such lines as Mardi Gras and Jamaica. Here, the relationship to reality is intriguingly tenuous. While the images are clear, their details are minimal: the featureless Mardi Gras dancer's carnival mask, or the ballooning sleeves and floppy straw hats of the Jamaica musicians. Bellaire's ease with the other-worldly came in particularly handy for his large-scale design assignments in Hollywood, Las Vegas, and at Disneyland.

Marc Bellaire's later designs, until his death in 1994, focused on pots and vases in the southwestern style, with little reference to his earlier work. His pieces can be identified by a full or partial signature on the object surface or reverse.
Although perhaps not for every taste, Bellaire's strikingly original designs make his ceramics ideal accent pieces in a 1950s-modern home. Heralded by Giftware magazine as one of the top ten artware designers of the '50s, Marc Bellaire's work reflects the message he conveyed to budding craftsmen: "creative expression must bring joy to its creator; without it, the work itself lacks joy."
Matthew Adams: Depicting "The Final Frontier"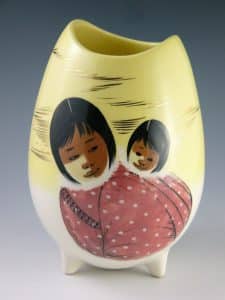 Unlike Bellaire and Brastoff, Matthew Adams early on found a single design theme he was comfortable with and stayed with it throughout his career: Alaska. Although the shapes of his vases, bowls, trays, and the like favor the same curving lines as his colleagues, you won't find any Star Steeds or Jungle Dancers on an Adams piece. You will, however, find a plethora of Eskimos, polar bears, walrus, log cabins, snowy landscapes, and other staples of the far north. Although more realistically depicted than the figural renditions created by Brastoff and Bellaire, there's still a healthy dose of the idyllic in Adams' tributes to the final frontier.
Born in 1915, Adams began his Alaskan adventures in the mid-1950s while employed by Brastoff. The studio had received a contract to produce a series of ceramics with Alaska-related images, for sale as souvenirs at a Juneau trading post. Brastoff gave the assignment to Adams, confident in his ability to fuse the somewhat rustic images, a first for the designer's line, with the more modern "Brastoff style."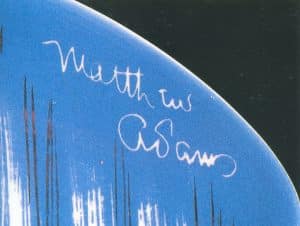 Although early examples of Adams Alaskana are signed "Sascha B." or "Brastoff," this reflects the star power that name held, rather than a true indicator that the designs were actually Brastoff's. Certainly, the illustrations bear little resemblance to anything else in the Brastoff repertoire. However, any work released with the Brastoff name on it naturally had to meet the designer's stringent specifications and be stylistically compatible with other studio inventory.
Giving Adams sole credit for the Alaska line has several strong points in its favor. When Adams left Brastoff's employ after three years and opened his own studio, the all-Alaska work he produced was almost indistinguishable in style from the designs he had earlier created for Brastoff. Additionally, Brastoff never claimed credit for the Alaskan images or challenged Adams' continued production of them. The majority of the Alaska pieces bear the signature "Matthew Adams," with, at times, the addition of another word that would seem to be self-explanatory: "Alaska."
What's in a name? For this trio of talents, the answer is "plenty". Thanks to their creative energies, mid-twentieth-century ceramics embarked on new artistic paths. And, thanks to their impossible-to-miss signatures, buyers knew exactly what they were getting. No second-guessing, then or now.
Donald-Brian Johnson is the co-author of numerous Schiffer books on design and collectibles, including Postwar Pop, a collection of his columns. Please address inquiries to: donaldbrian@msn.com
Photo Associate: Hank Kuhlmann