Interview by Maxine Carter-Lome publisher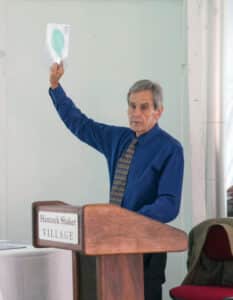 Willis Henry Auctions, Inc., a Massachusetts-based auction company of antiques and fine art, has been conducting sales in a wide variety of categories for over fifty years, including Shaker-made furniture, accessories, tools, manuscripts, and art, for which they have garnered international attention and generated many world record auction prices. They have also led a movement that has elevated buyer and collector interest in all things Shaker with the items and education they bring to market. For this issue, Publisher Maxine Carter-Lome spoke with Willis and Karel Henry about their interest in Shaker furniture and accessories, and how they have seen market interest and values change over time.
How and when did you become interested in Shaker furniture and accessories?
In the early 1970s, a college friend of ours Mike Chikiris, who was a photographer, joined my wife Karel and me on a trip to Sabbathday Lake in Maine on our way to look at some antique quilts and coverlets we wanted to purchase for our small antique shop in Marshfield, MA. We stopped at a Shaker community to take pictures of Karel in a flowing white dress among the white buildings and barns and the Sabbathday Lake Meeting House in the background. It was a beautiful day. Two Shaker sisters came out to meet us and welcomed us into their dwelling for dinner. It was a memorable evening and our first connection to the Shakers. When we returned home, we realized we had a few Shaker items in our shop but hadn't known it. This was the beginning of our lifelong love and appreciation for the Shakers and the items they produced.
Around 1979, we went on a house call in Albany, NY to buy a coverlet collection from an estate. The contents of the estate were being sold and included an extensive collection of Shaker furniture and objects. We couldn't take our eyes off the Shaker. When we inquired whether these items could be purchased, we were told they were already going to another auction gallery. Eventually, we obtained the catalog and studied it extensively. The auction was not very well cataloged and thus did not meet expectations. Many small pieces were heavily lotted and many case pieces were overestimated, causing a lot of the auction to not meet reserves. After seeing this we considered having our own Shaker auction.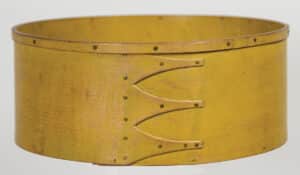 In 1981, we got a call about a collection of Shaker items for sale from an estate in New Hampshire which ultimately went to our good friend and Shaker dealer, Doug Hamel. We went up to see it and asked if we could buy the entire collection, which included a spit box nicer than the one that had recently sold at the estate auction for $2,500. Based on the previous auction and the price realized for the spit box, our local bank loaned us the funds to purchase the collection from Doug. They gave us all the money we needed with the spit box being the primary source (of course, Karel's father co-signed the loan). For this reason, we always try to include a spit box in each of our Shaker auctions.
How have you seen the auction market for Shaker items change over this period of time?
What hasn't changed? The Internet came into being, and COVID!! We used to hold our auctions under tents … lots of things have changed, but the serious collectors are still out there and still collecting, and we meet new enthusiastic collectors every year. They come from all over the country and the world. This is a very vibrant, exceptional market. There are so many artists and architects and people in the design field who collect Shaker because of its design aesthetic. Shaker designs were copied and used as inspiration by everybody, from Stickley to Harvey Ellis to George Nakashima, to Danish and Mid-Century Modern designers, and others who created streamlined forms with clean lines and lack of embellishment.
Who is buying today versus who was buying in your earlier years?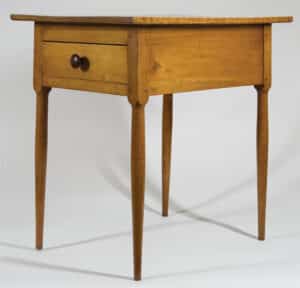 Many of the same buyers who bought Shaker from us at our first auction in 1982 are still buying from us today in 2022. A gentleman who purchased a beautiful cupboard from that first auction bought a rocking chair from us at this year's auction. Many museums have been building great collections for years, one being the Art Complex Museum in Duxbury, MA, in our own backyard. There were also many astute collectors back in the 1920s and 30s, including the Andrewses (their books are a basis for serious Shaker collectors). Charles Sheeler (1883-1965), known for his paintings, commercial photography, and Shaker collection, and also the Rockefellers who helped build the Metropolitan Museum collection, among others, have purchased beautiful pieces and rare examples over the years. Folks are still discovering the Shakers today. The market is always moving forward, just at different intervals. There are still great pieces out there, and they can be very affordable!
What advice do you have for new collectors?
Get the right knowledge. Many books have been written on the Shakers and I recommend Tim Rieman's and June Sprigg's books. Visit the Shaker villages such as Hancock, MA, Sabbathday Lake, ME, Enfield and Canterbury, NH, and Pleasant Hill Shaker Village in Kentucky, as well as museums with Shaker collections. Immerse yourself in who they are and how they lived.
Ease in by buying what you like. It's not just about the money but the people who made these items. They would make a chair so "that an angel would come down and sit on it." We sold a chair this year that I consider the best rocking chair I ever sold—it was purchased by a collector—for $50,000 – which I thought was a good buy. But you don't have to have $50,000 to buy a very fine Shaker-made chair. Exceptional examples can be found for $500, even for a few hundred dollars. There were many good buys to be had at our Shaker Auction this past June. Visit www.willishenryauctions.com for pictures and prices.
Does the market make the distinction between items made by Shakers for trade sale and those items made for personal use?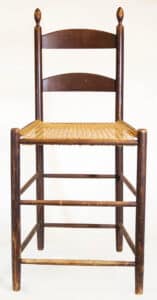 Yes. Chairs made by the Shakers for their own use were lightly used yet were made to last. What they made for sale is also highly desired as they were anxious to put the best quality out there.
In the beginning, they did not put their decal on chairs made for sale; however, their popularity soon attracted other makers to create Shaker-style items. They started adding the Shaker decal to distinguish their chairs for sale from copies made by other companies. There are so many Shaker chairs out there today because they were beautifully designed, a lot of people wanted them, and they were made to last.
Shakers made things that were exquisite! They gave a lot of thought to each other's needs and they designed their items to fit the specific needs of the user. They signed what they made because they gave them to another Brother or Sister – it was a gift so that was what the signature was usually all about. The signature was a part of the gift and a token of Brotherly and Sisterly love.
As long as we've been involved with the Shakers we have been humbled and touched by their spiritual nature. Their "Hands to Work" motto gave America a design feature that became the iconic "Form Following Function."
---
For more information on Willis Henry Auctions and upcoming Shaker auctions, visit www.willishenryauctions.com, located in Duxbury, MA.