Bookshelf: [amazon_link id="0764340913″ target="_blank" container="" container_class="" ]Rare and Unusual Black Forest Clocks[/amazon_link] – The Journal of Antiques and Collectibles – September 2012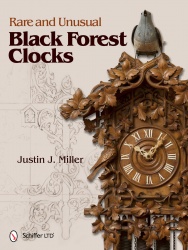 By: Justin J. Miller
Publisher: Schiffer Publishing
Pages: 304
Price: Hardcover $89.99
The creativity, innovation, and craftsmanship represented by the clocks from Germany's Black Forest region are well covered in this definitive guide. English-speaking horologists receive comprehensive information and insights that have heretofore been available only in German. Over 700 striking images showcase the finest examples of clocks made in the region. The text provides much needed information on preeminent clockmakers Johann Baptist Beha and Emilian Wehrle, which place this among the best comprehensive single volumes ever produced in any language. This work also explains the various mechanisms and guides collectors and others trying to identify individual clocks by type, production era, and maker. The engaging text vividly brings to life the rich, romantic history of families and entire communities of craftsmen cooperating to create these unique timepieces, which have drawn increasing numbers of enthusiasts to the excitement of Black Forest horology.