Ingenious Contrivances, Curiously Carved: Scrimshaw In the New Bedford Whaling Museum- The Journal of Antiques and Collectibles – September 2012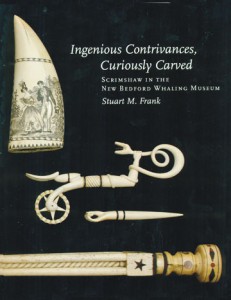 Ingenious Contrivances, Curiously Carved
By: Stuart M. Frank
Publisher: David R. Godine
Pages: 384
[amazon_link id="1567924522″ target="_blank" ]Price: Hardcover $65[/amazon_link]
The collection at the New Bedford Whaling Museum is the largest, most varied, and most representative in the world. And in this book, with the subject's leading expert, curator Stuart M. Frank as your guide, you will be introduced to every possible permutation of these whalemen's fancies. The 700 detailed and dramatic photographs are stunning, the captions revealing, and the stories behind the objects themselves compelling. The range of the work is extraordinary – not simply the decorated sperm whale teeth that the word "scrimshaw" ordinarily brings to mind, but also crimpers and canes, umbrellas and swifts. If the arts of the sea and the sailor hold any interest, this comprehensive survey from the best collection in existence will keep you enthralled and is surely destined to be considered the last word on the subject for decades to come.