2019 in Hindsight: A Year of Pop Culture
By J.C. Vaughn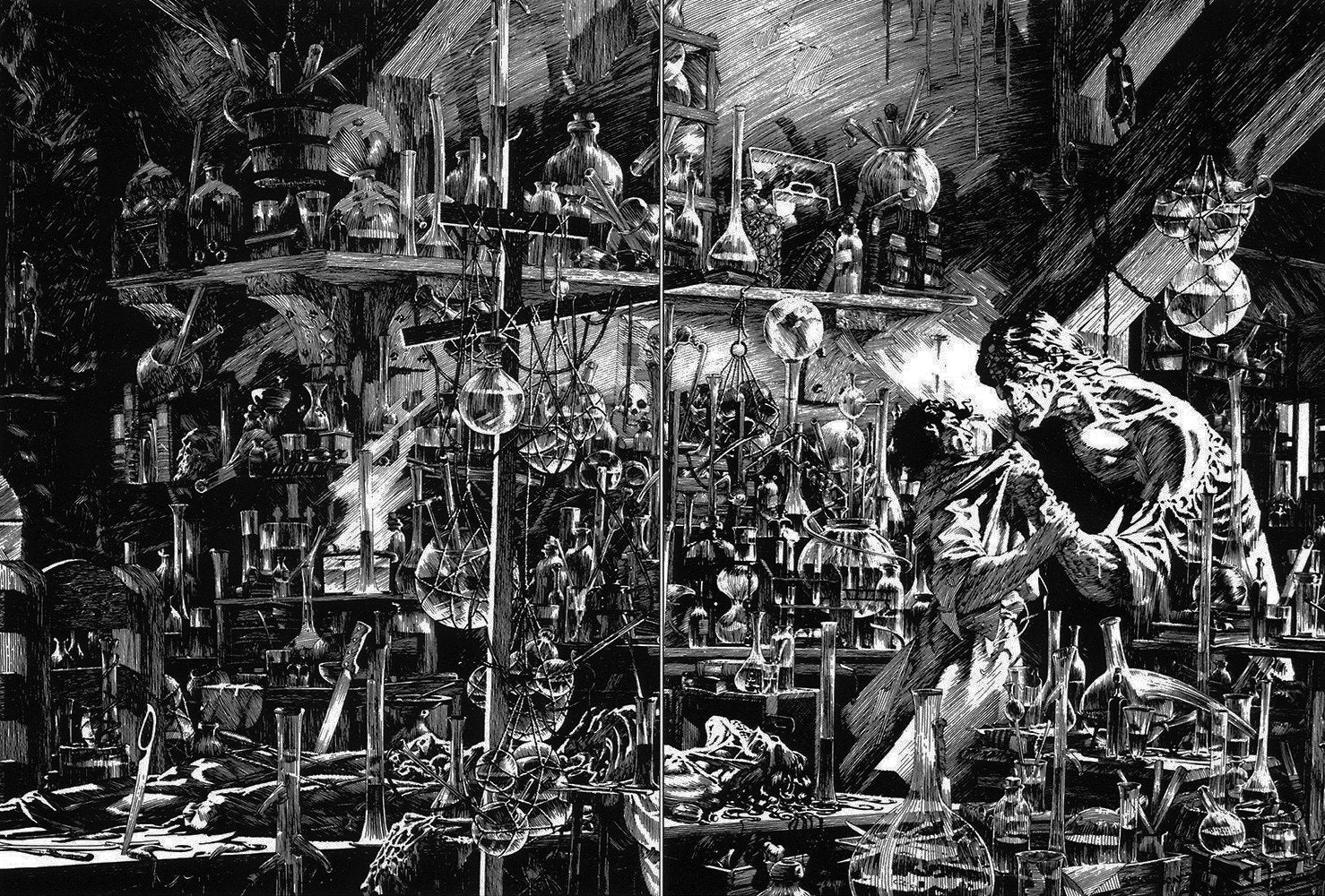 Bernie Wrightson's cover for his illustrated version of Mary Shelley's Frankenstein, published by Marvel Comics in 1983, sold for $1.2 million in 2019 at Profiles in History.

Looking back,
2019 may go down as a truly epic year for comic books, original comic art, and pop culture collecting in general. Not only did we see, as mentioned last month in this space, a CGC-certified 9.4 copy of
Marvel Comics
#1 (the highest-graded known copy, Windy City pedigree) sell for $1.26 million at Heritage Auctions, we also witnessed Profiles in History close Bernie Wrightson's original wrap-around cover art for Marvel Comics
Frankenstein
illustrated edition go for $1.2 million.
While by no means a comprehensive list, take a read of some of the standouts in original art and comic books for starters:
Spider-Man achieved some impressive sales when Todd McFarlane's
Spider-Man
#4 cover snagged $136,050 at ComicLink and Steve Ditko's
The Amazing Spider-Man
#37 page 8 grabbed $90,000 at Profiles in History.
The character's success carried over into comic books themselves as Spider-Man's introduction in
Amazing Fantasy
#15 had a CGC 3.0 go for $16,954 at Hake's and a CGC 9.2 hammered for $598,000, a record for the grade, at ComicConnect.
Batman likewise tallied significant numbers, including when ComicLink sold 2019's
Detective Comics
#1000 variant original cover by Frank Miller for $29,750. Heritage sold Neal Adams'
Batman
#251 original cover art for "The Joker's Five-Way Revenge!" story for $600,000.
As with Spider-Man, Batman's popularity was by no means limited to original art. Comics were led by ComicConnect's sale of
Batman
#1 CGC 8.0 for $498,000, Heritage's #1 CGC 5.5 sale for $210,000, and Hake's sale of
Batman
#1 and #2 bound comic volume for $22,420.
Across a wider spectrum, the cover of
Thor
#157 hammered for $71,000 at ComicConnect and Jack Kirby and Vince Colletta's
The Mighty Thor
#139 complete 16-page story "To Die Like a God" smashed its way to $90,000 at Profiles in History.
Hake's had two major Marvel team book sales, including Dave Cockrum's title splash page original art for
X-Men
Vol. 1 #95 that reached $75,673 and
New Mutants
#98 original art page by Rob Liefeld that went for $40,382.
ComicConnect had four major anthology sales, beginning with
House of Secrets
#92 page 9 for $66,500 and page 10 for $72,222. They also sold the cover of
Marvel Premiere
#17 for $24,833. ComicLink also saw success with anthologies when Michael Kaluta's cover for
Epic Illustrated
#4 clinched $64,000.
In comics themselves, a CGC-certified 9.4 copy of
Captain America Comics
#1 (San Francisco pedigree) flirted with the million-dollar mark and closed $915,000 at Heritage. A CGC 7.0 achieved $243,000 at ComicConnect and a CGC 6.0 snagged $175,000 at ComicLink.
ComicConnect sold two copies of
Action Comics
#1, featuring Superman's introduction. A CGC 9.4 R (Restored) went for $252,000 and a CGC 8.5 R reached $314,002.
Star Wars & Genre-Related
Star Wars toys continued to bring in some astonishing prices at Hake's, who sold a Boba Fett J-slot rocket-firing prototype for $185,850, setting a new world record. Hake's also sold a Ben Kenobi double-telescoping 12-back figure AFA 70 for $64,900, a Darth Vader double-telescoping 12-back figure AFA 75+ for $62,823, and a Meccano Star Wars Jawa (vinyl cape) 12-back AFA 80+ for $32,450.
A Star Wars #3 original comic page by Howard Chaykin went for $33,748 at Hake's, which was likely a record for a Star Wars page.
Profiles in History hosted Hollywood memorabilia auctions and sold Darth Vader's helmet, face mask, and chest armor from The Empire Strikes Back for $300,000. The Jupiter 2 miniature spaceship from Lost in Space sold for $216,000 and the Zuni Hunter puppet from Trilogy of Terror grabbed $204,000. The Shakespeare bust from the 1966 Batman show hit $192,000 and Lynda Carter's signature costume from Wonder Woman lassoed $132,000.
Prop Store had an impressive sale of movie props and costumes, led by Ralph McQuarrie hand-painted Darth Vader and Death Star illustration art for $213,675, a Stormtrooper helmet from A New Hope rose to $198,412, and the ax Jack Nicholson used in The Shining sold for $213,675.
Movie Posters & Video Games
eMoviePoster sold a Master Mystery chapter 3 one-sheet for $23,956 and a chapter 9 one-sheet for $28,500, King Kong French one-panel for $24,500, La Dolce Vita Italian two-panel for $19,388, War of the Worlds half-sheet for $17,100, Monkey Business window card for $16,075, and a Star Wars trilogy one-sheet for $9,588. Heritage sold a
Wolf Man insert for $96,000, The Wizard of Oz style "A" half-sheet for $108,000, and Dracula jumbo lobby card for $192,000. Profiles in History sold Robert McCall's original poster concept art from 2001: A Space Odyssey for $132,000.
The video game collecting market saw significant growth in 2019 with sales led by Heritage. They sold a Mega Man ("Dr. Wright" first release) WATA 9.4 A+ sealed game from the Carolina collection for $75,000, Donkey Kong 3 (variant sealed hang tab) WATA 9.2 "A" for $28,800, and Nintendo World Championships WATA 5.5 for $26,400.

J.C. Vaughn is Vice-President of Gemstone Publishing. Gemstone's Amanda Sheriff contributed to this column.