by J.C. Vaughn
In recent discussions, a handful of auction houses and high-end comic book insiders confessed that in the early days of the
COVID-19 pandemic they really didn't know how the market was going to go. Within a couple of weeks, though, it became clear that at least some of the people staying home were turning to collectibles.
We've clearly seen this in the comic book market and other pop culture niches, where fans have been taking the "fun" money they budgeted for going to conventions and spending them instead on collectibles, some of which might normally have been considered outside of their budgetary ranges. It hasn't all been record-setting transactions, but neither has it all been bargain basement adventures either.
MOVIE POSTERS AT HERITAGE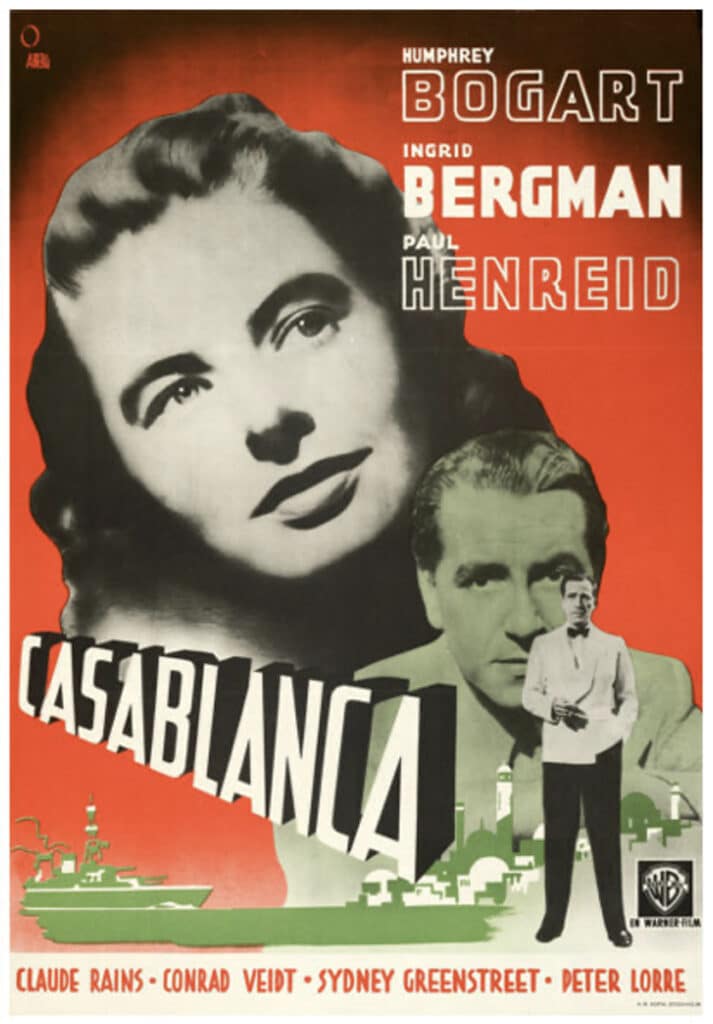 This seems to be true for movie posters as well. Heritage's July 25-26, 2020 movie poster auction achieved some great prices, led by a scarcely seen (so to speak) Invisible Man teaser for the 1933 classic that scared up $228,000. The auction drew the attention of over 1,700 bidders and brought in a total of $2.3 million.
"The sale was very active," Grey Smith, Heritage's Director of Vintage Posters, said. "A large number of bidders participated, there were strong results overall – and some records set."
Most items exceeded their pre-auction estimates, according to Heritage. One was the Swedish one-sheet for Casablanca, which nearly tripled its estimate to sell for $55,000. Bidders played it again for Casablanca with two chairs from Rick's Café Américain hammering for $78,000 – 10 times the estimate. Another big sale happened for that title when a lobby card set a record at $33,600.
Director Fritz Lang's masterpieces garnered some of the weekend's highest bidding. The German poster for 1931's M opened at $31,000 and was propelled to $108,000 – setting a record for the piece. A very rare Metropolis poster from the initial US release in '27 saw heavy bidding on its way to $66,000.
There were several record setters and more that exceeded estimates. An Italian two-sheet for the Hammer horror film Horror of Dracula opened at $9,000 and eventually set a record at $84,000.
The only known copy of the Sunrise one-sheet for F.W. Murnau's Oscar-winning 1927 movie brought $48,000. A one-sheet for 1919's The Master Mystery, featuring Harry Houdini was offered by Heritage for the first time, selling for $43,200.
Outside of movie artwork, a "Never Was So Much Owed by So Many to So Few" World War II poster named for a Winston Churchill speech achieved $45,600. According to Heritage, that is the most paid for a World War II propaganda piece.
Among the more modern offerings, a Pulp Fiction poster that was recalled for depicting Lucky Strike cigarettes without permission sold for $6,600. A Star Wars first printing printer's proof one-sheet also went for $6,600.
ACTION FIGURES AT HAKE'S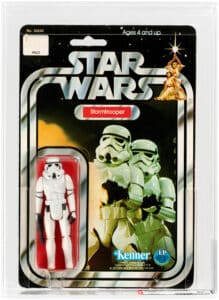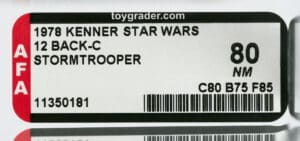 Likewise, the action figure arena seems strong, too. Hake's Auctions August 6 event, their first online-only action figure auction, reported strong results across the board. The offerings spotlighted more than 200 lots of figures from many popular
properties, predominately made in the 1970s and '80s. It was the biggest bidder turnout so far for one of their online exclusive auctions, prompting the top six lots to all exceed their estimates, some by a wide margin.
Collectively, Star Wars and Masters of the Universe figures led the auction, but plenty of great results were achieved for all lines, according to Hake's President Alex Winter.
"The demand for action figures has been high and the timing was perfect. As collections were coming in everything fell right into place which created a very diverse selection of items," Hake's Consignment Manager Kelly McClain said.
A Star Wars Stormtrooper 12-back-C AFA 80 on the punched card from Kenner's 1978 toy line took the top spot when it sold for $1,312, $300 over the high-end estimate.
Two more figures cleared the $1,000 mark, starting with a G.I. Joe Baroness Series 3 32-back CAS 75+ on an unpunched card from Hasbro's 1983 line that went for $1,024. A Transformers Series 3 Ultra Magnus with the City Commander: Ultra Magnus Autobot car carrier in a factory sealed box with upper flap intact closed at $1,000.
Star Wars figures provided many high sellers that also surpassed their expectations. An Empire Strikes Back Cloud Car Pilot 48-back-A AFA 80 NM on an unpunched card from the '82 line flew past the $100 to $200 estimate to hammer for $843.
An Ewoks Wicket W. Warrick unpunched blister card with the original price sticker that is Near Mint as packaged also realized $843, well over the $100 to $200 estimate.
The Empire Strikes Back Luke Skywalker (Bespin fatigues) 31-back-B AFA 75+ from 1980 on a punched card more than doubled the low-end estimate when it brought $826.
Masters of the Universe sales included a Moss Man Series 4 12-back CAS Y 75 from Mattel's '85 line that went for $520, a Fisto Series 3 12-back CAS 70 from '84 grabbed $519, and a Roboto Series 4 12-back CAS 75+ from '85 cleared $506. All three exceed their $200 to $400 estimates."We had an impressive turnout with surprising results across the board. The market is strong and this is a great set up for our next auction ending in September," McClain added.
Hake's September premier auction will go online Tuesday, September 1, 2020, and close on Wednesday and Thursday, September 23-24. It will be loaded with more action figures and related toys, which will be open for bidding during that period at hakes.com.
---
J.C. Vaughn is Vice-President of Publishing for Gemstone Publishing. Gemstone's Amanda Sheriff contributed to this column.