by John Sexton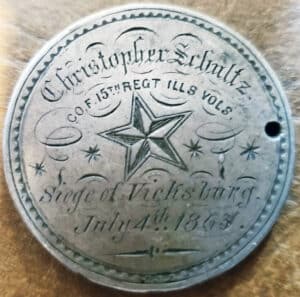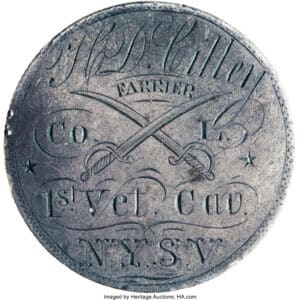 Q: Good afternoon Mr. Sexton, I came across your web page while researching an inscribed Seated Liberty $1. I have been able to determine that Charles Schultz was from Freeport and in Company F as a private for three years. It appears his regiment saw some extensive and fierce action during their campaign and many of them are buried at Arlington.
I did find that the famed collector, Mr. Alan V. Weinberg, has a small collection of such pieces that he has put together over the past nearly 50 years. However, I have not been able to locate anything similar or an auction record/sale that would give me an idea of value. Anything you might be able to offer me would be greatly appreciated! I thank you in advance for your time.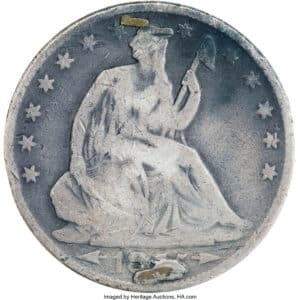 JS: Your inscribed silver dollar to Christopher Schultz is a fine piece of engraving. Similar Civil War-inscribed coins are scarce and quite popular among collectors. They are so popular, indeed, that fakes are prevalent in the market with Confederate IDs of well-known officers.
The spelling is correct, though one archive site has an incorrect spelling without the "c" in Schultz. Christopher Benjamin Schultz was born on December 20, 1839, in Mecklenburg, Germany. He entered service as a 22-year-old private on May 24, 1861, in Co. F., 15th Illinois Infantry. He served his entire three-year term, mustering out on May 24, 1864, at Huntsville, Alabama. Schultz was married three times and had 11 children. He died on August 9, 1909, in Papineau, Illinois at the age of 69 years old and is buried there.
Similarly inscribed silver dollars for use as ID pins are scarce to the market and will bring a premium over white, commercially made silver ID pins of the same era. Similar size, engraved, commercial ID pins of same quality sell between $1,000 and $1,500, typically.
I cannot find any auction comparables in the last few years, but Heritage Auctions did sell two cavalrymen ID pins in 2010. The better of the two, which is quite similar in quality to yours, sold for $4,000; the lesser of the cavalrymen pins sold for $2,200.
The collectible market was stronger in 2010, but for such a scarce item, I would still estimate $2,000-$3,000 and not be surprised to see it bring more in an auction.
---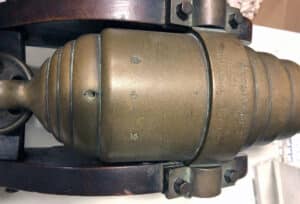 Q: We came across this at a recent estate sale we did, and we were wondering if it was anything valuable.
JS: Watson Brothers today is a well-respected brand of high-end, expensive, custom sporting arms and is still in business in London, having been founded in the 1800s.
This 24-inch bronze salute or signal gun on a naval-style carriage is copied after the British Armstrong gun and is most commonly referred to as a "yacht cannon." It is nicely engraved: "WATSON BROs / Gun & Rifle Manufacturers / Pall Mall LONDON".
We can date this bronze, custom yacht cannon from the address to between 1885 and 1894. The Birmingham black powder proofs are also proper to the date. The "5" refers to the bore.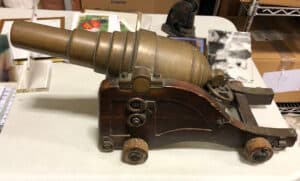 In that era, yacht guns were made by several companies. Similar muzzle-loading, primer-fired guns were more primitive than the Strong patent breechloaders that were just coming into the market (patented 1888) and replacing the muzzleloader.
Watson probably made few yacht guns as I cannot find another example sold. Similar muzzleloaders by other makers in similar condition on original naval-style carriages sell typically for $1,000-$2,000.
---
Q: I have this item I inherited from my father and wondering its origin and value?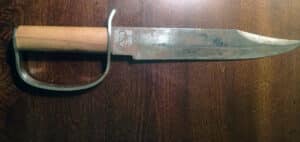 JS: Your knife is commemorative of the Civil War. I believe I have seen these marketed as such and other similar knives offered in the commemorative market for about $100-$200, often cased.
---
John Sexton is an independent appraiser and expert of Civil War memorabilia. He is an accredited member of various appraiser organizations. He can be contacted at 770-329-4984. If you have a Civil War item for him to appraise, email a photo and a description to mclwriter@gmail.com.