Ed Welch, Antiques Dealer and Monthly Contributor of "The Business of Doing Business" to The Journal of Antiques and Collectibles Passed Away October 7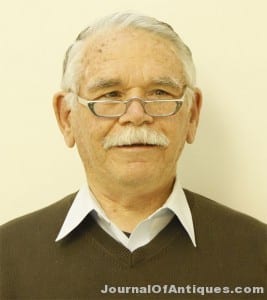 Ed was born in Pittsfield, Maine, January. 18, 1942 the son of Edward M. and Ola (Hamm) Welch, Sr.
Edward was a 1961 graduate of Waterville High School. He served in the U.S. Army and attended three and a half years of college during his military service time in Germany.  He was a former member of the Winslow Jaycees. He was a member of the Optical OAICC group of London, England. He was on the Charter Committee for the Town of Winslow.
Survivors include his wife, Marilyn (Lemelin) Welch of Waterville; two daughters, Tina Louise Clark and husband Stephen of Marion, MA. And Michelle Lynn Brousseau of Durham; a brother, Patrick R. Welch and wife Ruth of Benton; a half-sister, Kathy Lingard of Fall River, MA.; one step-granddaughter, Samantha Jane Clark; three grandchildren, Stephen Fay Brousseau, Edward Owen Brousseau, and Andrew Simon Brousseau. Donations in Edward's memory may be made to Salvation Army, 225 Main St., Waterville, ME 04901. Condolences may be expressed at gallantfh.com.
Ed analyzed the antiques business and developed specific tactics for success using principles that would normally be applied to other types of businesses. Throughout the years he wrote for The Journal many of our readers responded to his columns. In some cases they agreed with his philosophy and others did not, yet they all enjoyed the experience of reading Ed's columns. He was the Andy Rooney of the antiques community. He had strong opinions and he could support them with his personal experiences as a dealer.
Our mission statement as a publication has always been to "educate and cultivate a new generation of collectors and dealers". Ed was a great teacher in the world of antiques. Ed's was a familiar face to many in our trade. Ed attended hundreds of antiques shows as both a buyer and exhibitor. At Brimfield he was easily identified by his hat topped off with a sign announcing that he was "Buying Eyeglasses." He was a real pro at negotiation and enjoyed every nuance of the game.
We, at The Journal, would like to invite you to write in to tell us about your favorite columns written by our friend Ed over the years. We've included his current column,
"Selling the Things that Sell"
as we are sure Ed would have wanted you to have the opportunity to read it.
His wisdom and entrepreneurial spirit will be missed by many in the antiques community and his memory will live on through his articles that will continue to provide an education to generations to come.
Edward M. Welch, Jr., 70,
of Waterville, Maine died Sunday, Oct. 7, 2012 at Eastern Maine Medical Center in Bangor.