Ken's Korner: New York State is dusting off its past
Ken's Korner
New and Views from the World of Antiquing and Collecting
New York's statehouse Capitol building in Albany has been transformed from a stodgy structure filled with nondescript offices into a veritable museum, ever since Gov. Andrew Cuomo ordered the state to raid its attic and display historic artifacts that have been boxed up or in storage for decades. The free exhibit is meant to reveal history, directly and without pretense, and the people are responding by flocking to the marble halls that have stood for 130 years. The artifacts range from vintage cars to rare historical documents.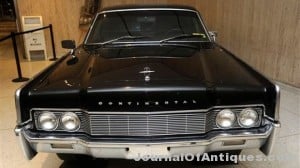 Some of the items on display include a 1762 slave bill of sale, the 1799 act to end slavery in New York (although slaves born before July 4, 1799 weren't free but were legally redefined as "indentured servants"), Gov. Nelson Rockefeller's stretch Lincoln limousine (shown), a device like a dumbbell shot from cannons in the days of tall ships, a 1966 Harley-Davidson motorcycle used by state police, Benedict Arnold's treason papers, items from key moments in the women's rights and labor movements and a 1931 Pierce-Arrow limousine.