by Maxine Carter-Lome
The Hudson Valley is one of the most recognizable landscapes in the country. Named after the river that Henry Hudson explored, the region is home to several iconic sites which have played an important role in our nation's history. Here are a few not-to-be-missed places to visit on your next trip along the River: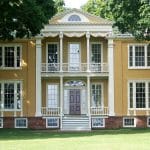 Boscobel Restoration – Garrison, NY. – boscobel.org
This elegant early 19th century Federal-style mansion has an outstanding collection of furniture and decorative arts of the period. The world-renowned gardens and 68-acre campus offer a breathtaking view of the Hudson River.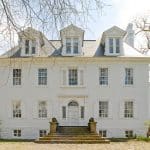 Clermont State – Historic Site, Germantown, NY – friendsofclermont.org
The original Clermont mansion was built by Robert Livingston around 1740 on land inherited from his father Robert Livingston, the First Lord of Livingston Manor, and was home to Robert R. Livingston, New York's first chancellor, the highest judge in the state under the original state constitution. The current site encompasses not only the mansion, rebuilt by Margaret Beekman Livingston and added onto by later generations, but over 500 acres of landscaped gardens, meadows, and woodlands.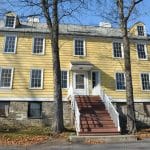 Historic Cherry Hill – Albany, NY – historiccherryhill.org
One of Albany's most recognizable landmarks, Cherry Hill was built in 1787 for Philip and Maria Van Rensselaer. Rare among this country's house museums, Cherry Hill's extensive and intact collection includes more than 70,000 items–decorative arts and furnishings, books, diaries, documents, clothing, bedding, photographs, and other objects reflecting daily life-all related to the family that lived here between 1787 and 1963. The Van Rensselaer-Rankin family amassed several lifetimes and several households worth of personal papers and possessions during their 176 years of occupancy at Cherry Hill. In 1963, when the last surviving family member died, the house and its contents became the Historic Cherry Hill Collection – an intact assemblage of one family's material possessions spanning five generations and over three hundred years of American history.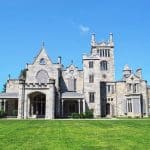 Lyndhurst Mansion – Tarrytown, NY – lyndhurst.org
Constructed in 1838 and located on a bluff overlooking the Hudson River, Lyndhurst is one of the U.S.'s most stunning examples of Gothic Revival mansions. The estate has been home to three prominent NYC families: former NYC mayor William Paulding, merchant George Merritt (who gave the estate its name for the many Linden trees on the property), and railroad tycoon Jay Gould. Each owner expanded and reshaped the property to their tastes, and today, it is home to a massive collection of art, antiques, and furniture, many of which were designed by architect Alexander Jackson Davis.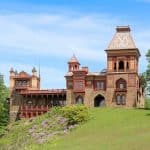 Olana – Hudson, NY – olana.org
Olana State Historic Site is a historic house museum and property, and home to Frederic Edwin Church, one of the major figures in the Hudson River School of landscape painting. The main house looks as it did in the 1890s and is fully decorated with paintings, sculpture, and furnishings that Frederic and Isabel Church acquired and surrounded them and their children, servants, and guests in their daily lives. The collection was described by a 19th-century visitor as "a museum of fine arts rich in bronzes, paintings, sculptures and antique and artistic specimens from all over the world."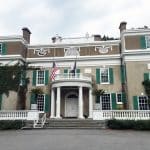 The Franklin D. Roosevelt Home – Presidential Library Museum, Hyde Park, NY – nps.gov/hofr
This was the lifelong home of President Franklin D. Roosevelt, and both he and his wife Eleanor are buried here. This is also the site of the country's first national presidential library, which was commissioned by FDR, as well as Eleanor Roosevelt's home, Val-Kill Cottage. The museum contains extensive displays on the lives and careers of both Franklin and Eleanor.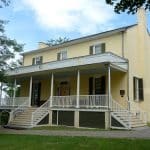 Thomas Cole National Historic Site – Catskill, NY – thomascole.org
The Thomas Cole National Historic Site marks the birthplace of American art, where the Hudson River School of landscape painting began. Visit the residence and studio of 19th century artist and founder of the Hudson River School, Thomas Cole, and tour the galleries of oil paintings and rooms filled with Cole artifacts and period furnishings.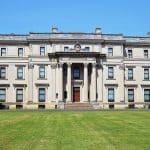 Vanderbilt Mansion National Historic Site – Hyde Park, NY – nps.gov/vama
This Gilded Age gem, one of the region's oldest Hudson River estates, was built at the turn of the century for Frederick William Vanderbilt. It is a masterpiece of American Beaux-Arts design by the distinguished architectural firm McKim, Mead & White. Hyde Park provides a glimpse of estate life and the world of the American millionaire during the Gilded Age.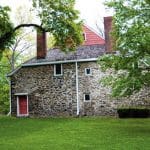 Washington's Headquarters State Historic Site – Newburgh, NY – parks.ny.gov
This is the nation's first publicly owned historic site. Tour the rooms where American history was made. From April 1782 to August 1783 General George Washington, Commander-in-Chief of the Continental Army, made his headquarters and residence at Jonathan and Tryntje Hasbrouck family's fieldstone farmhouse in Newburgh. It was the longest he stayed at any headquarters throughout the 8 1/2 years of the American Revolution, during which time he rejected the suggestion of an American monarchy, created the Badge of Military Merit – forerunner of the Purple Heart, and announced the Cessation of Hostilities, which ended the fighting of the Revolutionary War. The Hasbrouck house is furnished to reflect Washington's stay and is open for guided tours.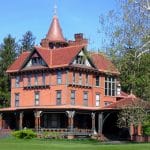 Wilderstein  – Rhinebeck, NY – wilderstein.org
Wilderstein was the home of Margaret Suckley, a cousin and confidante of Franklin Roosevelt, and is widely regarded as the Hudson Valley's most important example of Victorian architecture. Three generations of Suckleys occupied Wilderstein, amassing personal and ancestral effects that attest to the lively social history of the estate, its family and their relationship to the Hudson Valley. The large collection of books,letters, photographs, furniture, paintings, art objects and china at Wilderstein are of great interest to both scholars and casual visitors.
Reliving Life Along the Hudson River