Ken's Korner: N.H. governor's home gets a total makeover
News & Views From the World of Antiques & Collectibles
By Ken Hall
Not long after New Hampshire's Democratic Gov. John Lynch took office in 2004, his wife Susan took it upon herself to spearhead a fund raising drive to transform the neglected but historic state's official executive residence in Concord into a beautifully restored showpiece. Only now, just as Gov. Lynch prepares to leave office, has her dream been realized. The 1835 structure – known as the Bridges House, because it's where former Gov. Styles Bridges lived from 1964-1961 – has been returned to its former glory.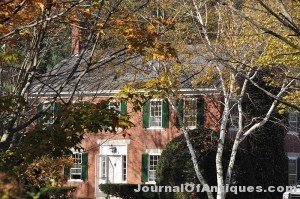 The two-bedroom, brick Greek Revival house underwent extensive modifications. The '70s-era harvest gold appliances and shag carpeting were tossed out, an old barn was torn down and replaced with a formal great room, a porch was converted into a dining room and the kitchen was doubled in size. Perhaps most important, New Hampshire materials and artists are featured extensively throughout the residence. Large paintings of New Hampshire landscapes flank the fireplace, and antique furniture was reupholstered in silk.