Civil-War Era Textiles Offer a New Perspective on America's Past at the New York Historical Society
Homefront & Battlefield: Quilts & Context in the Civil War
On View April 4 – August 24, 2014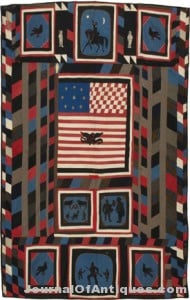 NEW YORK, NY (February 4, 2014) – This spring, the New-York Historical Society will contribute to the nationwide conversation on the sesquicentennial commemoration of the American Civil War (1861-65) with the exhibition Homefront & Battlefield: Quilts & Context in the Civil War. On view from April 4 through August 24, 2014, the exhibition offers a new perspective on the most divisive period in American history, reflecting the personal sacrifice, heroism, mourning, and reconciliation that changed the course of the nation.
Featuring approximately 130 objects, including textiles, clothing, artifacts, and images, Homefront & Battlefield examines how textiles were both an expression of and a motivating force behind American politics and culture. Organized by the American Textile History Museum, in Lowell, MA, where the show debuted in 2012, this presentation will feature additional significant artifacts from New-York Historical's collection, curated by Margi Hofer, curator of decorative arts at the New-York Historical Society.
"Homefront & Battlefield will once again demonstrate New-York Historical's signature initiative to frame history with art, telling the story of the Civil War era through abolitionists' slogans on silk handkerchiefs, plantation owners' deals with Rhode Island mills for rough wool to clothe slaves, and needlework stitched by patriotic women on both sides in support of the war effort," said Louise Mirrer, President and CEO of the New-York Historical Society. "We are so pleased to present this exhibition in New York and share highlights from our collection, to commemorate the 150th anniversary of the Civil War in a unique way."

Exhibition Highlights
Among the exhibition highlights on view at New-York Historical is a large-scale silk banner for the 39th Regiment New York State Veteran Volunteers (ca. 1861), rescued by Lieutenant Kiliaen Van Rensselaer IV from a wounded flag bearer at the Battle of Sutherland's Station during the Appomattox campaign. Also on view are simple objects with powerful symbolism, such as the hemp rope noose said to be used to hang abolitionist John Brown, who was convicted of treason, murder, and inciting a slave rebellion.
Homefront & Battlefield features incredibly detailed quilts, such as the "Reconciliation Quilt" (1867) by Lucinda Ward Honstain of Brooklyn, which commemorates the Civil War and chronicles post-war life. The appliquéd and embroidered blocks feature the American eagle, Stars and Stripes, soldiers and sailors (her husband, John, was a major in the 132nd New York Infantry), and their home and farm animals, as well as African Americans, including a man addressing a white man on horseback, saying "Master I Am Free." Another quilt (ca. 1865) depicts Union Zouave militiamen in their elaborate, North-African inspired attire of pantaloons and long sashes. Likely for a soldier returning home from war, it is made from the distinctive red, blue, and checkered fabrics used in the Zouave uniforms stitched at the Schuylkill Arsenal in Philadelphia, the first and one of the largest public enterprises operated by the army to uniform the troops.
Personal articles of clothing on view include a Union officer's wool uniform jacket (ca. 1862), worn by Lieutenant William Henry Shelton of the 1st Regiment New York Light Artillery throughout ten months of imprisonments and escapes in Georgia and South Carolina.  A "free labor" dress (1850s)—made of a conservative brown wool/silk blend and lined with calico—was worn by Rachel Robinson of Ferrisburgh, Vermont, a devout Quaker and abolitionist. With her husband, Robinson sheltered and employed runaway slaves and refused to purchase goods made with slave labor.
Related Programs
New-York Historical will present a number of public programs related to the Civil War, including:
–   a series of talks about "Great Battles of the Civil War," moderated by Harold Holzer, focusing on Gettysburg (February 6), Shiloh (April 3), Fredericksburg (May 21), and the Wilderness and beyond (May 28)
–   a talk by author Lewis E. Lehrman on Lincoln's rise from a son of a poor frontiersman to one of the most celebrated leaders in American history (April 23)
–   a conversation with Harold Holzer, author of The Civil War in 50 Objects, and historian Eric Foner that explores the Civil War through artifacts in New-York Historical's renowned collection (May 1)
–   a talk by author Michael Korda about the life and legend of Robert E. Lee (May 27)
–   a conversation featuring James Oakes, author of The Scorpion's Sting: Antislavery and the Coming of the Civil, and historians Edna Greene Medford and Harold Holzer on slavery and the Civil War (June 5)
–   gallery tours of Homefront & Battlefield led by exhibition co-curators Lynne Zacek Bassett (April 14) and Madelyn Shaw (April 21), as well as by Sotheby's Director of the American Folk Art Nancy Druckman (June 16)
Homefront & Battlefield was organized by the American Textile History Museum with support from The Coby Foundation, Stockman Family Foundation and Mass Humanities. Exhibitions at the New-York Historical Society are made possible, in part, by the New York State Council on the Arts with the support of Governor Andrew Cuomo and the New York State Legislature, and are supported by the Saunders Trust for American History.
Following New-York Historical's presentation, the exhibition will travel to the Shelburne Museum, Shelburne, VT (September 20, 2014 – January 1, 2015) and the Nebraska State Historical Society, Lincoln, NE (February 1 – June 30, 2015).
About the American Textile History Museum
An affiliate of the Smithsonian Institution, the American Textile History Museum in Lowell, MA, tells America's story through the art, history, and science of textiles. In addition to the core exhibition, Textile Revolution: An Exploration through Space and Time, ATHM presents ongoing and rotating special exhibitions, exploring the world through the lens of textiles, from the fashions of Hollywood and Princess Diana to the haunting personal stories of Vietnam and the Civil War. ATHM holds the world's largest and most important collections of tools, spinning wheels, hand looms, and early production machines, as well as more than five million pieces of textile prints, fabric samples, rolled textiles coverlets, and costumes.
About the New-York Historical Society
The New-York Historical Society, one of America's pre-eminent cultural institutions, is dedicated to fostering research and presenting history and art exhibitions and public programs that reveal the dynamism of history and its influence on the world of today. Founded in 1804, New-York Historical has a mission to explore the richly layered history of New York City and State and the country, and to serve as a national forum for the discussion of issues surrounding the making and meaning of history.
Press Contacts
Laura Washington
New-York Historical Society
(212) 873-3400 x263
lwashington@nyhistory.org
Julia Esposito
Polskin Arts & Communications Counselors
(212) 715-1643
julia.esposito@finnpartners.com