by Maxine Carter-Lome, Publisher
---
In the summer of 1854, inside an enormous four-story brick house at the corner of Main and Andover in Ludlow, Vermont, Ella-Elizabeth Spaulding joyously prepared for her approaching wedding and move west. Ellen, as she was called by all her friends and family, thought back to those exciting spring days several months earlier, when her first cousin Willard Reed had come from his home in Chelmsford, Massachusetts, to ask for her hand in marriage. She had known him for as long as she could remember from his family's visits to the Spauldings. But Ellen had never known him to be so happy or enthusiastic as he was now at twenty-one, with all his plans and dreams of getting rich in the West.
Ellen and Joseph married on September 5, 1854, and as a wedding/going-away gift, Ellen's family and friends presented her with a 91" x 96" album patch friendship quilt made of pieced cottons and hand-painted chintz. The quilt was her link with all that she was leaving as she and her husband headed west to begin their new life, together.
– From Remember Me: Women & Their Friendship Quilts, by Linda Otto Lipsett.
---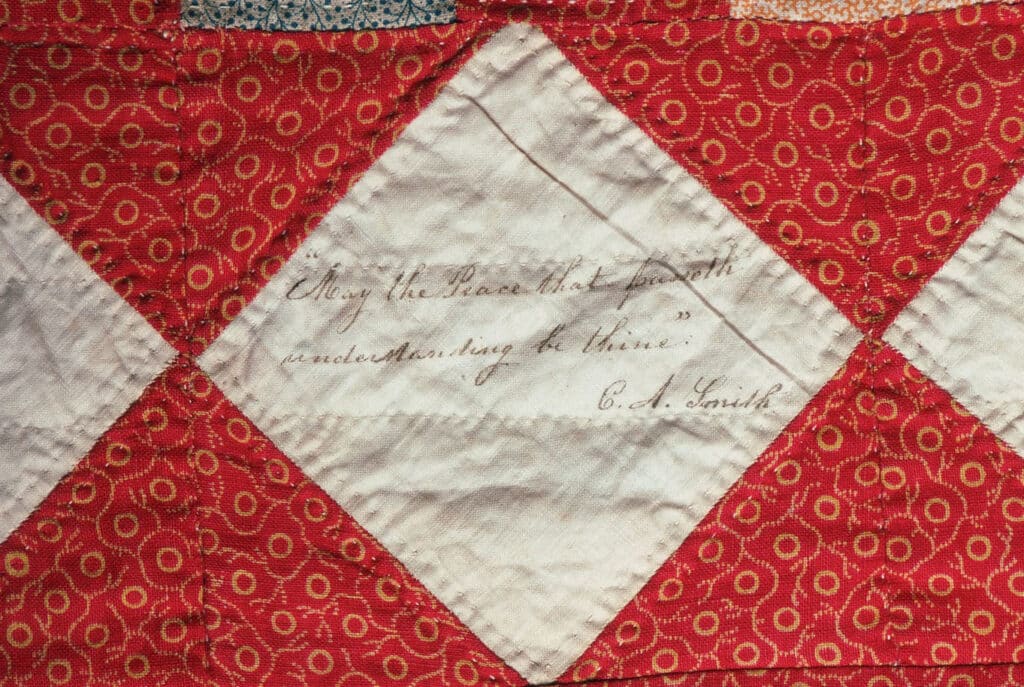 Long before Facebook and photographs, friendship quilts were created for a family member or friend moving away as a tangible reminder of those left behind and times shared together.
Quilt historians date the tradition of friendship quilts to the 1840s and their association with autograph books or albums that were popular at the time. Girls and boys, as well as young men and women, owned small autograph books to gather the signatures of friends and acquaintances as a way to remember their times together. Often those signing the pages of these books included prose, sentimental phrases, or artwork along with their signatures. Friendship quilts are considered the textile equivalent of these autograph books.
Friendship quilts are made up of a patchwork design of individual squares or blocks, often from available fabric scraps or a piece of fabric from an item of special significance such as a wedding dress or a fabric used in a dress in the bride's trousseau. Participants in the gift would sign a square, and sometimes include a date or sentimental message such as "remember me." In some communities, including those made up of Old Order Mennonites and the Amish, mailing addresses were likewise added to the signature squares. While most quilts included only the names of women, some also included the names of children and men.
Not always did the person's signature come from that person's hand. Sometimes the group creating the quilt would select someone with the most beautiful handwriting to make all the signatures. Or in some cases, a quilter would collect a variety of fabric from other women, piece the block, and then sign the block with the name of the person who contributed the fabric.
The finished squares were then stitched together by either a group of women or by one designated quilter to create the finished gift, although in some instances the recipient was presented with just a quilt top or a set of signature blocks to take with them to finish the quilt at a later date in time.
Most 19th century signatures were written with indelible ink while in the 20th century they were often embroidered. Eventually, makers began using blocks pre-stamped with embroidery designs, to which the names could be added.
Types of Autograph Quilts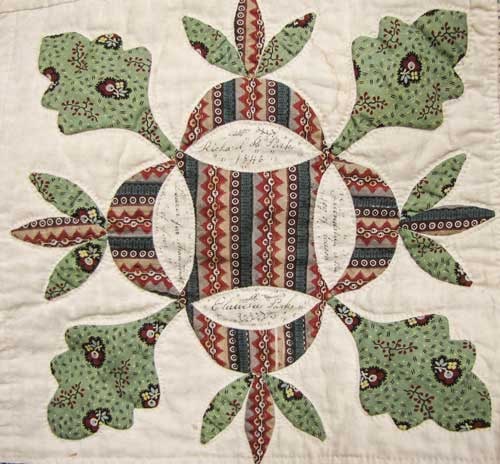 While the most familiar friendship quilts are those composed of the signatures of friends and loved ones, not all signature quilts were friendship quilts. Some were made to raise funds for various causes from missionary work to supporting troops during a war. The finished quilt may have been auctioned off or people may have paid a fee to have their name placed on a block in the quilt.
There are two distinct kinds of autograph quilts: single pattern quilts, often referred to as "friendship quilts," and more formal quilts made of different blocks, often referred to as sampler "album quilts." Although both featured the same tradition of signed remembrances, they were quite different in their makeup and design. Sampler album quilts were made up of several unique intricately pieced or appliquéd blocks. A friendship quilt was usually made of several blocks from the same pattern and often made from scraps of available material. Although the terminology is an identifier, both types of autograph quilts share the intended purpose of associating one's name and sentiments to a remembrance gift.
This personalized form of expressing love, appreciation, and friendship, and the coming together of women in this socially approved way, made signed quilts a popular gift in the late-19th and early 20th century for a range of purposes:
Bridal quilts given as a gift to brides upon marriage from family members.
Freedom quilts given to a young man on his 21st birthday. His family and friends might have celebrated with him by making him a quilt as he left home to begin his life as an independent man.
Presentation quilts given to honor a member of the community. These Presentation quilts were made by the quilt recipients' friends, or social acquaintances, and were presented to a prominent or popular figure. A recipient might be a church pastor or his wife, a favorite school teacher, a doctor, or a respected social figure.
Album quilts given to a family member or friend moving away from the area as a remembrance of their loved ones back home.
Fundraising quilts were made to raise money for an organization or charity endeavor, most often a church. For a monetary contribution, your signature or name would be applied to the quilt, along with the names of other contributors. These quilts are recognizable by the dozens or even hundreds of signatures on the quilt. Often the signatures are the only design elements on the quilts.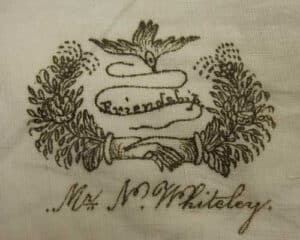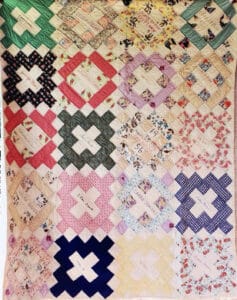 Women's Work
Historically, quilting has been practiced by and associated with women. This could be because the sewing skills needed to make a quilt have always been an integral part of women's lives. Learning how to sew was such an important skill for girls to have that it was taught and practiced in the home and at school starting at an early age.
The fact that women of all classes knew how to sew and quilt in the 19th century made sewing and quilting bees a popular and appealing way for women, particularly those isolated on their farms and ranches, to gather socially with other women and families. In addition to the project at hand, these social work parties provided a time for laughing and gossip; a way to catch up on the goings-on, exchange recipes, and give and get advice.
Quilting bees were usually all-day events held typically in the spring or summer, with entire families traveling the distance to participate. While the women sewed, the children played, and the men socialized. The quilters arrived early in the morning and began to quilt. After a morning of quilting and conversation, an elaborate lunch was served. After lunch, the quilting resumed. Since there was rarely enough room inside the house to set up a quilt frame, the quilting was often done outside, on the porch or under a shade tree, with the children playing nearby. Diaries and letters written during the 19th century describe day-long bees that included evening suppers, sing-a-longs, and dances in addition to quilting. A big gathering could include multiple generations of quilters, as well as their husbands and children!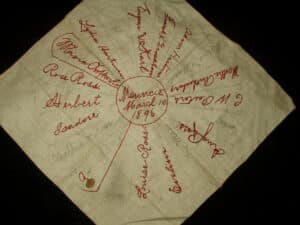 While bees were a common way and reason for scattered families to reunite, some bees were formed for a more specific purpose, such as church quilting bees that used their projects to raise money for the church, fund missionaries, support the troops, and recognize prominent guests and citizens. And while the intent was the same, to build community among women, some quilting bees became somewhat exclusive along the lines of social class and skill level.
Women took pride in the handiwork shown on their quilts, even on the mainly utilitarian (these were usually less decorative) ones, such as friendship quilts. This does not mean that the lesser skilled quilters were not invited to some quilting bees; in fact, they were simply given tasks such as threading the needles or cooking a meal.
A Signature Legacy
Unlike the vast majority of historic quilts which feature no makers' name or attribution, friendship quilts are a cultural artifact that can provide historians with a blueprint of sorts to trace and tell the story of everyday women coming together to create a lasting, tangible representation of the love and affection they had for its intended recipient. Regardless of the quality of textile and thread used, level of craftsmanship, or penmanship skills, the warmest thing about these quilts are the people and memories invested in their creation.