By Kary Pardy, writer of "Exploring Antique Technology"
Mickey Mantle's baseball, a celebrity-signed photograph, the copy of the Declaration of Independence from your relative's attic: the value of each of these items lies in its authenticity. Forgers go to great lengths to dupe collectors, but unfortunately, several other roadblocks are not inherently sneaky. Collectors of written materials need to be extra cautious – there is a wealth of information in the tiny details of a signature, and knowing what to look out for can protect you from forgers and yourself.
Forgery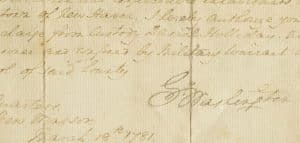 In the 1990s and early 2000s, the FBI investigated that forged sports memorabilia was an over $100 million market, leading to Operation Bullpen, an undercover sting that brought down 18 forgery rings. Author Kevin Nelson wrote that the forgers were well-trained and well-read; Babe Ruth signatures were done with vintage pens and period-appropriate ink on baseballs that were aged with shellac for color then left in a bag of dog food for that musty, old-stuff smell. The conspirators practiced and specialized in specific signatures. According to the FBI, one forger joked to an undercover agent that Mickey Mantle still had one arm outside the grave signing autographs. The sports and celebrity memorabilia markets can rake in upwards of a billion dollars annually, and even though Operation Bullpen was a heavy blow and led to dozens of convictions, the market is too enticing for a new crop of forgers not to try again. Knowledge, a magnifying glass, and when needed, a trusty expert are your best defenses.
Freehand Forgery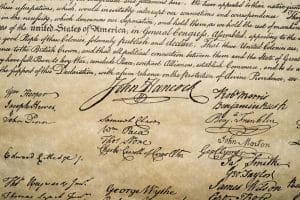 No matter the age of your handwritten materials, the most common method of forgery to be cautious of is the freehand method, followed by tracing using tracing paper. Tracings are easier to detect. You can sometimes see evidence of slow, unnaturally deliberate handwriting in shaky letters and pen lifts between each character. You may see retouching or one signature that compares too closely to another. When signing documents, few genuine signatures are identical. The freehand method, when done well, has fewer telltales. The collector should start by assuming that all signatures or handwritten items are fake until multiple pieces of evidence say otherwise. You are looking for the correct style, the right tools, and an excellent backstory. Forgers may use some of these items against you (such as the period-appropriate ink in Operation Bullpen), but rarely can they hit all the right notes.
Provenance
Your first step should be to dig into a piece's provenance. Ideally, look for items that come from a reputable dealer or have a good (and hopefully, complete) story behind how they were obtained. The Raab Collection offers an example regarding the dangers of missing details: a young woman at a Beatles concert gave their manager, Neil Aspinall, a program for the band to sign. She saw him go into the band's dressing room and return ten minutes later with their signatures. Decent provenance of a real concert signature, right? What she didn't see, however, was that Aspinall had expertly forged the Beatles' signatures behind closed doors, reinforcing that the best signatures are always those you saw happen!
Visual Comparison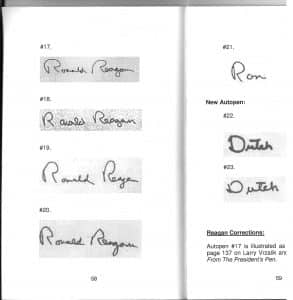 If the provenance is in your favor, move on to the visual comparison test. Several high-dollar autographs or letters have published examples that you can use for reference. Always look for unique flourishes in a person's writing that may set them apart from the "perfect penmanship" of the time, particularly with older penmanship. When learning to write, students were trained much more meticulously than children today and they worked off of a small number of penmanship books, making similarities the rule rather than the exception. Instead, check for what makes this person's script unique in the published examples (consistency is key!), and compare your signature through this lens.
Mechanics
Your next clue lies in the mechanics of your piece. When someone writes naturally, they may be hurried, or at least write with comfort and ease. Does the writing look fluid, or is the ink heavy and can you see overly emphasized stops and starts that might indicate someone was taking time to make each letter-perfect? Does it look like a drawing or like something automatic, as it should?
Materials Used
Also, examine the paper and ink for period correctness. As discussed in more detail in the article "Papermaking, Preservation, and Conservation" in the October 2019 issue of Journal of Antiques and Collectibles, paper from the 17th and early 18th century was "laid," referencing a paper-making process that utilized a mold and wire sieve, the later which imparted the final sheets of paper with a ribbed texture that you can see best when you hold a sheet of laid paper up to the light. Paper specialists can use the pattern of these ribs to date paper fairly accurately, and telling watermarks can take authentication one step further.
Paper size is also important and can point to an anachronistic signature or letter, particularly in older documents. Raab Collection specialists suggest that our founding fathers would not have written on paper smaller than 8" x 10", using instead 9" x 12" or 14", or folded from an 18" x 12". During the Jefferson administration they preferred smaller sizes, so you will see documents that look more like our standard sheets. Small notepads only gained popularity from the mid-19th century onward. Envelopes did not come into general use until the mid-19th century as well. Previously, letters were folded into squares of about 4" x 5" and then addressed on the back. Look for folds of approximately this size if you are hoping your document is earlier than 1840.
Moving from paper to analyzing your ink is the next option, but this is a step usually reserved for special pieces, as you would need to call in an expert. There are great authentication clues in ink and pen styles, but they lend themselves to specialist evaluation until you can read pen styles in each particular stroke. A basic timeline of pen technology is as follows: Quills transitioned to metal-tipped pens around 1840, but the pens did not have the same reservoir that you get with feathers, resulting in more dipping, and usually, more dripping. The fountain pen did not come on the scene until the late 19th century. Ballpoints were introduced in 1945 and the felt tip in 1962, but both took a few years to gain traction. Fine markers appeared in the 1970s and extra-fine permanent markers in the 1990s. As for ink colors, before the mid-19th century, inks were typically made with iron, so they took on a brownish cast. Blue was rarely used before 1850, and pencil autographs were unlikely before 1850 as well and should be treated with suspicion.
Overall, always suspect forgery until enough pieces of evidence come together in your favor, but approach each signature or document with common sense. If it looks too good to be true, it usually is, but you can always call in an expert to do a little digging on your behalf. Collectors also need to be cautious of signatures and documents that were not created to scam but could result in financial losses all the same. Autopens, facsimiles, and computer-generated signatures saved many celebrities' hands, but will also be much less valuable than the real thing. Luckily, there are a few tricks that collectors have to spot this type of false signature.
Machine-Generated Signatures
When Jacqueline Kennedy needed to sign thousands of condolence letters in the wake of her husband's passing, she turned to an autopen, which is a machine that incorporates a real pen and ink to draw an exact replica of a signature. In use since the mid-20th century, autopens are a savior to many public officials and celebrities who have too many pieces of correspondence to sign personally. To use one, a staffer loads a template of the desired signature into the autopen machine, which then signs every document fed into it with a signature that precisely mimics the template. Thankfully, many famous autopen signatures are documented and can also be spotted because they are exact replicas of another signature, down to the length and size, something that would never happen naturally. If you have no access to reference materials, you can sometimes spot an autopen by close viewing of the autograph. By nature, autopens have very precise stops and starts, they come down with a dot and end with a dot. Particularly in early examples, you can see extra ink deposits from when the pen was set to paper and where it was left a bit longer than natural before being picked up.
Stamps are another culprit, though these have their own telltale marks. You can sometimes see press marks or air bubbles and there is no flow to the ink.
The Facsimile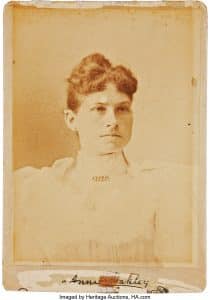 Possibly the most problematic mechanism of signature copying is the facsimile. While several were never intended to fool, they can pop up without context and if they have aged well, they may trick a collector all the same. Facsimiles can be some of the hardest mechanical modes to authenticate, but here are some patterns that may help you determine if a signature might be a fake and require a closer look by an expert.
First, turn to your trusty magnifying glass. Does the signature look like ink up close; does it flow and bleed or does it have sharply defined edges or a printed texture? You will also want to note the context of the autograph. Have you ever noticed a steel engraving in a 19th-century book with a corresponding autograph below it? These are in black ink and are straight and centered below the photographs, a correct signature but recognizable as a fake given the placement.
Salutations are also critical. Presidential letters or "form" correspondence from heads of state without personalized salutations are often facsimiles. Don't be fooled if the ink color of the signature is different than that of the letter. If you collect this type of document, look for impeccable provenance in these cases, and the more personal "Dear Mike," or something similar instead of "Dear Friend," or no salutation at all.
Forgeries Outside the Collecting Realm
Antique collectors are not alone in their quest towards signature authentication; the financial world is invested as well. In 2017, journalist Kim Zetter reported on an Israeli company that was developing an application to fight check fraud. American banks lose more than $600 million annually to fraudulent checks, and one-third of those loses are reportedly due to forged signatures. Teams at the Ben-Gurion University of the Negev and Tel Aviv University joined forces to develop an app that verifies handwritten signatures with data provided by devices like your fitness tracker or smartwatch. The app requires the person, wearing a compatible device, to provide a baseline signature. The app will track the person's unique signing pattern, including wrist flourishes, signature angle, and timing, and will apply that to future signatures to check for fidelity, with a reported 95% accuracy. This type of technology could one day help monitor celebrity signatures as everything moves into the digital age. But until we get more high-tech, accessible tests for autographs from the past, the best we can do is arm ourselves with knowledge and the phone number of a reputable expert.
For more information, visit The Raab Collection online at raabcollection.com. You can also consult Founders.archives.gov for a background check on your Founding Fathers' signature. With a large listing of documented letters, this website could help you determine if your letter is a copy by providing the location of the original.