by J.C. Vaughn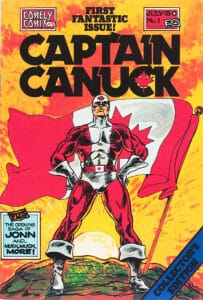 With everything that's happened in 2020 thus far, pretty much any day seems like a good day to pause and think about good and interesting things, or at least things less serious than the world around us. The Canadian comic book scene, for instance, is very interesting in that it has always paralleled its American cousin, but it's also had its own unique aspects.
Protecting Canada for 45 Years: Captain Canuck
Captain Canuck, the patriotic Canadian superhero, celebrates his 45th birthday this year. Created by cartoonist Ron Leishman and artist-writer Richard Comely, the stalwart hero was introduced in Captain Canuck #1 (July 1975), published by Comely Comix. The series ran off and on until 1981, followed by several other iterations including Captain Canuck Reborn, Captain Canuck Unholy War, and Captain Canuck Legacy.
A few different characters have taken the name of Captain Canuck, each possessing superstrength and superspeed. The first was Tom Evans, a costumed secret agent of the Canadian International Security Organization who gained powers from contact with extraterrestrials. It was set in the then-future of 1993 when "Canada had become the most powerful country in the world." Drawn mostly by George Freeman, it ran for three issues through 1976 then returned three years later for 11 issues and a summer special.
Darren Oak became the second Captain Canuck in 1993 under the Semple Comics imprint. This series was set in the present with Canuck working to thwart a global conspiracy. Written and drawn by Comely, Leonard Kirk, and Sandy Carruthers, it ran for four issues then transitioned into a newspaper comic strip.
David Semple was the third character to wear the maple leaf. Also known as the West Coast Captain Canuck, he was in Captain Canuck: Unholy War, written and drawn by Riel and Drue Langlois. In this version, he was a Royal Canadian Mounted Police Constable who becomes Captain Canuck to stop a biker gang known as the Unholy Avengers. The three-issue miniseries ran in 2004-2005.
In 2006, Comely published the miniseries Captain Canuck: Legacy, featuring two stories. One saw the second Captain Canuck trying to keep illegal weapons out of Canada and the second continued the third Captain Canuck's story.
IDW Publishing published a few volumes that collected Captain Canuck comics, including Captain Canuck: The Complete Edition that contained issues 1-15, the summerspecial, Captain Canuck: Legacy #1.5, newspaper strips, and sketches.
A five-episode animated web series aired in 2013, featuring Kris Holden-Reid as Captain Canuck, Paul Amos as the antagonist Mr. Gold, Tatiana Maslany as Redcoat, and Laura Vandervoort as Blue Fox. The web series' success led to the 2014 one-shot, Captain Canuck Summer Special, published by Chapter House.
A year later he starred in his own Free Comic Book Day special issue followed by a fresh series that reimagined Canuck as the head of Equilibrium, a global crisis intervention agency. That series ran for 11 issues.
Chapter House restarted the series again in 2017, with Tom Evans leaving Equilibrium and his brother, Michael, becoming Captain Canuck. His first major mission was to take on an extraterrestrial incursion in a four issue series.
With his heroic determination and penchant for steadily returning to comics, it's always only a matter of time before Captain Canuck comes back to save the day again! Some of the issues can be difficult to find, but most of them are very accessible price-wise.
You Sunk My Battleship!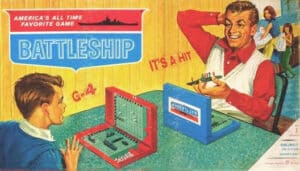 Since so many people have been spending extra time at home during the pandemic, it's not surprising that the topic of board games has continued to pop up. For those looking for some fun and a brief escape from reality, perhaps it's ironic that many have turned to war.
War has long served as an inspiration for tabletop games, and perhaps one of the best-known mass-market success stories in the genre is Battleship. Though known today as a successful plastic board game (now available as an online game), the original iteration of Battleship dates back to World War I when it was played as a pencil and paper game.
The original Battleship's origins are somewhat muddled – some believe it took inspiration from the French game L'Attaque (a title which would eventually go onto influence another widely-known board game, Stratego), while others insist it evolved from the 1890 game by E.I. Horseman, called Baslinda. The paper-based version of Battleship was first published in 1931 by Starex when it was called Salvo; other companies would publish variants on the concept throughout the 1930s and '40s. These companies included the Strathmore Company (Combat, The Battleship Game), Milton Bradley (Broadsides, The Game of Naval Strategy), L.R. Gebert Company (Sink It), and the Maurice L. Freedman Company (Warfare Naval Combat).
The mass-market success story for Battleship came in 1967 when Milton Bradley introduced the plastic board-and-peg version of the game to great success. In both the paper and plastic versions of the game, players work off of two 10-by-10 grids, which are labeled with numbers vertically and letters horizontally. The primary grid, usually larger, tracks a player's own ships, while the tracking grid records their shot attempts on their opponent. Before the rounds of play begin, each player arranges their ships (out of view of their opponent) on their primary grid. There are generally five ships, which occupy two to five spaces on a grid depending on what kind of ship they are. Ships are accordingly sunk when they are hit enough times. Players typically announce what type of ship has been sunk when it happens – leading to the game's trademark line, "you sunk my battleship!" When all of a player's ships have sunk, they lose the game.
Milton Bradley's success with the game has continued on through the decades since the original plastic version release, particularly with 1977's Electronic Battleship and 1989's Electronic Talking Battleship, which added sound effects to make play more exciting. The company released an updated version of the game in 2008, currently referred to as Battleship Islands; the game accordingly added several islands to each player's board which ships must be placed around, and "captured man" pieces can be found on the islands. Even after 50 years, kids and kids at heart still seem to enjoy hearing "you sunk my battleship!"
---
J.C. Vaughn is Vice-President of Gemstone Publishing. Gemstone's Amanda Sheriff and Carrie Wood contributed to this column.