Guess What Article for April 2007
By Bob Cahn, "The Primitive Man"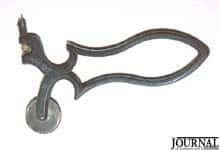 If any in this GUESS WHAT series could be called "pivotal,"you're experiencing it. The tip of the photo [not as revealing as we had hoped] is the key point to focus on.
Though not much to look at, for starters – its the unassuming that frequently proves more baffling. And this hand-held, manually operated gadget won't disappoint you as this month's confrontational challenger.
The "swivel" feature makes it subtly tricky – the success and accomplishment rests in the skill and deftness of the operator, regardless whether right or left handed.
The occasional stipulation and acknowledgement, to wit: it's a cutting tool – with two rotating cutting wheels, the smaller having swivel capabilities. Its "ergonomically" designed cast iron frame was born way before the lexicologist dreamed up the word.
Length 4 1/4 inches by 3 inches wide, the puzzle hinges on: "What did it cut? Was it for:
Cartographer's map-cutting territory outliner
Miniature doll-house linoleum cutter
Shrimp de-veining tool
Birdhouse window glass cutter
Celery and green pepper salad slicer/ dicer
Jigsaw puzzle maker's shape outliner
Camper's back-pack pizza cutter
Golf score card pencil stub pointer/ sharpener
Free-form designer cookie cutter
Tailor's button-hole cutter/slitter?
That's the rogue's gallery in review; any look promising?
See you in Brimfield, next time!*
Thanks to the inquiring mind of Audrey Hancock, Homestead Antiques, St. Charles, Idaho.
Answer to March's Guess What?
This month's answer to last month's GUESS WHAT is as easy as apple pie! It's a 7-slice even portion pie segmenter. Even though it's Italian in manufacture, its use is universal in diners, boarding houses, cafeterias, fast-food emporiums and all-you-can-eat buffets world-wide.*
*From the curious and cloistered collection of Mike Goodman, "King of Stuff," Townshend, Vermont